Important website design usability perceptions to implement on your website!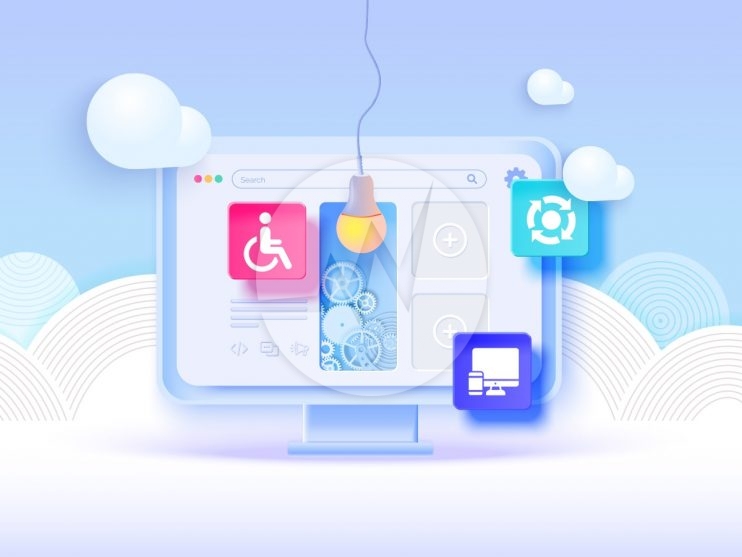 How do you define website usability?
What elements do you look for in a website?
Have you ever left a website in a few seconds just because it was difficult to peruse?
Ask yourself all the above questions before you blame search engines for an unstable ranking. Website usability is a broad concept. Lack of ambiguity and inappropriate placement of essential elements are the causes of website un-usability.
Albeit you try to make a user-friendly website, you do not think like a user before applying elements on the website. That is the reason un-usability occurs.
You have added too many elements or there are chances that unwanted popups and many ads are causing trouble to users while navigating. Users start exploring your website for some crucial information. Your website might have that information but the unwanted elements on the way to reach that information can increase the website bounce rate.
To put it simply, website usability is about how people understand and use the website. Thus, creating a user-friendly website with higher UX should be your focus. Obviously, you wish to design a usable and accessible website, but some unknowing mistakes reduce the traffic to your website.
Let's pay attention to some simple website design usability ideas and improve the overall UX of websites.
Website usability – are we all on the same page?
When a user lands on your website, the elements on the website should not waste his/ her time, even a millisecond count. So, your goal should be to make the website simple and easily navigable. We have curated a few suggestions for you to create a usable website.
Create a design that is optimized for mobile
This should be understood but still, you will find many websites that are not optimized for mobiles. Such websites are hard to explore with mobile phones; either the layout is problematic, or the content is inaccessible.
The quickest way to make a mobile-first web design is to use responsive themes. The responsive themes get adjusted according to the different screen sizes. Browsing from a computer or laptop is easy. Users can find the CTAs and click even in the corners but that is not the case with the mobile phone. Finding CTAs will be difficult for mobile users if you put them in the corners or in places that are not easily visible. Thus, try to place the CTA buttons in places that are easy to click even if the user is walking or using the mobile phone with one hand only. Likewise, check the content and discover if it is accessible completely or not.
Always optimize the websites for mobiles before making them live.
Website design must comply with WCAG standards
WCAG (Web Content Accessibility Guidelines) standards are made to create accessible websites for people with disabilities. These guidelines get updated regularly. Thus, you must audit the website more often for keeping up with the latest updates. WCAG says a website must be perceivable, operable, robust, and understandable. Website accessibility revolves around these four principles.
A significant number of people across the world are color blind. That implies such people have issues with some specific color processing. Therefore, try to avoid using conflicting colors on the website. Also, flashing lights and intense color background can be troublesome for people with seizures issue. Thus, make the interface presentable yet perceivable.
Further, if the website has any content with voice commands or if there is some video, it must have a caption to make it understandable for people with hearing problems. Moreover, there are users with cognitive disorders who wish to peruse your website. Ensure the website has easy-to-read and understandable content for such users.
Website navigation is an important facet. Make sure the navigation is in a logical order and users can access the content easily without putting too much effort.
Moreover, the website content must be robust, so that it can be interpreted in a correct way by assistive devices as well.
Stick to the minimalist design
It is good to be creative but do not impose your creativity on the website to enhance its look and feel. It might hurt the UX. You can try creativity on some other aspects of the website like marketing, content creation, etc., website design needs to be simple with impressive and effective UI and UX.
When users land on a website, their expectation from the website is to get the content they are looking for, and that too very quickly. Extra elements that are unwanted, can trouble the users every now and then while they explore the website, and it will ruin the whole UX. Thus, it is better to follow common design practices, such as the brand logo at the top of the screen, the search bar in the header, social media icons in the footer, and so on. You can be creative with CTA designs, header images, etc.
The common design practice does not break the expectation of users and they peruse the website comfortably.
Visual hierarchy makes the design comprehensive
First impression matters like anything. What does it mean in terms of usability? As soon as users land on your website, their eyes skim through the homepage and make a perception about the website. Thus, the website needs to have a visual presentation in a way that users can understand what they are looking at.
Avoid putting every piece of information on a single frame. It will become messy and confusing for users. Instead, place the most essential information and CTAs in the first place and in the natural focal point. Therefore, even if users are not aware of the content, they can understand which information is important.
For example, you can give bigger sizes or a different color to essential information, use spaces properly, alignment of the content must be top to bottom and left to right, proper usage of white spaces to provide visual breaks, and so on.
Visual hierarchy improves the user experience for sure.
Website must have credibility
People might feel unsafe on the website if it is not trustworthy. Thus, design a website keeping in mind this crucial factor and that is credibility. Ensure the homepage includes About us, Contact information, and a little bit of Product information. If these important pieces of information are not available on the homepage it might be suspicious to users.
Prices must be clearly mentioned with the products. Users will not like searching for prices across the pages. SaaS platforms follow this practice of hiding prices due to the discount and marketing strategies, but they have a dedicated labelled pricing page.
Furthermore, include security certificates and badges into the website design to establish credibility among users.
Content should be legible
Ensure to choose fonts that are easy to read. You might get attracted to some stylish fonts (for example, Bradley Hand ITC or fairwater script), but they might be hard to read for many.
Therefore, do not choose such fonts, instead pick simple yet easily recognizable fonts. Similarly, focus on the size of the fonts, colors, paragraph length, line spacing, headings, images, bullet points, etc. These are all critical factors that make your content readable.
Additionally, read once after your content is ready. There might be chances that the font is readable, but the background is creating some hindrance. If possible, behave like a reader to discover the problems.
Pay attention to consistency
The website design must be consistent throughout all the pages. If you will switch the layout and themes on each page, it will again impact the website UX. Therefore, be consistent with the website design.
Wrapping up
Website usability is a decisive factor in a website's success or failure. Users will come back to your website only if they have had a pleasant first encounter. Think once, after having an annoying experience on any website, would you like to go back to the same website again?
If any of the elements of your website giving trouble, the whole design will suffer. Thus, avoid adding such troublesome elements and ensure adhering to common website design practices. Also, test the design regularly to evade fluctuations in UX.
Perhaps your design is not going to be everyone's favourite, yet many will love it due to its usability. Put the users first and then consider using elements in website design because eventually, they are the ones who will use the design.
Skynet Technologies has expertise in both Website design and development services. If you are looking for website design services, UX/UI web design, online store design, or ecommerce website design, please explore our website design services! Also, we provide all-in-one website design services starting website redesign services, online store redesign, and ecommerce website redesign services. To know more about it, explore our website redesign services.
If you have any questions or would like to know more about how Skynet Technologies can help your business to reach one step ahead, Reach out us through submit form & We'll get back to you soon!
Request for Quote