About Jamnagar
Nawanagar (Jamnagar) is located in the western area of India (Gujarat) now well known as jamnagar. The state had a pearl fishery and much of its wealth came from this. Nawanagar is most famous for its famous son and ruler Jam Saheb Ranjitsinhji, who is still regarded as being one of the all time greats of cricket in England in 1892. He played for England and Sussex for five years during which time he showed good form and earned a call up to the England team. In 1906 he succeeded his father as Jam Saheb of Nawanagar. Ranjitsinhji died in 1933.
History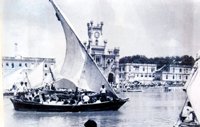 Jamnagar came into existence a long before 444 years. This was established on the banks of rivers "Nagmatti" and "Rangmatti" by Shri Jam Raval, the descendant of Jam Halla, who is one of the heirs of Lord Krishna, the creator of "Shrimad Bhagwat Geeta". Jamnagar, historically called Nawanagar or the new city, was one of the most important princely states of saurashtra. The Jamnagar district, originally constituted as Halar district, is not only recent in its origin but also in its modern set up.
The city has seen many ups and downs during the period's right from Moghals to the present time of independent India. Shri Jam Ranjisinhji gave a new and fresh outlook to the city during 1909 to 1932. And build broad roads, beautiful markets, and gardens, wide squares and many building. Because of this once in the past this city was known as "Jewel of Khathiyawad". Some of these, construction still exist.
The region comprised therein is of great antiquity and dates back to ancient periods of Jamnagar. According to Pauranik literature, Lord Krishna established his kingdom at Dwarka, now in Jamnagar district, after his migration from Mathura and it is to this great Yadava race that the Jams of Nawanagar trace their descent.
Nawanagar eventually came to be known as Jamnagar meaning the town of the Jams. A famous statement for people of JAMNAGAR is "java dhyo ne" means "let go".
Geography
Jamnagar is located at 22°28′N 70°04′E / 22.47°N 70.07°E / 22.47; 70.07 It has an average elevation of 20 meters (65 ft). Jamnagar has a lake called Lakhota lake which is very popular in the world.
Demographics
At the 2001 India census, Jamnagar had a population of 447,734. Males constitute 53% of the population and females 47%. Jamnagar has an average literacy rate of 70%, higher than the national average of 59.5%: male literacy is 75%, and female literacy is 63%. In Jamnagar, 12% of the population is under 6 years of age.
Culture
Most residents of Jamnagar are Gujarati and speaks Gujarati language. A small percentage speak Kutchi language which is written in the Gujarati script but is not mutually intelligible with Gujarati. Kathiawadi Language (which is a variant of Gujarati)is widely used for day to day communication. Major communities include Dawoodi Bohras Satvara(dalvadi)Ahirs(Yadav), Patels , Bhanushalis , Rajputs (Darbars), Mers , Jains, Lohanas etc. Marine National Park, the only marine sanctuary of India is near Jamnagar - on the coral reef island of Pirotan. Jamnagar is well-known for its four marble Jain temples: Vardhman Shah's Temple, Raisi Shah's Temple, Sheth's Temple, and Vasupujya Swami's Temple. All were built between 1574 and 1622. Bala Hanuman temple in Jamnagar is also very famous and is listed in the Guinness book of world records for the continuous chanting of "Ram Dhun" since 1 August 1964.
Economy
Jamnagar is today known as 'Oil City' because the world's biggest refinery complex belonging to Reliance Industries and a smaller one belonging to Essar Oil are located in Jamnagar. It was earlier known as 'Brass City', the city housing more than 5,000 large scale and 10,000 small scale units manufacturing brass items in and around the industrial estates of Shankar Tekari, Udhyognagar, M P Shah Udhyognagar and Dared. Nearly 200 tons of brass goods are produced in this area daily.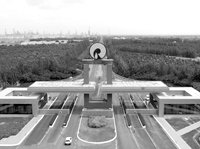 The Jamnagar Refinery is a private sector crude oil refinery owned by Reliance Industries Limited in Jamnagar, India. The refinery was commissioned on 14 July 1999 with an installed capacity of 661,000 barrels per day (105,100 m³/d). It is the largest greenfield refinery in the world and third largest refinery in the world. The refinery is currently undergoing massive expansion, scheduled for commissioning in 2008, that will double its capacity to 1.2 million barrels per day (190,000 m³/d).
According to an article in the April 28, 2008 issue of FORTUNE Magazine, the world-class Reliance Industries oil refinery at Jamnagar will output 1.2 million gallons of gasoline, or 5% of the world's capacity, after an expansion is completed in December 2008. The expansion was begun in October 2005 and is managed by San Francisco-based Bechtel Corporation. The expanded refinery consumes an area equal to 1/3 the size of Manhattan.
The refinery is advanced in that it can process a wide range of crude oils, including heavy high-sulphur sour crude, which many refineries can not handle. Reliance Industries has said that the refinery's output is for export only, and will not be sold domestically within India. Reliance is targeting the U.S. market for gasoline and the European market for diesel. The refinery is owned by Reliance's Reliance Petroleum Ltd. unit, in which U.S. oil company Chevron Corp. has a 5% stake. (also see article in the Friday, December 26, 2008 issue of the Wall Street Journal) Jamnagar to its credit also have base stations of all three wings of defense.
Indian Air Force, Indian Army & Indian Navy all the three wings have their training and big bases. Geographically Jamnagar supports all the arms of the defense as it has got sea for Indian Navy and strong Air Base including Army due to strategic location close to Pakistan.