Avoid the 5 Most Common Website Design Mistakes for Better User Experience!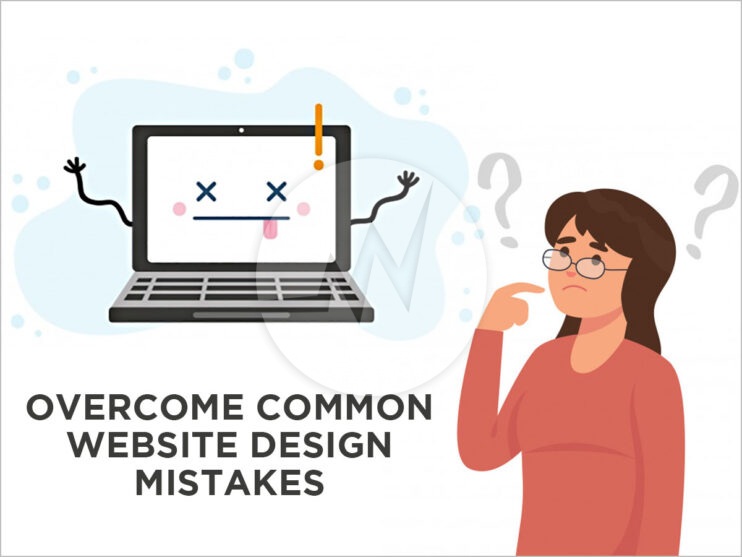 Have you ever left a website because you found it unsightly or messy? A successful website is not just about exciting content. A coherent web design presents your content in an appealing way and helps users to find their way around your website intuitively. But where do you start? There are numerous possibilities for the design of a website – some of them deliver less than convincing results. The good news: You can learn a lot from these examples.
In the following, Top 5 tips to avoid common website design mistakes
1. Confusing start page
People who are surfing online have a particularly give low attention span. It is all the more important that users quickly find what they are looking for on your website. Many website operators make the mistake of filling the start page with all the content offered. A large number of colors, logos, seals of approval and highlighting are often used in order to emphasize the individual points.
Keep the start page simple and tell your users briefly and concisely what you have to offer them. It is better to save detailed information and background stories for the individual sub-pages – they are better off there.
2. Complicated navigation
So, you now know that various sub-pages help to structure your content in a meaningful and clear manner. However, many website operators make an easy-to-avoid mistake here: they make navigation unnecessarily complicated. When building your website, keep in mind that most people are visiting your site for the first time and are new to it. Check out the ways to avoid website design mistakes for great user experience.
Only create as many subpages as you actually need. Also make sure that each subpage can be reached from the homepage with a maximum of two clicks. The best way to place your navigation menu is clearly visible in the upper quarter of the directly visible area, either in the header or in the sidebar. If you want to go a step further, let the menu bar scroll with you. So, users can jump between your subpages at any time.
3. Poor Readability
Do you have exciting content that you want to share with your users? Then make sure that they can read the content effortlessly. There are a lot of web design, especially when it comes to legibility.
Avoid the following:
Hard to read font
Insufficient contrast between background and font color
Small font size & small line spacing
Center text across the entire width, no margin
Missing paragraphs & subheadings
No Heading tags or no highlighting text
That seems better:
Clear, legible writing
Contrasts (preferably dark text on a light background)
Min. 16-pixel font size & approx. 1.5 line spacing
Left aligned text with max. 90 characters per line
Meaningful paragraphs & appropriate subheadings
Highlight important content with bold text
4. Sub-optimal images
Of course, web content is more appealing when your text is supported by images. Too often it happens that the images used on websites do not match the content or are not very meaningful. Use images that convey trust and competence, such as professional-looking photos of you and your team at work.
5. Too large formats
You have probably already heard that you should use the highest possible resolution images and videos, otherwise your website will appear blurred. This statement is not entirely correct and is a widespread web design misconception.
Why? Large image and video files slow down your website loading time. If the loading time is too long, these may jump off without even looking at your website. That would be a shame now that you know the common web design mistakes and your website looks completely professional!
Get started online with a web design and digital marketing agency!
Local online marketing that is precisely tailored to your company – that is what we at Skynet Technologies provide. Of course, you could also try to get your company into the online world on your own. But with our experienced agency at your side, you not only save time, you also benefit from the professional expertise of our employees and can continue to concentrate on your core business. In the meantime, we take targeted measures to attract new customers and increase awareness in your region.
Do you need any help to improve your user experience of website? We are here to help you out! If you are looking for UX/UI web design, online store design, ecommerce website design, Explore our website design services! We also provide website redesign service, website revamp service, online store redesign service or ecommerce website redesign service, for more information, please explore our website redesign services! Ultimately, UX helps to improve conversion rate. If you require help with search engine optimization, digital marketing, social media marketing, content marketing, explore our SEO Services!
If you have any questions or would like to know more about how Skynet Technologies can help your business to reach one step ahead, Reach out us through submit form & We'll get back to you soon!
Request for Quote