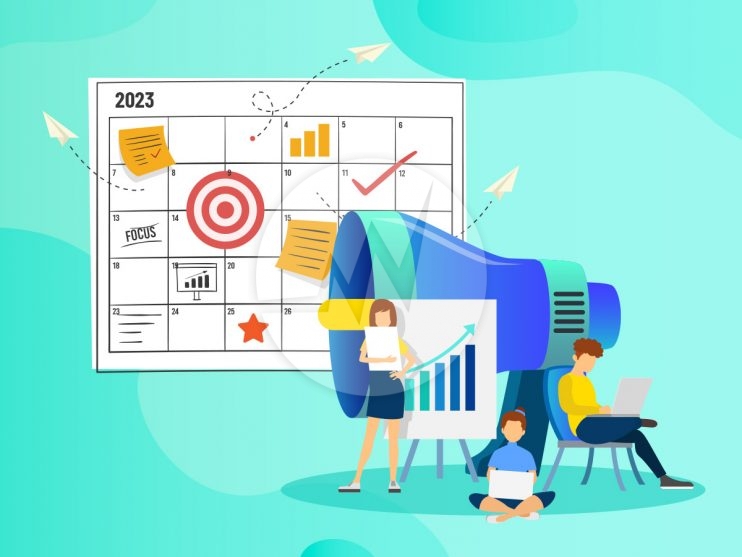 If your goal is to make this year a thriving one for your business, then plan to fulfil marketing and sales requirements. Why not build a digital marketing calendar, which will help you to keep a record of everything you wish to execute and achieve?
You cannot plan every business strategy manually. Also, it will be troublesome for your teams as well to search for plans and campaigns. But when it is properly planned on a digital marketing calendar, it becomes easier for everyone to work on their assigned duties.
A digital marketing calendar is a schedule of all marketing activities you've planned to execute on a specific time. It has every important detail, which is required to run a marketing campaign and meet business goals. It can be crafted for a year or a quarter or just for a month, depending on your business requirements.
If you need a handy guide for all the marketing activities and attain business goals this year, then build a robust digital marketing calendar now.
YOU MAY ALSO LIKE: Digital Marketing Mistake to Avoid
Reasons to plan digital marketing calendar
When you build a digital marketing calendar, you get the opportunity to solve some real potential problems in advance. Planning in time helps you to make thoughtful and creative campaigns and your team aligns well with assigned duties.
Moreover, knowing the important marketing dates of year may assist you to plan around slow and higher traffic periods and generate useful content ideas for that period, which will be helpful for your digital marketing campaigns.
Considering recent marketing trends and mapping your strategies accordingly becomes easier if you plan for the year ahead. For example, influencer marketing, or you can create audio/video content in advance for some event.
What should be there in a digital marketing calendar?
A digital marketing calendar needs to be made as per the specific requirement of the business. Before you start working on marketing calendar, ask yourself, what is your business goal that you are trying to accomplish?
Then, begin the calendar creation process with brainstorming on those goals. Planning marketing activities with correct strategies is the only way to achieve desired results.
Try to find out all the key dates that may influence your business and traffic. For instance, Black Friday, and Christmas are some periods of the year that show higher movements on websites.
Also, if you have some new products or services to be launched, there should be appropriate strategies, so that the launch will be a success. Plan marketing content around the launch date for the target audience so that it resonates with them.
In a nutshell, you can incorporate important dates in your digital marketing calendar, marketing content and campaigns according to the target audience and their location.
Let's know calendar making process in detail.
How to create a digital marketing calendar?
Building a digital marketing calendar can be overwhelming; however, it is worth to put all the effort since it assists you to achieve your marketing goals systematically. Let's see, how to craft a useful marketing calendar to streamline all your digital marketing activities.
1. Decide the time you wish to cover for marketing activities
Determine for how long you want to plan, in first place. Organizations with variety of products and services should plan for whole year since they might need more time and effort to spend on marketing activities.
So, if you are planning for whole year, keep in mind that there will be cultural, seasonal, and trends shifts will occur that will need flexibility in your calendar. Moreover, advance planning allows your team to run better campaigns and promotions.
Remember, if you are into fast paced industry, which keep changing its trends over a certain period, then don't plan for entire year in one go; instead, plan for a quarter. A quarter planning will also give you enough time to optimize and execute yielding digital marketing strategies.
YOU MAY ALSO LIKE: B2B SEO Strategies
If you wish to plan for only a month, that can be also an option. However, planning for every month, keeps your marketing team and other relevant departments occupied for whole year making plans and reviewing them. But the advantage is, you can create trending content to impress your audience.
2. Choose what marketing channels you will use for campaigns
Finalize all the channels you wish to leverage. There should be more than one marketing channel where you will run your campaign to reach out to your target audience. Include all those channels into digital marketing calendar. Best idea to decide marketing channels is to identify where you find your target audience most active and also review if you are functional on those channels or not.
3. Select the template for digital marketing calendar
There are two ways of creating a digital marketing calendar. Either you create it from scratch or use some existing calendar template and customize it according to your business needs. Using a template is the fastest way to create a digital marketing calendar. You must add filters and digital marketing KPIs that are important to track each campaign's success and achievements.
You also can opt for digital marketing calendar tool or software. The software or tools have advanced features that not only build digital marketing calendar for you but also help in project management and communication among team members.
4. Decide your team
Every project needs a good and seamless teamwork. After you decide all the above important elements, start assigning responsibilities to the team members to run successful campaigns. As per the dates, projects, and campaigns speciality, decide team members to define the roles. It makes things clearer and boost productivity of each resource.
5. Curate appealing content
As per dates and products, start brainstorming on the content ideas. Keyword research helps you to create accurate content to entice your audience. Research all the relevant trending keywords using Keyword Planner or Ahrefs. And also include keywords that you are already using and ranking for. Then create content around identified keywords.
You can execute competitor analysis as well to get good content ideas. Add the content in digital marketing calendar.
YOU MAY ALSO LIKE: B2B Content Marketing Strategies
6. Select the type of campaign
After all the above-mentioned steps, you are supposed to choose the digital marketing campaign you wish to run. There are types of campaign for digital marketing activities such as, social media posts, email marketing campaigns, content-driven campaigns, etc.
1. Promotions & Sales
In this type of campaign, you target your existing customers with ongoing sales and promotional messages (including exclusive offers, free shipping, etc.) during some specific period of the year.
2. Product launch
These campaigns need social media activities, email marketing, relevant blogs, and huge preparations for product development and successful launch.
3. Content-driven campaigns
Such campaigns are structured around case studies, infographics, webinars, etc. that can be useful for social media platforms and can be mailed as well.
4. Holiday campaigns
For holidays and long weekends, organizations plan these campaigns, for example Halloween, Christmas, Black Friday, etc.
5. Contests and Giveaways
At times, just to improve engagement, you may run such campaigns. Collaborations with influencers work well; you must add this campaign to your digital marketing calendar.
7. Review the calendar
Once you are ready with your digital marketing calendar, don't forget to review the strategies and measure their performances. Check the analytics reports and if needed, make changes in them in order to get more favourable results.
Wrapping Up
A digital marketing calendar is essential to build because it helps you to plan your whole year and marketing activities. It also assists in eliminating last-minute issues. Once you decide to create a marketing calendar, you can take help of digital marketing agencies to make a most suitable marketing calendar for your business.
In any business, setting a goal is not only the key element but how you will achieve that goal, and staying with that plan is important. The plan only helps to achieve the goal. Thus, plan, act, and achieve!
If you are still struggling to plan goals according to your business requirement, then contact Skynet Technologies. Skynet Technologies is ISO 9001:2015 and 27001:2013 certified company who provides digital marketing services including SEO services. We are a SEMrush agency partner who follows white hat SEO practices to help you achieve your business goals. Fill out the form below to request a free quote now.
If you have any questions or would like to know more about how Skynet Technologies can help your business to reach one step ahead, Reach out us through below form & We'll get back to you soon!