10 Digital marketing mistakes businesses should always avoid (And how to fix them)!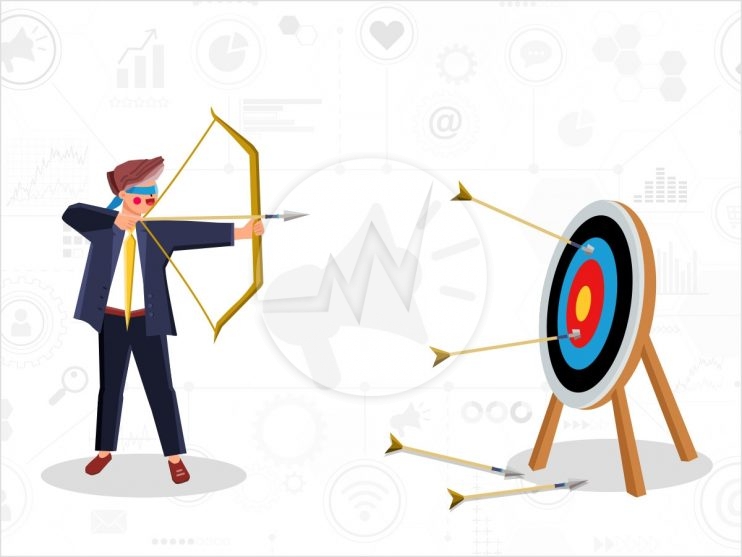 What is the goal of marketing or specifically digital marketing?
The straightforward motive behind digital marketing is to reach out to target audiences. Now-a-days, you can find your audience with the help of technology and attract them to your website.
Social media marketing, email marketing, ad campaigns, content marketing, etc. are some of the best ways to reach out to your audiences, if done right. Creating digital marketing campaigns and making them live is not enough; it needs efforts with the right sort of strategies to have successful campaigns.
Have you ever faced such a situation where you invested time and money into a digital marketing campaign, and it didn't live up to your expectations?
If yes, then you need to read this article.
Digital marketing campaign mistakes are very common. Since the digital space is evolving with time, organizations need to change their strategies as well. They must update their tools and strategies to ensure unaffected traffic and conversions.
"In the digital age, there are no boundaries. Businesses can adapt globally without worrying about language barriers or time differences." – Maura Mandelbaum
So, if you wish to expand globally, apply right digital marketing strategies.
Let's discuss which digital marketing mistakes businesses should avoid and how to fix them.
Digital marketing mistakes businesses should avoid
1. Targeting the wrong segment of customers
If you are advertising through social media, there are chances it won't be reaching the right audience, at times. The reason could be your ad might get displayed to people who are not interested in your products or services. Thus, if you wish to continue with social media advertising then apply target demographics and create ads keeping the buyer's persona in mind. Moreover, Google Ads with correct keyword usage and B2C or B2B SEO strategies work really well.
Also, hiring marketing experts can be a huge help. They know how to apply and create users' persona and work accordingly.
2. Unreal marketing goals
Before you dive into marketing campaigns, set your short-term and long-term business goals. Don't over or underestimate digital marketing campaigns. It is one of the significant mistakes many organizations make, they set some unrealistic goals and plan accordingly. Thereby, don't achieve the desired results. So, set some realistic goals that can be achieved in a specific time frame and then apply the correct campaign. For this, monitor your past digital marketing trends and competitors' campaigns as well.
3. Going without a content marketing strategy
Content marketing is another helpful tool in digital marketing. Organizations that go without proper content marketing strategies does a big mistake. Because often users find your website searching via some relevant keywords or maybe they find your products while looking for related information. Therefore, having appropriate content or blogs always benefit your business.
Always remember to focus on your competition. If you are not aware of their strategies, how will you outplay them? When you research your competitors, you know what exactly they are up to. Accordingly, you can invest in your marketing strategies.
4. Not addressing the audiences' pain points
Your users have come to you to solve their problems and if your products or services are not solving their problems, why they would spend their time on your website? Improve the campaigns by conducting surveys and using feedback in productive ways. If you know the audience's needs, you will create offers and campaigns accordingly. Cover all the pain points of audiences for successful digital marketing campaigns.
5. Superficial approach to SEO
The internet is flooded with content. Therefore, it is mandatory to optimize your content for SEO to attract organic traffic. As we all know, search engine optimization is the fastest-changing game, thus, you need to pay extra attention to following the SEO guidelines carefully. Right keywords, quality content, mobile responsiveness, URLs, backlinks, etc. are a few SEO strategies that help you keep your website's SEO updated and keep its ranking intact. So, don't overlook SEO for a successful digital marketing campaign.
6. Spending only on paid ads
Organizations spend huge sum of amount on paid ads on platforms like Google Ads, Facebook, etc. These ads are rewarding only if you apply correct and robust marketing strategies. Therefore, don't spend recklessly without deciding your goals and researching rigorously. Do proper audience, competition, and keyword research, set the business goals, perform A/B testing to know what is working for your business, and then dive into PPC and other digital marketing campaigns.
7. Expecting results in no time
Any digital marketing campaign will show results at least in a week. This is not magic; have patience to see the results. Facebook ads show tentative stats in a minimum of seven days' time (as mentioned). If you have applied new SEO strategies, it will start showing effects in approximately two months or more.
Digital marketing is all about targeting people. If done right, it takes some time to engage and convert audiences. Thus, you must put your efforts consistently and wait patiently.
8. Using outdated marketing skills
Keep updating your skill sets and tools periodically because digital marketing techniques are transforming with time. Outdated skills and strategies make your marketing campaign ineffective and ruin your entire marketing effort. The best way to avoid this mistake is to hire a digital marketing agency. They have expertise in most trending skills, which are needed for your business.
9. Ad copies and creatives
It is a very common mistake made by organizations on digital marketing campaigns. You must know that each advertising platform be it Google Ads or Facebook Ads, need a different type of ad copy. You can check your competitor's ads popping up on Google and other platforms and improve your ad copies accordingly.
10. Not using reviews correctly
Digital marketers should not overlook reviews. It saves an enormous amount of marketing budget, which you spend on costly advertising. Also, to make your brand popular, reviews play a vital role. You can use them wisely and encash them.
Wrapping Up
These common mistakes are the reason behind many unsuccessful digital marketing campaigns. Avoid them and apply the correct action plan to achieve desired outcomes. However, one solution doesn't fit all, thus, apply strategies as per your business needs and testing is a must.
Teaming up with influencers, engaging maximum loyal customers, working on growing followers, and curating useful and interesting content are some more strategies to create a robust digital presence.
Digital marketers don't leave any stone unturned to earn traffic and profits for you, it is your lookout to hire an appropriate SEO services. Skynet Technologies have 20 years of experience in SEO and other digital marketing field and follows updated google guidelines to increase your business visibility with white hat SEO tactics. You can request a quote by filling out form below to know more about our customized SEO and PPC marketing services.
If you have any questions or would like to know more about how Skynet Technologies can help your business to reach one step ahead, Reach out us through submit form & We'll get back to you soon!
Request for Quote