Crucial Website Performance Metrics You Should Start Tracking Today!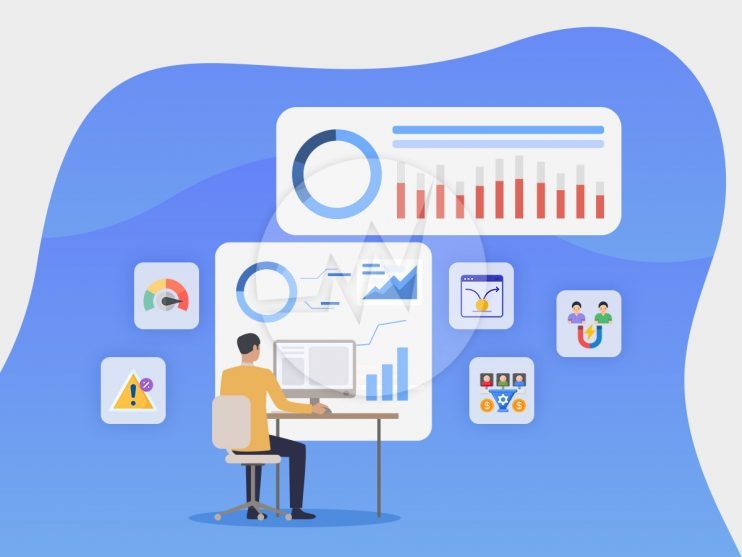 "The success of a website can be measured by one major criterion; Does the visitor do what you want them to do?" - Aaron Wall
Have you ever worried about website performance? Does your website get expected traffic on daily basis? How many of your visitors are returning to your website?
Every website's performance is based on some metrics that you are supposed to measure every now and then to ensure the smooth performance of the website. The metrics that educate visitors about your website content and features and persuade them to explore your website.
When you keep tracking website performance metrics and improve the shortcomings of the website, conversions will increase ultimately. Though there are several metrics that different platforms ask to track and measure. However, not all are important to each website.
You should measure performance metrics that are really important for your website's performance. But the question is how you will decide, which metric to track and what to leave. Read the article, to know the answer.
Importance of tracking website performance metrics
Yes, it is crucial to measure website performance metrics to understand users' behavior on your website. By tracking their behavior, you will understand if users are exploring the site the way you wanted or there are sudden changes in their movements.
If there are problems on website, then optimize the website pages to elevate conversions. Your ultimate goal behind running a website is driving more traffic to the website and generating sheer profits. And to achieve that goal, website performance metrics measurement is important.
Performance metrics help you to know more about keyword ranking, best traffic sources, the effectiveness of the content strategy, and myriad other factors that directly influence website performance.
How to identify correct website performance metrics?
However, tracking the right metrics is important. The website performance metrics vary as per industry, business goals, and target audience. To know if your digital marketing efforts are paying off or not, choosing the exact metrics to measure is a real task.
So, before you start tracking every metric you come across, identify which is required for your business. You can measure those metrics that influence your website's search performance such as keywords.
To improve sales numbers, track and measure conversions and cart abandonment rate. The metrics must directly reflect your business goals. Accordingly, make changes in the areas that need improvements and impress your target audience.
Website Performance Metrics to track
As mentioned above, decide on metrics that speak about your business goals. Other than individual goals, there are a few metrics that provide you with 360 degrees website performance reviews.
1. Website speed
It is one of the major performance measuring metrics. There are a few factors that decide website load speed.
Time to Title
The moment when a user requests your website to the time when the site title appears on their browser is Time to Title. If the time taken is longer than expected, then it would create a negative impression.
Time to start rendering
This is the time from user request to content appearance in the browser.
Time to Interact
The time from the user's request to the moment they can take actions on the site is Time to Interact.
These three metrics are responsible for users' session length on your website. The lesser time it takes to open and interact, the longer users stay on your website. PageSpeed test helps you to know the actual state of website speed and accordingly, you can optimize the website.
YOU MAY ALSO LIKE: Website Speed Optimization Best Practices
2. Elements (assets) on the web page
Text, audio, video, images, etc. are the elements that also impact website page load speed. The more elements you will add to your website, the more it will hamper site speed since these elements take time to load and increase above-mentioned three metrics' time.
Thus, measure site load speed and find out which elements are the culprits. You can take the help of some tools to know the size of your page and elements (assets) on it (for example – website page asset analyzer and performance tool). Hosting such assets on an external site can improve page load speed.
3. Error rate
If your website is facing several issues, you will find a higher error rate. This is the percentage of request issues over the total number of requests your site generates. The higher error rate indicates that your website is going to have some severe issues. Thus, tracking this metric can save your website from unexpected performance crises. The error rate is one such metric that must be tracked in order to reduce performance challenges irrespective of business goals.
HTTP requests, UI (User Interface) interactions, real user session monitoring, etc. are some metrics to measure error rate. Offer exceptional experience to all the users by analysing data from a real user session and enhance website performance based on the data.
4. Bounce rate
This is one of the most crucial website performance metrics that lets you know the number of users who don't stay on your site for a longer span. Bounce rates hamper your site's conversion badly. It is an indicator that somehow your website can attract users but not delivering the required experience.
The bounce rate can be measured with the help of Google Analytics. And to improve this critical problem, work on content readability, for example, don't write larger chunks instead write in small paragraphs.
Make it easy to read by not overstuffing with difficult words, bullet points make your content more impressive.
Avoid unwanted popups and ads that are distracting for users.
Call-to-action must be visible and compelling enough to persuade users to act.
Content must be relevant, fresh, and trustworthy.
Also, your website must attract the right visitors. Thus, focus on your strategies to reach out to your target audience.
These are a few tips that help you reduce bounce rate and improve overall website performance.
5. Unique Visitors
These visitors access and explore your website at regular intervals. Every website needs such unique visitors in order to succeed. This metric shows your good return rates and slow but continuous growth. You can track this metric via the Audience tab in your Google Analytics account and then work more on offering personalized content to such users. Personalization helps attract more users to visit your website.
6. Traffic source
Whatever your business goals are, traffic is your topmost priority. But do you know where your traffic is coming from? Well, it's time to track this metric as well.
Organic search, referrals, social media, or some other campaigns, what must have taken your users to the website?
Find the traffic source from your Google Analytics account. Go to Acquisition > All Traffic > Channels.
Once you know the source or channel most traffic is coming from, put more effort into those channels to acquire more traffic.
7. Conversion rate
Conversion rate informs you about the quality of your whole website and how effective your on-page tactics are. This metric helps you to adjust or edit elements that impact the conversion rate. To measure conversion rate, go to Google Analytics, and navigate to Conversion followed by Overview.
8. Website's top pages
Keep tracking top-performing pages and replicate similar strategies to other pages as well. This is an effective way to improve the entire website's performance. Other than that, focus on improving the landing and exit page experience. These are the pages that create impression on users and force them to re-visit the website.
Go to Google Analytics > Behavior > Site Content > Landing Page/Exit Page to know how these pages are performing.
9. Keyword ranking
Though you keep working on keywords, it is something that needs to be focused on priority since keyword ranking influences your website performance directly. Volume, competition, and seasonal trends, choose keywords based on these factors.
Moreover, the keywords that are working for your competitors, can work for you as well. Along with all this, keep looking for keywords that people are typing into Google to find your products or pages.
YOU MAY ALSO LIKE: Ultimate Guide of Keyword Research
10. Lead generation
To measure lead generation, there are three performance metrics that needed to be tracked – Bounce rate, CTR (Click Through Rate), and Average session duration.
Bounce rate measurement we've seen above. Now let's see how to track the other two metrics.
CTR – This metric is one of the crucial metrics to be tracked. It identifies how many users interacted with a specific call to action within a specific time.
Average session duration – This metric tells you the average amount of time a user spends on the site. Higher spent time implies higher engagement.
Both can be tracked via Google Analytics. So, measure these three metrics to give you a idea to readjust your lead generation strategies, which are essential for an organization's growth.
Wrapping up
These metrics are essential for every organization to track and measure to own a successful website. If you have not measured these metrics yet, then you must start focusing on them now since they help you to improve website performance in every aspect and enhance traffic and sales.
Visitors' actions can be favourable if you keep tracking above mentioned website performance metrics and optimize website performance accordingly.
If you find it overwhelming to track all the relevant performance metrics for your website, approaching the right digital marketing agency is helpful and result-generating. Skynet Technologies is a SEMrush agency partner who provides digital marketing solution and SEO services for your business. Fill out form below or send mail at hello@skynetindia.info
If you have any questions or would like to know more about how Skynet Technologies can help your business to reach one step ahead, Reach out us through submit form & We'll get back to you soon!
Request for Quote