Top ecommerce SEO strategies that you should implement in 2023!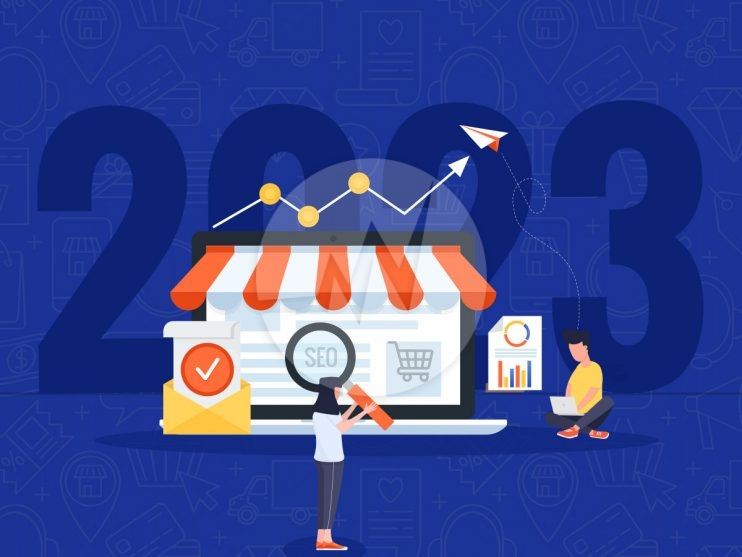 Why do you need to plan SEO strategies for ecommerce?
Well, the answer is quite obvious; to become visible to your audiences, earn organic traffic on your ecommerce website, and run your business effectively.
Without proper ecommerce SEO strategies, your website will not be able to survive for a longer time and your competitors will leverage your weaknesses to grab colossal market share.
Traffic and conversions are the reasons why you've launched your ecommerce website. But only launch is not sufficient, ecommerce requires SEO effort to build a brand name and secure a decent position in search engines. Thus, put your effort into planning and applying the right SEO strategies.
Google keeps updating its SEO algorithms as per changing market trends; thereby, you have to be aware of all new algorithms and update & maintain your ecommerce website's SEO strategies regularly.
Let's see what you can do in 2023 and uplift your ecommerce SEO.
YOU MAY ALSO LIKE: SEO for BigCommerce store
Facets that are crucial for ecommerce SEO strategy
When no two ecommerce stores are similar in their operations, then how their SEO strategies can be the same? Plan strategies that are perfect for your online business.
1. Strategies related to products
For a strong business operation, a robust product strategy is a must. Ecommerce implies buying and selling of products; thus, product strategy is the most important strategy to boost ecommerce SEO.
To market, showcase, and deliver your products, you need strategies that can help significantly improve business operations. Product strategies include everything you to boost product pages such as product image optimization, right keywords application, meta tags optimization, product descriptions, etc.
2. Strategies related to customers
Whatever you do in your ecommerce store is for customers; thus, attracting and maintaining a healthy relationship with them is crucial. How do you interact with your customers? Are they satisfied with your products and services? Do they only shop from your ecommerce store or go to your competitors as well? These are some brainstorming topics to work on in order to improve customers' retention.
3. Strategies considering the business niche
Before you start investing in SEO strategies, think about your business and industry requirements. Plan the way which will be suitable for your business vision, mission, employees' growth, and market trends. Work on internal planning and operations, besides product and customer strategies.
Tactics to create best ecommerce SEO strategies!
1. Research everything about competitors
Analyse which are competitors' best-performing pages. You can also conduct a keyword gap analysis to know for which keywords your competitors are ranking. This gap analysis will help you to make the right strategies for your ecommerce website. You can use the Keyword Gap tool and compare your and competitors' domain to know the keywords that are working for your competitors.
Their broken links are also an opportunity for you. Look for competitors' broken external links using the Backlink Analytics tool and analyse their indexed and broken pages. Their broken pages can be a backlink for you. Reach out to the websites (you found on backlink analysis) that can link back to your ecommerce website.
2. Internal & external links and their right usage
Links work very well in SEO; thus, don't forget to link pages internally. They help search engines and users to connect pages and follow a logical path.
Some links are not useful for your ecommerce website, such links are called Toxic Links. You must remove those links as soon as possible. Toxic links can be the reason of buying un-reliable links, using automated programs, low-quality bookmark site links, or over-optimized links in forum comments. You can find toxic links using the Backlink Audit tool and remove them.
Earn high authority backlinks with the help of digital marketing strategies such as writing press releases, reactive PR, creating data-driven content, etc.
Also, use brand mentions as a link. If some website is mentioning your brand name in any of their posts, but not linking your site; that is a loss. Find such mentions and make them turn into links. The Media Monitoring tool will help you to easily find such mentions.
3. Optimization
Ecommerce optimization is important for search engines. Its pages, images, content, and all components need to be optimized in order to become search engines' favorites. Also, you must tweak SEO strategies to leverage SERPs features such as People Also Ask.
A search engine's first page can only have ten links. However, they have People Also Ask (PAA) section, and your ecommerce link can fall in this category. If your ecommerce link is optimized for PAA, it increases CTR, helps you to appear on the top page of search engines, and is good for brand awareness as well.
Position tracking tool helps you to know existing SERP features to optimize your ecommerce website accordingly.
Apart from that, work on website speed, page experience, and follow all the other SEO best practices to improve the ecommerce website's performance.
YOU MAY ALSO LIKE: On Page SEO for ecommerce store
Optimize ecommerce website for Core Web Vitals
Core Web Vitals are metrics that are used by Google to measure a website's performance and user experience. It includes Largest Contentful Paint (LCP), First Input Delay (FID), and Cumulative Layout Shift (CLS). These metrics focus on the ecommerce website's page load time, elements' interactivity with users, and page layout presentation.
Audit Core Web Vitals results and if required, make changes, and optimize website pages.
Go with trends
Ecommerce websites are supposed to follow the most trending practices to evolve continuously to offer the ultra-modern experience to all the users. Technology is coming up with new trends every now and then; and if you are not updating your website with the latest trends, your competitors will outrank your website from search engines.
There are new chatbots have come into the market, which are based on AI and revolutionary for ecommerce business. Online assistance was used by ecommerce websites until now to provide support to their customers. But the latest bots are more than online assistance. Know more about them and integrate them in your ecommerce store.
Update payment options with new ones. Other than debit and credit cards, now modern users prefer digital wallets. Include as many new payment options as you can to improve conversions and reduce the abandoned cart problem.
Also, each ecommerce website must focus on M-commerce since mobile phones have become the most preferred way to shop for maximum shoppers. Thus, a mobile-friendly ecommerce website is definitely required to improve its SEO.
Summing Up
Keep a tab on new trends and tweak your SEO strategies accordingly. This is the only way to endure the competition. Identify the areas in which you are excelling and facets that need to be bolstered.
Planning and consistency can help you to maintain your brand reputation and rankings in search engines. Hiring a digital marketing agency is the best option to maintain consistency in your SEO efforts. If you are searching for an SEO service provider, then Skynet Technologies can be a good fit for you. Skynet Technologies is a SEMrush agency partner who provides complete SEO services like technical SEO, on-page SEO, off-page SEO, and many more. Fill out the form below to know more about SEO packages or send mail to hello@skynetindia.info.
If you have any questions or would like to know more about how Skynet Technologies can help your business to reach one step ahead, Reach out us through submit form & We'll get back to you soon!
Request for Quote