How to create a successful ecommerce roadmap from scratch?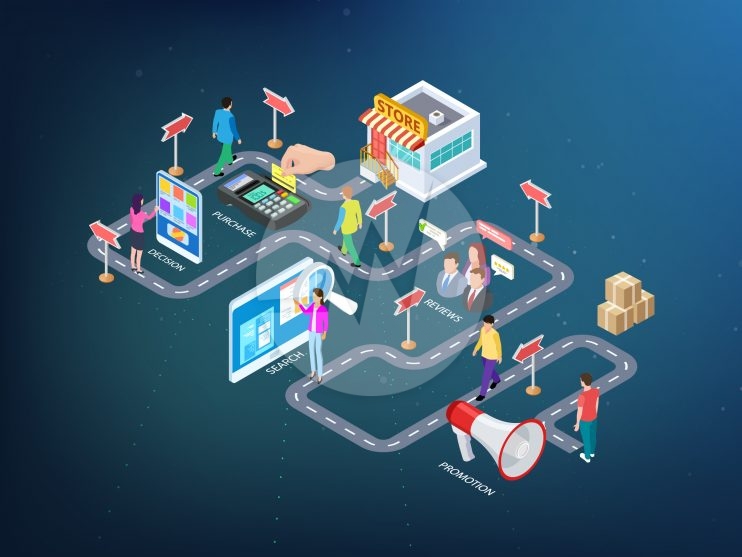 Ecommerce is evolving like anything; however, it is not an easy feat. There are some crucial facets of ecommerce roadmap and solution that help breed success. But organizations need to work proactively to achieve their business goals and to compete with their competitors.
Being proactive means identifying your business goals and start working on them on time, before someone else will set a benchmark. There is always an additional advantage for first timers since others follow them. Thus, a proactive approach is beneficial from ecommerce point-of-view.
Identify all your objectives, and goals for ecommerce store and then plan of actions to fulfil them. If this is the first time, you are diving into ecommerce business, you must be wondering how to mover further.
The best way is to create an Ecommerce roadmap to execute all the plans successfully. If an organization has a solid ecommerce roadmap, it can deliver a top-notch experience to its users which they normally scoop up.
If until now, you haven't thought of an Ecommerce roadmap, start planning now. We have curated some of the possibilities for the Ecommerce roadmap. You can add your own ideas as well.
YOU MAY ALSO LIKE: Ecommerce Branding Strategy
Ecommerce roadmap – Learn, plan, and win!
Ecommerce roadmap is a process of charting your strengths, understanding your weaknesses, and focusing on key performance indicators in order to lead a successful online business. It is a way of planning an organized path on which you and your teams will move and begin building an Ecommerce business.
Ecommerce roadmap keeps you and your teams on the same page. Everybody can track all the Ecommerce tools and strategies that are being used for different operations. It helps in organizing business processes and assists to scale rapidly. One of the benefits of planning an Ecommerce roadmap is it mitigates lack of clarity and miscommunication among teams, which ultimately increases productivity.
Let's ideate Ecommerce roadmap!
The roadmap will be definitely different for every business. A start-up will have a distinct set of plans and a well-established business will have some other Ecommerce strategies keeping its thousands of customers in mind. However, one thing is common for every business and that is to be realistic about your current situation and future goals.
In this article, we are discussing Ecommerce roadmap planning from scratch. It may include technology you will use for Ecommerce (Shopify, Adobe Commerce, Drupal, etc.), product niche, logistics (Inventory management, Drop shipping, Third-party collaborations, etc.), and so on. Focusing on the right elements and planning correctly to achieve your short and long-term goals can help you build a successful online business.
1. Your products must find their core niche audience!
Each organization has its customer base. Lucky are the businesses that have loyal audiences for many years. For example, Amazon has its core niche audience that directly land on its home or product pages. Similarly, your products should have a uniqueness in order to create your brand reputation.
Your products should solve target audience's problems. While working on Ecommerce roadmap, think of customers pain points which can be brownie points for you. How about personalization? These are some ideas that will somehow help you to create your own loyal customer base.
If you will crack the code of reaching out to such audiences, pat your back, you will be able to establish your own behemoth brand as well.
YOU MAY ALSO LIKE: Ecommerce Customer Journey Mapping
2. Include mobile-first strategy into ecommerce roadmap!
We are aware of the fact that mobile is influencing Ecommerce business revenue on a large level. And this is why, maximum organizations focus on building mobile-friendly experiences.
Choose a technology that focuses on mobile-first strategy such as Drupal. Your Ecommerce content, navigation, CTAs, web design, etc. should be mobile responsive. So, when thinking of Ecommerce roadmap, think of mobile version of website as well.
3. Try templates instead of coding
This can be a time and resources saving option. There are platforms like Shopify that help you to set up your Ecommerce websites easily within a limited budget and resources. It can be a good choice for a small business, which is about to start its online operation.
Building an Ecommerce from scratch is complicated and needs professionals on board. So, if you think that is not required, focus on a basic Ecommerce website with all essential features and leverage them to get traffic.
Work on SEO for example, keyword research, meta, content creation, etc. and make sure to make it target audience specific. To get traffic on your website, you need to stand out in search engines and for that, work on right SEO strategies. Research more on relevant keywords and use them appropriately in your content. Optimize metadata and content specifically for your target audience.
These are all basics that needed to be looked when you start building or fine-tuning an Ecommerce website. If all basics are in place, then you can think about complex business strategies such as digital marketing, data management, etc.
4. Decide marketing channels
When you are planning your Ecommerce roadmap, don't forget to brainstorm on sales and marketing channels.
Where will you sell your products?
How will you reach your target audience?
Along with channels like Facebook marketplace, it is beneficial if you can sell on Amazon or eBay. These are the places where you can easily find your target audience and become acquaintances with them. It is a faster way to start earning since SEO takes time to get you a position in search engines.
YOU MAY ALSO LIKE: Ecommerce SEO Strategies
5. Try to curtail unnecessary expenses
Small, medium or large, be it any size of business, they all need to control their overheads in order to survive in this competitive market. Thus, once you are done with the above points, try to outline what is really needed and what can be eliminated as of now to limit business expenses.
6. Content creation is another crucial facet
Ecommerce has n-number of elements that help run a successful online business. But while you focus on all other elements, there is one most important facet and that is content generation.
How will you grab users' attention without useful content?
Not possible!
There should be precise content about products and offers, emails and newsletters, social media posts, and ads.
Other than these points, the Ecommerce roadmap requires brainstorming on
Which Ecommerce CMS to choose that will be suitable for your business requirements?
What type of UI/UX is needed?
Third-party integrations such as payment gateways, logistics partners, etc.
If needed, which Ecommerce development agency to hire?
Wrapping up
In business, you cannot go with the flow, but you have to make precise plan-of-actions to achieve success. Thus, planning Ecommerce roadmap is one of the essentials for successful business. A robust roadmap will help you deliver the experience that your customers expect, which will lead to conversions, profits, and growth.
You can rely on the tips written above while planning your Ecommerce roadmap. If you will succeed in creating a realistic and future-proof Ecommerce roadmap, achieving business goals will be simpler. As written above, stay proactive to get a competitive edge!
To maintain your brand reputation and search engine rankings, it is important to have a plan and be consistent. Hiring a digital marketing agency can be the best option for achieving this goal. If you're looking for an SEO service provider, consider Skynet Technologies. We provide complete ecommerce solutions. As a SEMrush agency partner, we offer a comprehensive range of SEO services, including technical, on-page, and off-page optimization. To learn more about their SEO packages, fill out the form on their website or send an email to hello@skynetindia.info If you have any questions or want to know more about how we can help your business, simply submit form and we will respond promptly.
If you have any questions or would like to know more about how Skynet Technologies can help your business to reach one step ahead, Reach out us through submit form & We'll get back to you soon!
Request for Quote