Drupal 7 End-of-Life is near! – Steps to take for your Drupal website!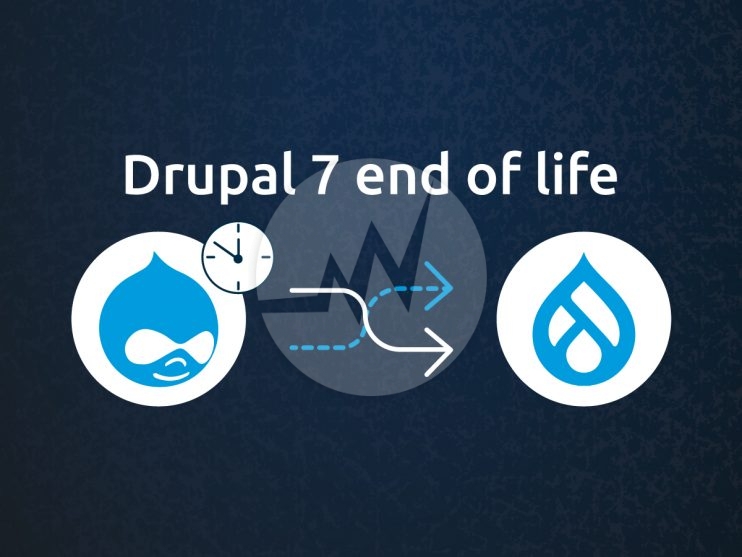 Drupal 7 is longest running version of Drupal until now. It was launched in 2011 and even after more than one successful decade and the launch of other latest versions, several websites are still running on Drupal 7. However, now these websites/organizations have no option but to upgrade/migrate their versions to the latest Drupal version since Drupal 7 is approaching its end-of-life.
January 5, 2025 is probably the time after which Drupal 7 will no longer be supported by the Drupal community. The Drupal 7 end of life was initially scheduled for November 2021, but for some reason, its life span was extended for two more years.
Since a profound number of websites are using Drupal 7 to run their websites, now they have to take immediate steps (if not taken yet) to avoid any technical crisis. And since Drupal 9 end-of-life is also January 5, 2025, thereby organizations can either migrate their websites directly to Drupal 10 or immediately migrate to Drupal 9 and then upgrade to Drupal 10.
Let's see what solutions you can find to overcome this situation.
YOU MAY ALSO LIKE: Drupal Maintenance Checklist
Drupal 7 End-Of-Life – What does it mean?
If a website stays on Drupal 7 even after January 5, 2025, it implies that the website will no longer get community support. Automated testing services for Drupal 7 will be shut down, and no more updates will be provided by the Drupal team. New project creation, bug fixing, or writing documents on Drupal 7 will not be possible
Moreover, such websites will be miserable to security threats. Thus, it is wise to move on now with the latest version of Drupal in order to safeguard sensitive data and the performance of the website.
Preparing for Drupal 7 end-of-life
Well, you might not wish to switch to another version because of several doubts you have about migration and its aftereffects. But upgrading your website to the latest Drupal version will only benefit the website with new features and functionalities and with exceptional performance.
Drupal 7 to 9 or 10 migrations might take some time, but it is not difficult. Drupal 9 and 10 has migration tools that help migrate your website safely from Drupal 7 to Drupal 9 or Drupal 10.
Either you jump to Drupal 10 directly or go step by step and migrate from Drupal 7 to 9 and then 10, the first step should be performing a content audit. So that you would know, what to keep in the updated version and what is not required. And when you begin the process, remember that your website is updating now for a futuristic approach. Thus, keep content that is actually needed.
1. Upgrading to Drupal 9 or 10
It is a step-by-step process of migrating content, modules, and other crucial elements from your existing Drupal version to its latest version. There must be many modules that are not supported in the latest versions. In that case, you need to leave them and choose the new ones for the updated website.
Upgrading to Drupal 9 or 10 should be your first choice. Also, the latest version of Drupal 9 and Drupal 10 has new features and modules that help your website with more advanced functionalities. And Drupal community is contributing more new modules every now and then, which you will not be able to use if the website will stay on Drupal 7.
As mentioned above, Drupal 9 has tools that help Drupal developers to migrate from an older version to the new one and make the tricky migration process simpler. And once you are on Drupal 9, updating to Drupal 10 is not a big deal since Drupal 10 is built on Drupal 9 itself.
For larger organizations with complex functionalities, this is the best way to overcome Drupal 7 EOL.
2. Stay on Drupal 7
There is another way that you keep your older website running and create another new website for future operations. The website will stay on Drupal 7 and work as a legacy website. Though it will have security issues, but the operation will not get hampered.
It can be done by archiving your website using static site generator like VuePress to convert the web pages into raw HTML. This way, you will keep your ages-old website running and that too at the lowest expenses. Also, since they are simple HTML pages without any complex CMS backend, they get delivered to users at blazing-fast speed. The only problem is, you won't be able to add or update the content on pages. Also, archiving is not a good option for many websites that have sensitive users' data due to security concerns.
3. Migrate to an all-new CMS!
If the above two options are not suitable and you find some other CMS more suitable than Drupal, then creating a new website from scratch on your desirable CMS can be an option as well. Though it will land you in a completely new environment, but with the new CMS you will get new features and functionalities as well.
For example, WordPress, Magento, Shopify, Joomla, and there are many others. However, before you take this crucial decision, think of Drupal's latest version capabilities. Compare your desired CMS with Drupal and if you think the new platform will work for you more than Drupal, then go for it.
Don't forget to note that migrating to another platform will be more complex than upgrading to Drupal 9 or 10. Every platform has its own benefits and pain points; thus, make sure that this is the only option you can go with.
YOU MAY ALSO LIKE: Drupal Commerce Vs WooCommerce
Wrapping up
Choosing any option should be in favor of your organization. However, it is suggested that if the website is enterprise-level, then stick to Drupal and upgrade from Drupal 7 to Drupal 10.
Migrating to another CMS, archiving the website on Drupal 7 itself, or upgrading to Drupal 9 or 10, each option requires a seasoned Drupal professional, who will help you with the right solution. Surmount this challenge of Drupal 7 end-of-life and execute your business website with more efficiency by opting for the most suitable choice.
Ensure your website keeps up with the fast-paced era by upgrading to the latest version of Drupal and staying ahead of your competition. Being a member of the Drupal Association, we possess industry knowledge and a proven methodology to guarantee successful Drupal website upgrades. Contact us at hello@skynetindia.info to hire Drupal developers or fill out the free quote form below to learn more about our Drupal migration, upgrades, and our Drupal development services.
If you have any questions or would like to know more about how Skynet Technologies can help your business to reach one step ahead, Reach out us through submit form & We'll get back to you soon!
Request for Quote