Drupal Commerce Vs WooCommerce – Which one is the Right Ecommerce Solution Platform?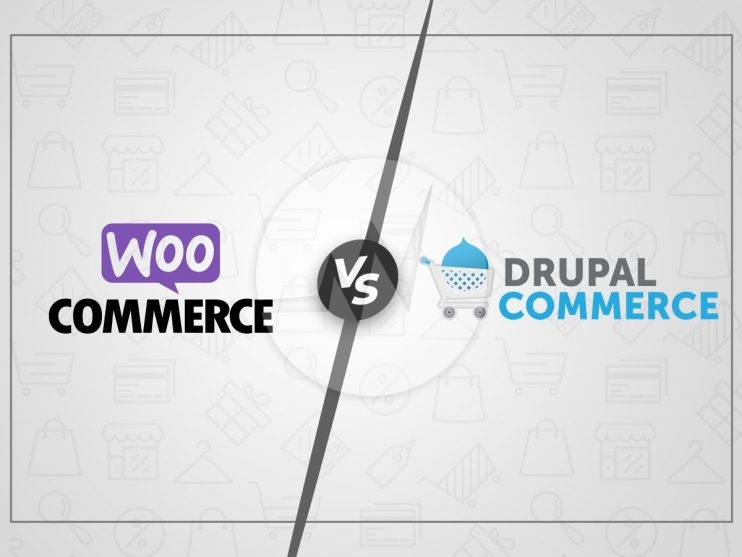 The Ecommerce landscape is growing at a fast pace and many brick-and-mortar retail stores are going online to improve their market presence and business revenue. It's an irrefutable fact that ecommerce business is clearly on a roll, but many are confused about which platforms to pick for building their online websites.
Most of the companies juggle between Drupal Commerce and WooCommerce platforms. Here, we look into different aspects of these two platforms in a comprehensive way so that you can make an informed decision for your Ecommerce platform.
Ease of Installation
Drupal Commerce and WooCommerce are the Ecommerce platforms for Drupal and WordPress content management systems respectively. Drupal Commerce is an open-source framework built on Drupal CMS while WooCommerce is a WordPress Ecommerce plugin.
WooCommerce is a WordPress plugin that can be installed after the WordPress configuration. You don't need any technical skills to work on the WooCommerce plugin. The installation wizard does all the work and in no time, the WooCommerce is set up on your system.
Drupal Commerce can be installed as a module once you install Drupal CMS. It needs certain tech skills to get your head around and complete the installation. Drupal Commerce is well-organized and it leverages the features of the latest versions of Drupal CMS. Check out the guide on how Drupal Commerce development Best Fit for your Online Store.
Ease of Use
With a huge user base, WordPress is already a proven platform in terms of simplicity and ease of use. It has got many intuitive features and provides a seamless experience to its user base. The users are also familiar with many features and themes. For more advanced features, it also provides great flexibility to customize.
Drupal Commerce is fairly easy to use if you have some prior experience with Drupal CMS. Otherwise, you need to expect a great deal of learning before you become familiar with the usage of the functionality. Once you get through the process, you can start your business without delay as Drupal Commerce facilitates a comprehensive shopping cart, dynamic product additions, custom themes, and attributes. Catalog and inventory management can also be created with ease.
Themes and Templates
WooCommerce can utilize a wide range of WordPress themes. There are numerous pre-built templates available that enable customizations. For more advanced features, you need to go for paid templates and plug-ins.
The entire theme of Drupal Commerce can be customized. This gives an extra edge to this platform.
Catalog Management
With WooCommerce Development, you can have a traditional way of displaying your products. It also comes with customizations, layout adjustments, and attribute tagging. But these are ideal for small and medium-sized businesses. For more scalability purposes, you may have some trade-offs like compromised performance.
You can have a traditional catalog experience with Drupal Commerce and organize the products by changing the attributes associated with them.
Target Market
WooCommerce is more ideal for small and medium businesses. Handling large volumes of data becomes one of the biggest hindrances when it comes to larger ecommerce systems. This impacts the performance and in case if you intend to use WooCommerce for larger enterprises then it is advisable to go for a seasoned developer who could optimize the speed.
Drupal, on the other hand, can handle any loads of data. It is much more flexible and scalable than WooCommerce. You can customize your functionality instead of looking for suitable plugins like how you do in WooCommerce. If you want to scale your business aggressively and push beyond the mid-tier markets, then Drupal is the best platform for you.
Pricing
WooCommerce is an open-source platform with many free plug-ins. You can also have commercial extensions and plugins which come at an annual cost as the free plugins provide only basic functionality. For advanced features, you may go for some premium plugins. Users may also incur additional expenses for customizing designs that improve your branding in the market. You should also pay for the hosting of your site.
Drupal Commerce is also an open-source platform and free to use. Drupal modules and functionalities come with zero price and you need to pay only for the hosting fee.
The only additional cost you may entail is for the support which may vary from vendor to vendor. The support is offered at different price points and you may choose what suits you the best.
Security
WordPress has a huge installation base and it is also more prone to security vulnerabilities.
Drupal, on the other hand, is more secure. They go for module and security updates regularly to keep the security breaches to a minimum.
Customizations
WooCommerce provides easy customizations with numerous plugins and extensions. With an easy installation process, even the beginners can get the most out of their site. Equally beneficial for advanced users who want to flex their customization muscles for accessing advanced features and modules.
Drupal Commerce is highly customizable too. It offers a seamless experience and works as a fine extension of an existing web page. You can tailor your websites as per your requirements and preferences. With minor tweaks, you can change the face of the Drupal Commerce platform.
Integrations
WooCommerce works seamlessly with popular integrations such as PayPal, Stripe, UPS, FreshBooks, and also on most of the web-based devices. A huge Martech Stack of extensions and add-on plugins are available with which you can integrate additional functionality on the websites. Even social integrations are easy with plugins and extensions.
Drupal Commerce is ideal for integration with major social channels like Twitter, Facebook, Pinterest and allows customers to share the product details, reviews, and other information across their own social networks. Easy integration with some of the most popular third-party payment gateways along with discount pricing is possible. Drupal also works well with a variety of web-based applications and systems like Twitter, Facebook, and more.
Search Engine Friendly
Built-in SEO friendly plugins are available with WooCommerce. Elements like URLs, meta tags, description plus plugins like Yoast enabler help in optimizing the platform for better visibility on search engines. These SEO plugins and extensions make WooCommerce more search engine friendly.
Drupal can also install Google analytics and also enable SEO through a plethora of SEO modules. It also has meta-tags, URL management, a site map generator all of which improve the SERP results of Drupal platforms. Watch out, how Drupal SEO Service can be a Game Changer for Your Business Website.
Responsive websites
Mobile responsiveness doesn't come easily with WooCommerce. You have to install some modules to boost your mobile performance of your WooCommerce platforms.
Drupal Commerce follows a mobile-first approach and hence building mobile responsive websites gets easier with Drupal Commerce. The Ecommerce websites built using Drupal are responsive across all devices.
Customer Retention
In WooCommerce, Businesses develop their brand awareness by thoroughly understanding the user persona from the analytics data. They even create targeted promotional offers to reach out to their customers.
Drupal Commerce's main focus is on customer retention than reaching out to new customers. So the major focus is on building brand awareness and customer loyalty. You can gain deeper insights into customer persona and use the data to convert customers. Customer-specific campaigns are run to gain traction among users. User segmentation and analysis are done based on the user preferences data.
Cross-selling
In any Ecommerce business, the cart value remains at the core of its success. Cross-selling saves some dollars for the consumers. WooCommerce and Drupal Commerce are pioneers in creating need-specific content to cross-sell the products.
Drupal Commerce has an edge over WooCommerce as it offers multiple cross-selling content options, unlike WooCommerce which has a limited number. Drupal has upselling options also like pop-ups showing free shipping benefits.
Multilingual
As your business becomes global, you need to provide the product details, review, pricing information in the local languages.
Both Drupal Commerce and WooCommerce are multilingual but Drupal Commerce has an in-built multilingual module that makes the process much easier. In WooCommerce, you need to enable the multilingual module to internationalize your business.
Popularity
WooCommerce is one of the most used and popular CMS ecommerce platforms with over 3 million live websites. It is easier to use and less complicated than Drupal set up making it the most sought out platform. Drupal Commerce also powers more than 5000 live websites.
Market Base
WooCommerce has a huge market in more than 160+ countries including the USA, Russia, and others. Drupal Commerce has a global community that pushes new modules periodically but when it comes to market presence, it hasn't got any lead over WooCommerce in these places.
Conclusion
Both Drupal Commerce and WooCommerce have their own pros and cons. In terms of market share and popularity, WooCommerce may seem to be an ideal choice. Although, it would be depend on type of your business and goals. In some aspects, Drupal Commerce can also be a great choice based on your business goals!
If you are looking for an ecommerce website development, shopping cart development, online store development and web application development, Please explore our Ecommerce Solutions! We also provide ecommerce website maintenance services, online store maintenance services and web application security audit. For more information, please visit our Website Maintenance Services!
If you have any questions or would like to know more about how Skynet Technologies can help your business to reach one step ahead, Reach out us through submit form & We'll get back to you soon!
Request for Quote