How User Experience (UX) fits into SEO? Top 3 Things to boost your Website Conversion Rate!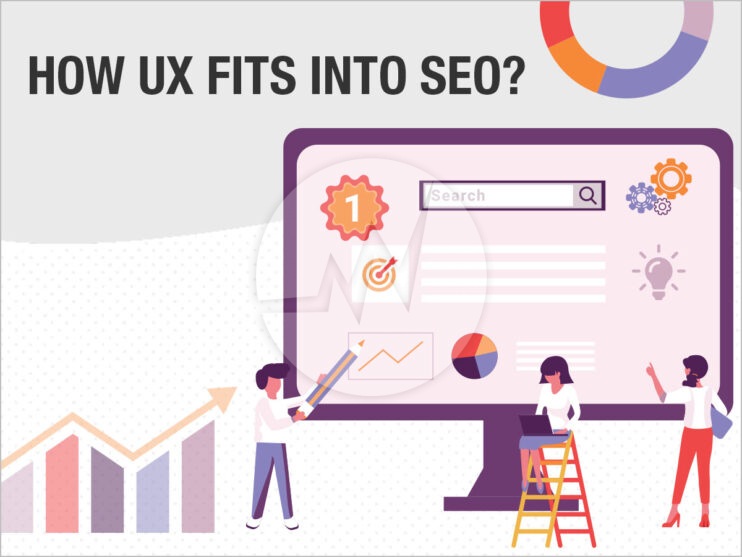 We picked out three points that we think stood out on the topic of search engine optimization.
1. How SEO and online marketing have changed?
The social media platforms have severely restricted outbound traffic to websites
Google sends less organic traffic to the websites
Influencer marketing brings less than the current hype promises
The return on investment of many online advertising measures is almost zero.
Up until a few years ago, it was possible to research keywords with a high search volume and then write "good content" and then share it on social networks. In this way, fans and follower numbers could be increased and backlinks generated. The various advertising platforms were and are used to generate conversions.
This is what search engine optimization whole process looked like: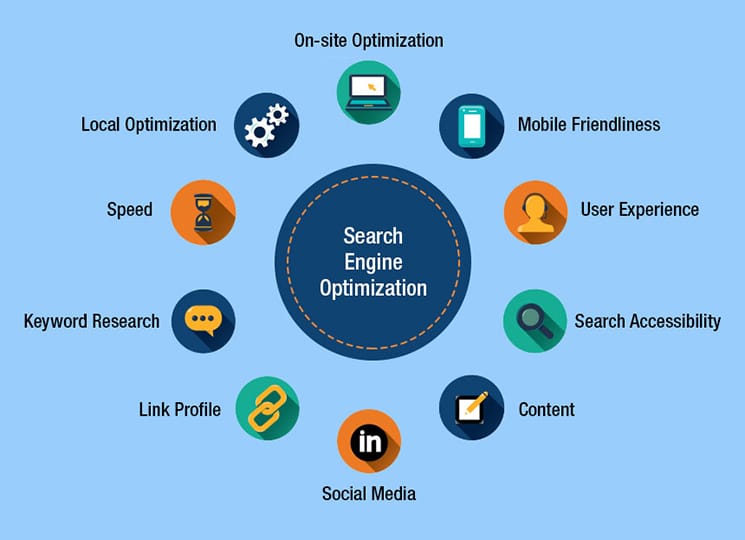 The problem is that using keywords with high search volumes: the website no longer receives enough visitors as they are often far too generic. And basically, less and less organic traffic comes through Google. Google is increasingly aggregating data and already providing answers in the search results so that users no longer have to go to websites to get the information they are looking for ("no-click searches"). These answers push the organic search results down with the advertisements so that the click rates have often dropped significantly. Even with local searches, the traffic does not go to the website, but the Google Maps entry or Google MyBusiness.
Also, it's fair to say that the content is often just not good enough. Too short, too superficial, too sloppy researched and there may be many articles that are simply much better and more useful for the visitor. But SEO and content are directly dependent on one another.
A lot has happened in social networks as well. They are primarily interested in keeping users on their own platforms and have very limited reach for links. Instagram doesn't offer any linking option at all. For example, those who share links to their own website on Facebook often only get a shockingly low reach. The problem is as follows: If a post on Facebook has little reach, the next post will also be "punished". A downward spiral, which may make posting on Facebook for fan pages rather unattractive because hardly any traffic through it reaches the website.
Due to the lack of reach, you may hardly feel like posting, which means that the number of followers is still growing and backlinks are increasingly difficult to get. In addition, the advertising prices on advertising platforms such as Google Ads and Facebook have risen significantly in recent years, although Google Ads is still an extremely attractive advertising option, especially for smaller companies.
Influencer marketing is overrated, many companies are also not interested in specific metrics of what the campaigns have brought them. In 2012 influencer marketing was still the discovery of "sources" that influence users and do marketing there accordingly. Influencer marketing goes much further, because these sources can also be podcasts, newsletters, white papers, blogs, Facebook groups, YouTube channels, guerrilla marketing, events and much more. In fact, many companies only include YouTube and Instagram in their considerations.
So, how can you continue to do online marketing successfully?
Instead of focusing on keywords and high search volumes, make the website the online marketing flagship again and get back to email marketing. Yes, good old-school e-marketing! 10 new email list subscriptions and 100 website visitors are worth more than 10,000 followers.
Focus on real customers and encourage engagement. Again, see more value in 100 real fans than in 100,000 website visitors.
Away from generic keywords and towards more specific (long-tail) keywords with less search volume in order to prevent Google from providing the answers to the user's search queries itself. It is essential to pay attention to the user's intent, what is the user really looking for?
Instead of focusing on Instagram and YouTube, where the competition is already bustling, other marketing opportunities and other platforms should also be considered.
Instead of relying on link posts in social networks, non-promotional posts with high engagement rates make sense. These pay for direct traffic.
Address not only your own target groups but also multipliers. There is a lot of potential here. The more difficult content is to produce, the more it can stand out from the competition.
Show ads with Google Ads (and other platforms)? Yes – but first the company and the brand must be organically visible and trust must be built. In this way, users who already know the company or the brand can also be addressed (remarketing). Otherwise, the return on investment of the ads is simply too high.
2. Five types of navigation that every SEO must know
Many website operators are not at all clear how important it is for search engine optimization to have a clear structure and good user guidance (usability) on the website. This is to ensure good user experience. Often it is only with usability tests that it is possible to find out why users are not taking one route or another on the website that is intended for them. Or whether they are confused about where to go and where to find what.
It has long been my concern to convey that search engine optimization is not about mentioning keywords in any place. And elsewhere on this website, SEO is not a patch for a website that does not offer a positive user experience.
Google attaches great importance to the user experience and has now improved its algorithms so that it can very well assess whether a user has a good search experience when they visit a website. That is why usability, i.e. user guidance and the user experience of how the user "experiences" the website, is an important ranking factor. This includes, for example, the following points:
A logical structure of the website with clear naming of the menu items
Expected items in the right place
Legible font
No error messages or broken links
Clear text structure
Why is website navigation so important?
The navigation/menu structure should enable users (and also search engine crawlers) to efficiently achieve their goals (finding information, completing an order, etc.). According to usability, 77% of the reason why the website does not achieve its goal is a lack of information structure.
Top five types of navigation on a website:
1. The global navigation – the main navigation (where am I now?)
The main menu is used to allow users to move back and forth between main topics, even if they did not come to the website from the start page.
2. Local navigation – matching menu items (what belongs to the main topic, the submenu).
More specific information relevant to the topic is listed here, e.g. as a drop-down, in the sidebar or as a second menu bar
3. The "Utilities" – useful elements, e.g. login, shopping cart, help etc.
These usually located at the top right. Since only one icon often used, it makes sense to stick to common designs or to include a text.
4. The supplementary navigation – e.g. Further links in the footer or in the sidebar
These intended to convey to users and search engines which content on the website is the most important. The footers are often in a contrasting colour, preferably in light grey. But that is often difficult to read. The following readability tools to test if the contrast is good enough.
Recommended readability tools:
WAVE Evaluation Tool
Lighthouse Accessibility Audit tool
JAWS® (Job Access With Speech)
NonVisual Desktop Access (NVDA)
VoiceOver
Using a sitemap in the footer if there are a lot of pages on the website. But, don't just show all the pages of the website in a tree view, but a clear presentation of the most important pages sorted by topic.
5. Context navigation – what does this content include?
This is navigation through similar content. This is where the connection is established between the pages so that users can find other interesting pages. This is also known as internal linking and is very important for SEO!
So, this is not about navigation or a menu, but about guided navigation in the text. This form of linking is effective to ensure that long texts can be found, e.g. as a table of contents at the beginning of the article. The type of user guidance is a relief for the user, especially when the screens get smaller.
It is important to ensure that the anchor text (the text to be linked) makes sense.
An example:
Bad: You can find further information here.
Better: Here you can find further information on the subject of internal linking.
Ultimately, however, it is always a matter of weighing up user expectations on the one hand and business goals on the other.
3. The user experience with a website and real customer focus
We give a keynote on the subject of customer focus – real customer centricity. This holistic orientation of the company towards the customer does not mean that texts can be found on the website, such as "we focus on the customer".
Is the customer really the focus on your website?
People want to come to your site every day, but they don't! (= the click rates keep falling).
Every day people want to become your customers, but they don't, they buy elsewhere.
According to a study, 68% of customers believe the company doesn't care. Even if a website is convincing, easy to navigate and offers all the prerequisites for prospective customers to become customers, the question that concerns customers is whether the company is really committed to the interests of customers.
It is not because of digital disruption when companies disappear, but because they lose touch with their customers. Not being customer-centric is the greatest danger for companies. Many companies claim that they are customer-oriented – only customers don't see it that way.
How do your customer buy?
What is missing is a deep understanding of what makes customers to buy your products. Why do customers buy? Why don't they buy What do you already know, what point are you at? What is your motivation, your emotions? Many companies collect feedback from customers, but only 1/3 uses the knowledge and very few changes anything. Check out how SEO and User Experience team to bring value & achieve your business goals.
Questions about opinions and future behaviour are pointless.
Don't talk about yourself, talk about the customer
Which customer problem can you solve?
Wonder why customers don't buy?
When asked what is stopping people from buying the premium version, the answer was actually simple: users were concerned about whether the texts they had already entered would copy. Try to remove the barriers that may exist in the customer's mind. A website is something that people want to use, not just look at. So, the text is very important on a website and the design should support the user in achieving his goal.
Do you need any help to improve your website usability or user experience? We are here to help you out! If you are looking for UX/UI web design, online store design, ecommerce website design, Please explore our website design services! We also provide website redesign service, website revamp service, online store redesign service or ecommerce website redesign service, for more information, please explore our website redesign services! Ultimately, UX helps to improve conversion rate. If you require help with search engine optimization, digital marketing, social media marketing, content marketing, explore our SEO Services!
If you have any questions or would like to know more about how Skynet Technologies can help your business to reach one step ahead, Reach out us through submit form & We'll get back to you soon!
Request for Quote