Need of App Development for Small Business in Modern Competitive Market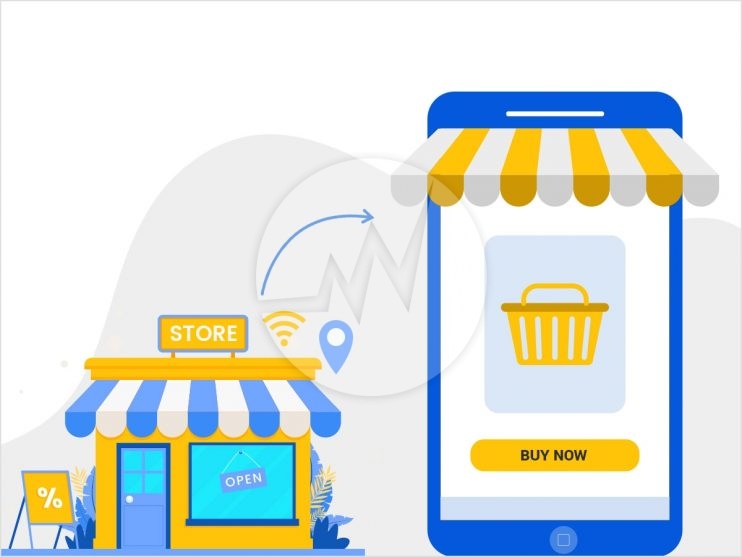 One irreplaceable facet of online business is digital media. No business can afford to overlook this crucial side because digital media actually decides the future of your business and one of the important types of digital media is mobile phones. Lately, mobile users have increased significantly, and the numbers are doubling-up at a faster pace.
Small business owners have to deal with many hurdles to survive in the competitive market. And one of the major hindrances is getting enough traffic. To enhance traffic and conversion, you need to invest in mobile app development. Importance of app development for small business is necessary and this is one step towards success, for sure.
When you have a mobile app, you can reach a wider segment of your target audience and create a noticeable difference in terms of user base and revenues.
Let's know, how mobile apps benefit a small business.
Reasons Why Small Businesses Must Have a Mobile App
1. To Promote Your Business
Mobile apps are the face of your brand for users who mainly use mobiles to explore products or information. If the app is well-designed, it will grab the attention of your users. A useful app can save a huge marketing expense for small business owners and create a loyal customer base.
YOU MAY ALSO LIKE: Role of Mobile App Modernization
2. To Grow the Customer Base
A good mobile app can multiply your organic customers to many times. Always remember, your app must be listed on all the app stores and well optimized for search engines so that users can easily find and download it.
3. To Gain Customer Feedback
Customer feedback is vital for every business however a small business can get an edge over its competitors by improving its processes using valuable customer feedback. It is easier for customers to register their feedback via mobile apps. They can easily fill out forms or give reviews and comments. Mobile apps provide many other ways to increase customer engagement and hence benefit your business.
4. For Maximum and Faster Conversion
Mobile apps help small business owners to achieve maximum conversion due to easy access. Push notifications help in the marketing of products, brands, new offers, etc. that grab users' attention and increase the sales of business. You can create promotions, offers, coupons, etc. for slow-moving products. In short, investing in mobile apps is beneficial for small businesses because they help in enhancing conversions.
YOU MAY ALSO LIKE: Web Design Tips to Elevate Small Businesses
5. To Get Competitive Advantage
There might be many small businesses who don't have their mobile apps because of some or the other reasons. And some organizations don't leverage their mobile apps utterly. Thus, if you have a well-designed and useful app, and if you are applying the right marketing strategies, you can get an edge over your competitors.
6. A Reliable Source of Analytics
Mobile apps help in gathering trustworthy information for further analysis. Mobiles are the places where your audiences are spending most of their time; thus, they know your audiences' shopping behaviour, their most preferred products, what they keep on searching for, etc. These are some crucial pieces of information that can help you to make your strategies and attract potential customers.
7. To Grow Customer Loyalty
Mobile apps are great sources of increasing customer loyalty. Your users can check everything about your brand, products, and other details at any time. Your mobile app is available 24*7 to them. Continuous interaction between users and apps builds a bond.
Moreover, offers and promotions are the oldest and most reliable customer loyalty programs that surely help small businesses to grow their business. The users who have mobile apps installed on their phones, you can offer them additional discounts or some other advantages.
8. For Double Benefit
If a small business has a fully functional website and a properly created app, it is like a double deal for them. Search engines will help users to click on the website's link and mobile users will use the app to buy their favourite products. Hence, the organization will reap the profits from both resources.
9. Geo Tracking
This is an amazing feature that can be integrated with small business apps and get information about users' locations. If you know the location of your users, it will be easier for you to impress them by sending them location-specific messages. Also, you can integrate a map with your mobile app to help users easily find your location.
10. Virtual Reality Feature
Mobile apps can add virtual reality features to increase the functionality of the app. For instance, if a user is looking for sunglasses and he is not sure about the look of the sunglasses, virtual reality will help him by showing the outcome. Such features increase engagement of the users with your mobile apps and enhance conversions as well.
What Should Small Businesses Consider While Building a Mobile App?
Small businesses must focus on a few important points before they create their app.
The apps must be niche-specific. Whatever industry you are in, choose design and features accordingly.
Think of your target audience and consider all their requirements to make an app.
The mobile app should adhere to ADA guidelines to be fully accessible to everyone.
The app must be optimized for search engines so that your users will easily find them.
All the payment options must be integrated into the app to make the conversion easier.
Mobile apps should be listed on all the app stores/ play stores.
The mobile app and website both have the same look and feel for ease of operation. For users who are familiar with your website, it will be easy for them to operate the app if the navigation flow will be same.
Read about Mobile App vs Mobile website here.
Wrapping up
Mobile apps are inevitable for all businesses however small businesses struggle more to get traffic and conversion. Therefore, it is crucial to have an aptly designed app, which is usable and accessible for everyone.
Investing in an app is always beneficial. If have any doubts about mobile app creation, reach out to Skynet technologies and they will help you with satisfying solutions. Skynet technologies provide different types of mobile app development including android development, iOS development, and Drupal mobile development. Fill out the form below to get a free quote.
If you have any questions or would like to know more about how Skynet Technologies can help your business to reach one step ahead, Reach out us through submit form & We'll get back to you soon!
Request for Quote