Mobile Search Engine Optimization: An Effective Way to Boost the Conversion Rate!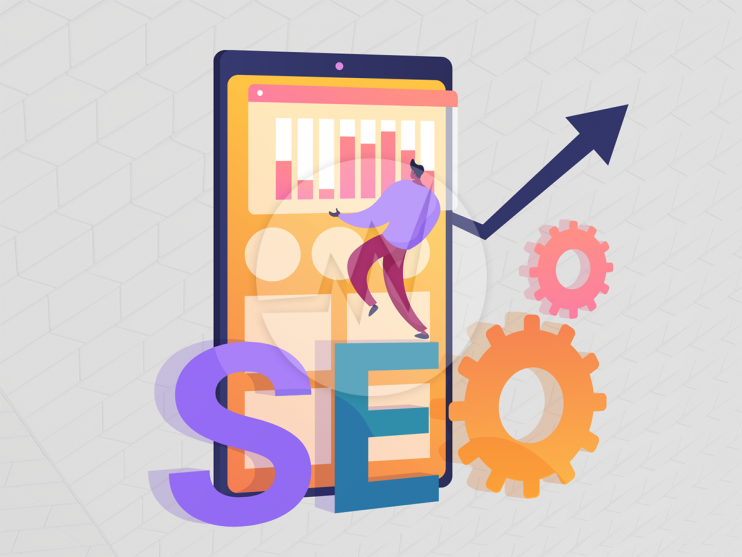 There is no question that people are spending an enormous amount of time on their phones, particularly to access the internet. Most people have made mobile internet browsing a vital part of their daily life, whether it is reading the news, getting in touch with loved ones, or shopping online.
According to Statista, more than half of the world's website traffic comes from mobile phones. This is a clear indicator that website owners should increasingly prioritize mobile search optimization (SEO).
Mobile Search Engine Optimization can help enhance conversion and boost your bottom line in addition to improving website visitors.
In this article, we'll go through how to establish the ideal Mobile Search Engine Optimization strategy to boost your conversion rate and improve the mobile user experience.
What is mobile search engine optimization?
The process of optimizing a website to improve mobile user experience and search engine ranking is known as mobile search engine optimization. Previously, optimizing a website for mobile was as simple as implementing responsive design. The desktop version of the website could still be viewed, but most of the elements had been scaled to fit the screen size of the mobile device. Mobile optimization has advanced in recent years, and as a result, mobile SEO strategies have changed.
Mobile responsiveness is no longer enough, thanks to Google's implementation of Mobile First Indexing in 2019. Now a website must also be optimized for mobile first indexing. This is one of the key reasons why mobile SEO should be a top priority: you can take advantage of Google's mobile-first indexing update.
The following are some common characteristics of a mobile-friendly website
No sidebar
No popups
Responsive design
Simple, tidy design
Big, bold buttons (if there are any, they should be easy to close)
Compressed images for faster loading times
Scannable text (structured by subheadings and bullet points)
The user experience when navigating the website is always considered by mobile SEO. It should be easy for visitors to make a purchase, sign up for your service, or follow any other call-to-action (CTA) that you have on your page.
Why is Mobile Search Engine Optimization Important?
Only one of the many reasons why mobile SEO is so crucial is the necessity to optimize for Google's mobile first indexing. There are numerous more benefits of using SEO (Search Engine Optimization) for mobile devices, one of which is the enhancement of the mobile user experience, which can lead to increased conversion and a profitable return on investment (ROI).
Another reason is the fact that more than half of online shoppers buy things using their smartphones. If you ignore mobile search engine optimization, you are missing out on a portion of potential customers. You need to improve mobile usability not only for customer satisfaction but for mobile conversion optimization.
If visitors can easily be converted into customers, then your website helped achieve one of your most important business goals. As a result, it is in your best interests to prioritize developing and implementing a mobile SEO strategy for your company's website.
Recently, Google announced that it would introduce a new algorithm update called "Page Experience" In May 2021. The update will consider the user's experience of ranking websites for search results. And, according to Google, includes users experience the website's mobile-friendliness and the speed of the website.
How does mobile search engine optimization increase conversion?
Convincing potential customers to buy is hard enough. Then, once they decided to buy from you, you need to remove any difficulties that they may encounter in the process. The best method to secure lucrative outcomes from your campaign is to focus on SEO for mobile conversion optimization.
On an ecommerce website, a one-step checkout is an example of making the buying process as quick and easy as possible. There should not be any distractions or confusion about how to make a purchase on your website.
For years, business owners have focused on optimizing a website's conversion rate. As more consumers use their mobile devices to shop and search for a business, mobile conversion is also quickly becoming a priority.
How do you implement search engine optimization for mobile devices?
Mobile SEO specialists provide a lot of ideas and suggestions about how to make a website more user-friendly for mobile devices. You can implement a number of mobile SEO techniques to improve your conversion rate optimization approach, including enhancing website performance and removing pop-ups.
The technical aspect of improving your Mobile Search Engine Optimization may not be your specialty, so it is best to seek help from an SEO company that is experienced in WordPress mobile optimization or implementing SEO for mobile websites based on other platforms like Shopify or Amazon.
If you would prefer to do your mobile SEO improvements yourself, here are some of the steps you can take.
Perform a Mobile Search Engine Optimization Audit
How do you know if your website is benefiting from Google's mobile index rule? You will not know what to do if you do not research and collect data. A mobile SEO audit provides data on your website's mobile SEO performance and insight into the mobile SEO strategy that should be implemented.
You can perform mobile SEO audit is to use Google's speed testing tool. It's a free tool that you can use to understand how your website is doing on Google's mobile index.
You can retrieve the following information by entering your website's URL:
Mobile friendliness
This measures how easy it is for visitors to view your website on a mobile device. Tiny buttons, unclear navigation prompts, and any other difficulty affecting the mobile user experience can lower this value.
Mobile speed score
This value measures how quickly your website loads on mobile devices.
Desktop speed
This number is how fast your website loads for desktop users. Site speeds on mobile and desktop can vary widely depending on factors such as bandwidth and site structure.
Remove clutter
Mobile websites have limited space and cannot display the exact same layout as the desktop version of the website. That makes mobile navigation a bit of a challenge.
Take the sidebar, for example. The sidebar, which is a smaller column to the left or right of a website, often moves down on a mobile version of the website as a result, the user scrolls all the way to the bottom of the page to see it.
Removing the sidebar not only removes the visual clutter from your mobile website but also allows the user to focus on the main content of the website.
Pop-ups and advertising interrupt the user's experience. Let's say your goal is to get the visitor to run your CTA, be it to:
Buying a product
To subscribe to a service
To subscribe to an email list
Arrange a call
If this is your goal, there shouldn't be any other distractions in your website's mobile navigation. If everything on your website results in a conversion, you will get better results. More importantly, mobile indexing takes these factors into account as well.
For WordPress websites, there are many WordPress mobile optimization themes and plugins that will help you give your mobile website a clean, minimalist design that will enhance your mobile SEO.
Some common problems mobile users encounter while browsing a non-mobile optimized website include:
Endless scrolling
Inconsistent or confusing filters
Slow loading times
Small pictures and texts
Non-customizable items
Difficult to fill out forms
If your website meets all the Google-enforced initial mobile indexing requirements, you should be on the right track.
Improve website speed
Website speed optimization is an important part of mobile search engine optimization and technical SEO. Mobile users abandon a website if it takes more than three seconds to load as per study. On average, it takes a mobile website 15 seconds to load. This has a major influence on traffic and conversions, demonstrating the value of mobile conversion optimization to organizations.
In addition to increasing visitor retention, website speed can dramatically improve the user experience and help convert a visitor into a customer as quickly as possible.
More importantly, Google has announced that its algorithm will take speed into account when evaluating mobile websites. As a solution, Google recommends moving mobile websites to Accelerated Mobile Pages (AMP), which use a simpler version of your HTML code for faster loading times.
A few more strategies for improving website speed are:
Activate image compression
Create a simple layout
Website speed checking
Use of a content delivery network (CDN)
Focus on your call-to-action
It is tempting to fill your website with tons of information about your business, but you should focus on the main objective of your website. A clear CTA on your homepage can get your visitors to convert immediately.
If you have an e-commerce site, buttons like "Add to Cart" and "Shop Now" should be clearly displayed on each product page. For consultants, a CTA such as "Let's Talk", or "Make an Appointment" should be at the very front of your landing page.
You want your visitors to act after reading your listing, so make the experience as enjoyable for them as possible.
Conclusion
We obviously live in the age of mobile consumption and companies and brands have jumped on the bandwagon of mobile SEO optimization. While it can be a tedious and costly endeavour, it's a smart investment that will bring you a reward: conversion.
We provide complete website optimization services including mobile search engine optimization, conversion optimization, speed optimization, on-page optimization, off-page optimization, and much more. Visit the link to know more about our Search Engine Optimization Services. If you are looking for an ecommerce website design, online store design, shopping cart design, website design services, UX/UI web design, please explore our website design services!
If you have any questions or would like to know more about how Skynet Technologies can help your business to reach one step ahead, Reach out us through submit form & We'll get back to you soon!
Request for Quote