Is Ecommerce Mobile App Development beneficial for Small Businesses?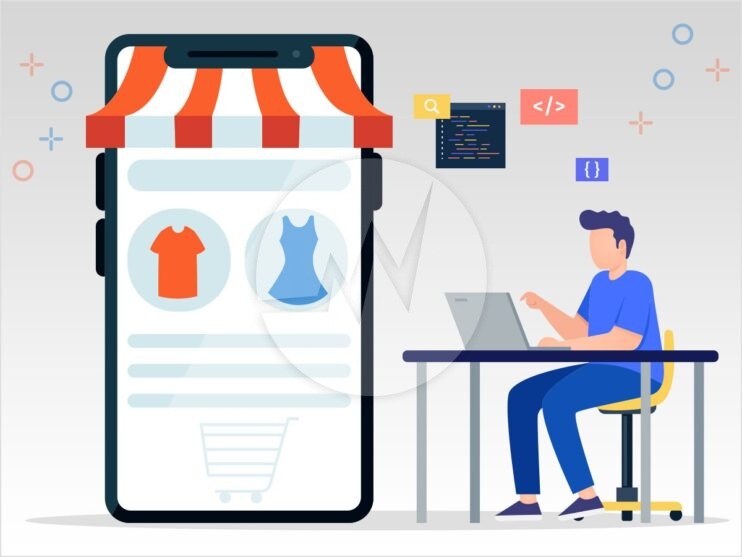 In recent times, the number of mobile phone users has shot like a rocket around the globe. It is because mobile devices are simpler to use. To increase customer loyalty, ecommerce mobile app development for small-scale businesses is considered important. Every smartphone user wants their data and app to be personalized according to their interests. Hence, the audience largely consider downloading mobile applications and carry out all their daily activities using those applications.
Ecommerce Mobile App Development for Consumer Engagement
Consumer engagement is vital for small businesses. It enables in production a quick marketing medium between businesses and their potential customers. Also, with your mobile application, you can send push and in-app notifications to a lot of customers. Thus, the target audience can purchase the products at their time.
The notifications you send them to carry important and vital information will make your customers get more engaged and loyal to your brand. Ecommerce mobile app development features can yield you multiple opportunities with higher customer engagements on mobile applications.
Pros of Ecommerce Mobile Applications for Small Businesses
More Accessibility:
Another important advantage of ecommerce App Development Services is that it improves small business accessibility. It enables small-scale businesses to be geared-up to send notifications about their new launch and innovations. It also allows the small businesses to be ready to create an efficient relationship with the customers that may build a base for loyal customers. The business can also create strong relationships by giving some great discounts for the developed relations with the customers.
Offer Value to Ecommerce Customers:
Ecommerce App Development Company makes it easier to digitize a loyalty program, which you may possibly offer to your target audience. Instead of employing the old gift vouchers, you enable your purchasers to receive their gifts and vouchers via mobile applications
Evolving the Retail Experience:
An ecommerce Mobile App Development Company helps you in transforming and developing the retail experience by enabling the business owners to come up to the customers' expectations by making the customer experience unique. In addition to that, the mobile apps enable to deploy a digital process which streamlines and reduces store management costs and cause more profitability.
Build Recognition:
The mobile applications for your business are the definite solution because it gives you all the relevant information in respect to your business and your recognition of the brand. Hence, it helps you in showcasing your products and services at all times in front of the customer's eye. This can help boost your sales growth significantly.
Therefore, Mobile apps made with the help of the best ecommerce App Development Company for small businesses can surely contribute to boosting your brand image. Hence, to obtain the pros of mobile apps for brand recognition, all you need to do is to create an app that's interactive and branded and also offers some great features that your potential customers would like.
The more you get the purchasers involved in your product/services through your mobile app, the more likely they are inclined towards buying it. This is most probably called effective frequency in advertising and marketing.
Stand Out against the Rivals:
Until this date, Mobile apps for small businesses are still not so common and that's where you'll create a difference. Therefore, by providing a mobile app service in your small business you will most definitely stand out from the opponents. This may pleasantly surprise your customers, who are going to be impressed by your forward-thinking actions and perspective. Approach an ecommerce mobile app development company and convey your idea of a new beginning.
Create Brand Loyalty:
With numerous marketing tactics like Facebook ads, coupons, flyers, email marketing, etc. It's convenient for small businesses to lose hold of their potential clients. As a large amount of marketing, they can easily distract your customers and can divert the focus. To answer this question, you should make use of a marketing technique that will make a real and sincere reference and impact the customers to get inclined to your products.
Offer Different ecommerce Services:
Mobile applications have brought together various features that go together with various industries.
For e.g., in case, you're within the industry, like healthcare, salon, online food chain, spa, the mobile app is handy for the target audience to book their appointment, visiting time, price, etc.
The push notification enables and helps to remind about their appointment. On the other side, mobile payment is becoming very popular amidst the demonetization. Therefore, small scale can merge payment methods such as receiving direct payment by using credit, as well as debit cards, as these payment options are easy and secure with the help of efficient ecommerce app development services.
Leveraging the Social Media Benefit:
The majority of the mobile applications automatically engage the users to the business's social media accounts by advertising and logging-in in the first place. This provides a chance to remain connected to your audience and potential customers.
When you are running a start-up or a small business, you need to function on different social platforms as the majority of the masses are present in social media and it also increases your visibility and online presence which helps you with sales. ecommerce Mobile App Development features will help you create that impact on social media and will make the whole process smoother by connecting both things.
App Navigation:
The navigation of your mobile app should be easy and neat which smoothens the path of the customers on your app. During the time of the app development, you need to ask the person responsible for your ecommerce mobile app development to take care of it. You have to make sure that fewer actions should be required by the customers while navigating through products and purchasing them on your ecommerce Website. Following this practice makes everything sorted and simpler.
Final Words
From brand awareness to engagement, brand loyalty, recognition, and a lot more you obtain from the mobile application development. Also make a note that when the big companies launch their ecommerce apps, it is a rare phenomenon for the smaller companies in comparison to having mobile apps. So, thinking out-of-the-box and making an ecommerce mobile application will make your business go miles ahead of your opponents.
If you are looking for an ecommerce mobile app, ecommerce website development, shopping cart development, online store development and web application development, you can explore our Ecommerce Solutions! We also provide ecommerce website maintenance services, online store maintenance services and web application security audit to make sure your existing website never let your customers down when they visit it!
If you have any questions or would like to know more about how Skynet Technologies can help your business to reach one step ahead, Reach out us through submit form & We'll get back to you soon!
Request for Quote