Top crucial digital marketing KPIs that you must start tracking!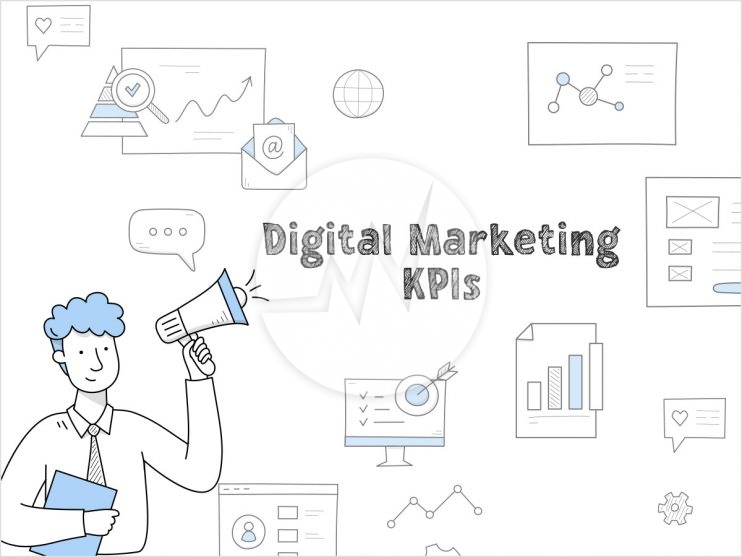 They say, "The use of KPIs is meant to improve and transform the organizational performance."
Thus, each organization must track and fine-tune their business KPIs (Key Performance Indicators) in order to improve business performance. If the KPIs are not measured, they cannot be managed and vice-versa. Especially when it comes to digital platforms, tracking becomes essential to get real picture of your business progress. A few KPIs like conversion rate, website traffic, etc. are crucial in digital marketing.
Are you tracking or measuring digital marketing KPIs? If not, then start tracking them today!
Tracking these KPIs is important because they give you information about what is working well for your business and what is not. There are chances that you are spending more money on some campaigns that are not working well, whereas the campaigns that are bringing results are less taken care of because you are not tracking them. Thus, you have no idea which KPIs are driving traffic and you keep wasting your money on the wrong metrics.
If you track right digital marketing KPIs, you can invest more on the right strategies; thus, the organization's sales and revenue will increase rapidly.
YOU MAY ALSO LIKE: B2B SEO Strategies
How will you decide which KPI to track?
There is a simple way to decide which KPIs to track going with SMART criteria. All goals must be Specific, Measurable, Achievable, Relevant, and Timely. Once you decide on the goals, it is easier to determine which KPIs will help you to reach the goal.
For instance, if your business goal is to increase traffic in the next few months, then you should track KPIs like traffic sources, click-through rate, and bounce rate.
Digital Marketing KPIs that you must track
KPIs to measure website performance
Page Views: A page of the website has been viewed how many times.
Users: The number of visitors who landed on your website, they can be new visitors or returning users. New visitors are visiting your website for the first time however, returning users have already visited the website. They will be recognized based on browser cookies. But if someone has deleted the cookies after visiting your website for the first time, they will be considered as a new visitor only.
Sessions: Interaction between users and website pages is called a session. Google Analytics 4 ends a session after 30 minutes of user inactivity.
Bounce rate: A bounce is a single-page session on your website and bounce rate is how frequently a bounce happens. Divide the total number of sessions by the number of single-page sessions and you will get the exact bounce rate of the website.
YOU MAY ALSO LIKE: Tips to reduce bounce rate
KPIs to measure Google Ads performance
Impressions: The number of times when your ads are shown in Google and other search engine result pages.
Clicks: Every time when a user clicks on your ads is known as clicks.
Conversions: When a user completes a desired action on your website it is a conversion.
Impression Share: It is the visibility of your ads. The percentage of times a campaign was eligible to get displayed compared to when the ad got actually displayed. For example, your ad was supposed to appear 100 times, but it appeared 60 times only, which means your ad has a 60% impression share.
CTR: Click-through-rate or CTR is the percentage of impressions, which brings user clicks to your ads.
Average CPC: It is the amount you've been charged for a click on your ad.
ROI: The return amount you are investing in the advertisement; it can be either in profits or loss.
Average time on page: The more a user spends time on your website pages, the more engaging they are. If the time is decreasing, start optimizing or renovating website pages.
KPIs to measure business success
Leads: It is a sign that a user has shown some interest in your product or service.
Sales: It is nothing but the number of times your products or services have been purchased by users.
YOU MAY ALSO LIKE: Improve landing page conversion
Traffic: An average number of people who are contacting your website at a specific time.
Average Order Value: It shows the performance of marketing efforts you have done for selling your products. The average order value is the customer's spending to buy the products from your website. If you can improve this value, business revenue will ultimately increase.
Reviews: Users give feedback on the products they buy. If these feedbacks are positive, implies your marketing strategies are doing well. However, if there are negative comments, you need to re-design your digital marketing strategies.
Customer Retention: All marketers believe that your existing customers are more likely to give you repeat sales. Convincing new users about your products and making them to buy those items is difficult and expensive as well.
Page Speed: Page speed is an another crucial KPI to track for. To improve search engine ranking and conversions, you must keep eye on the Page Speed of the website.
Thus, the top KPIs in digital marketing depend on your business, its goals, and the online channels you are targeting. It may include email marketing, search engine optimization, social media marketing, and paid advertising.
Wrapping up
"Digital marketing is not an art of selling a product. It is the art of making people buy the product that you sell." Hecate Strategy
And to make people buy the products, you have to provide them best user experience. The more you track your KPIs and improve them, the more conversions you will get. Because improved KPIs automatically improves user experience, which leads to conversions. Therefore, identify all the crucial KPIs as per your business goals and put your efforts in the right direction.
It might be overwhelming for you to recognize and track these KPIs efficiently. In that case, hiring a digital marketing agency will work for you. Skynet Technologies provides SEO services, digital marketing services, and website development services. Fill out form below to know more about our services and its cost.
If you have any questions or would like to know more about how Skynet Technologies can help your business to reach one step ahead, Reach out us through submit form & We'll get back to you soon!
Request for Quote