BigCommerce Abandoned Cart Issues – Reasons and Recovery Tips to Boost the Sales!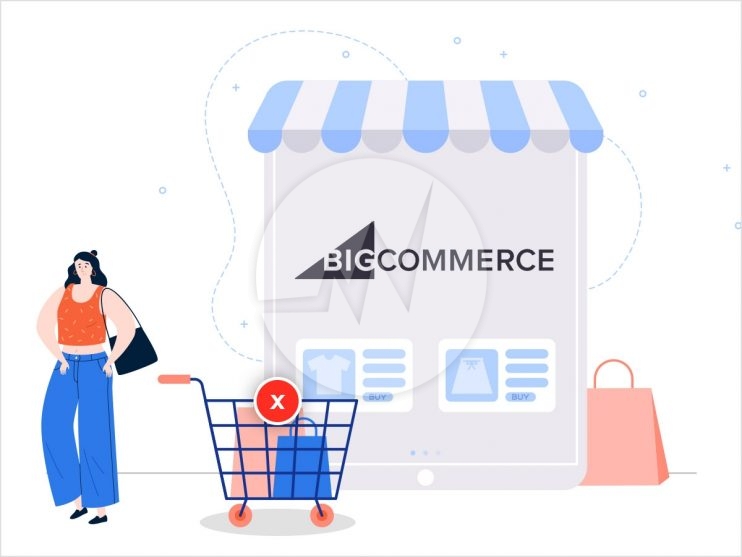 Forget something? Distracted? Confused? These are a few notifications that you send to your users when they add products to their cart and then leave it abandoned for some reason.
BigCommerce abandoned cart is troublesome for website owners. You know your users are leaving the website without giving you conversions, but what you don't know is why they are leaving. Though two crucial reasons shipping costs and complicated checkouts are the most common issues behind abandoned carts for any website; there are other known and unknown reasons as well.
Analytics help you most of the time to know the abandoned cart trends, however, some reasons are still unspecified. Nevertheless, abandoned cart is not always a problem. At times, customers leave it just for some time and then come back on their own to complete the order.
Fortunately, BigCommerce has tools that can reduce the abandoned cart problem significantly and help you get those reluctant customers who have some or other issues due to which they leave the cart abandoned.
YOU MAY ALSO, LIKE: SEO for your BigCommerce store!
Tool to eliminate abandoned cart issue – BigCommerce Abandoned Cart Saver
BigCommerce has a tool to vanish your abandoned cart problem, which is known as BigCommerce Abandoned Cart Saver. This tool is available in all the BigCommerce Plus, Pro, and Enterprise plans, but not available with the Standard plan.
Abandoned Cart Saver helps you to set up and automatically send notifications and emails to the users who abandoned their shopping carts. This is a way to remind them about the cart and recover a lost sale.
To use BigCommerce Abandoned Cart Saver, you need to follow a few steps to enable and customize this feature.
Click on 'Shop Setup' once you sign in to your BigCommerce account.
Click on 'Store Settings'.
In settings, you have to choose 'Miscellaneous'.
Then scroll down to find the options of 'Abandoned Cart Notification', 'Abandoned Cart Emails', and 'Converted Cart Emails'.

Abandoned Cart Notification helps in sending messages to visitors who left their carts.

You can configure the Abandoned Cart Email feature to send emails to visitors, but for big stores, it should be properly determined how many abandoned carts can be used in each abandoned cart email.

Converted cart emails lets you know that a visitor has returned and completed the order by sending you an email. However, if you are using any third-party solution such as Mailchimp to get this information, then you should disable the converted cart email feature.

To customize cart abandonment alerts, return to your dashboard and click on 'Marketing' and update the alerts.
Check the box given next to Abandoned Cart Notifications.
You can see abandoned cart alerts have been set up for the next hour, or the next two days or so. You can create several alerts as per your requirements. But note that, only three of them will be active at the same time.

You can also edit a current message by selecting the 'Edit' option from the ellipsis icon in the Action tab.

When you will be in the abandoned cart message editor, you will find some fields such as

From- which is your store's email address

Topic- email's subject line

The body of the mail is nothing but the message that you will send

Coupon code- There is a dropdown menu from where you can choose the code you've made

Then select the email as one of the three active emails.

And then email is ready to send (Don't forget to set the span for which the cart will be abandoned before the message will be sent. Range can be from 1 hour to 10 days.)

Make sure only three emails are activated. If you have inserted a post, then deactivate one of the default emails.
To adjust the footer of your lost email (because it will be the same as other emails), go to your dashboard and click on 'Storefront'.
Click on 'Email Templates'.
Increase the Snippets folder and click on the 'Edit' button for EmailFooter.html
Make the changes in the footer and save your work by clicking on the 'Save' button.
Apps to Reduce Abandoned Cart Problem
Majorly, cart abandonment happens due to poor shopping and checkout experiences. BigCommerce has some applications that help you recover lost carts. Let's know about them.
YOU MAY ALSO LIKE: WooCommerce Abandoned Cart Recovery
1. Cart Stacking
This app gives you a thirty-day free trial option so that you can check if this application is suitable for your business needs or not. Cart Stacking is helpful to send custom-designed emails to users who left the carts abandoned during its free trial as well and help you recover several abandoned carts.
2. Chated.io
A significant number of carts are discarded before their checkout, which is a huge loss for the Ecommerce industry. Chated.io help you to tailor and plan those three active emails to deliver to customers who left abandoned carts.
3. Coplot:bot
This application is also the same, helping you to recover abandoned carts, and setting this up is easier. Coplot:bot keeps on reminding those users about their carts via Facebook at regular intervals until they are back to store to complete the order. It also helps you to display your products to your target audience at right time, which increases your conversions.
4. Remarkety
This application assists you to know the shopping behaviour and buying background of your users. Using this valuable information, you can send appropriate messages to the users and avoid abandoned cart issues. Remarkety has one incredible feature to segment your audience with product recommendations. Besides, it sends customized discounts to users as per their previous shopping history and re-engages them.
5. Mailbot
Mailbot takes care of email marketing using a reliable automation feature. The application helps you to prepare, draft, and schedule newsletters and drip promotions for weekly distribution. It enables you to create divisions with multi-levelled criteria to reach every single customer of your store. You can also create pre-built promotions, recoup missed sales, recover discarded carts, and retain existing customers through customized communications.
6. Springbot
Springbot provides you with data-driven targeting advice to make insightful choices. Small to medium-sized retailers can leverage the information and improve their marketing efforts. You get analytics and marketing automation in a single dynamic platform that vanishes the need for various resources. The application is a little difficult to operate; however, it simplifies monitoring and operating a multi-channel strategy.
7. Conversion
It is a feature-rich application that helps you to re-engage, capture, recover, convert, and repeat the sale. Conversion combines robust email marketing and user-generated content platforms to engage users in building brand confidence.
8. SmartrMail
This application helps you to mix and match deals with follow-up emails. It also tells you which deal is more effective to club with emails.
9. Marketing Cloud Connector
This application helps you to expand the CRM and Ecommerce network using the idea of operation first. It allows you to sync the different groups, users, and products to run email campaigns smoothly and effectively. You can also export the abandoned cart information to the marketing cloud data extension and reach out to the abandoned carts to improve conversions.
10. Revamp CRM
It is an Ecommerce and sales CRM that incorporates segmentation and automatic email marketing. It has more than Forty features that can be used to separate users in no time based on their shopping behaviour.
Wrapping up
So, BigCommerce has an in-built feature and ample apps to eliminate cart abandonment issues. Other than that, you can use Google Analytics, send push notifications, and work on checkout page optimization to improve this critical problem.
In a nutshell, you must strive to deliver an exceptional experience to modern customers in order to get maximum conversions and negligible cart abandonment. BigCommerce has made your work easier but if you need help finding out the right solution, hire a Skynet Technologies who provides Bigcommerce development services. If you want to secure your big commerce shopping cart or want big commerce integration service then Skynet Technologies is the one-stop solution for all of these problems problem.
If you have any questions or would like to know more about how Skynet Technologies can help your business to reach one step ahead, Reach out us through submit form & We'll get back to you soon!
Request for Quote