The Importance of UX Design Vs UI Design in the Development of Mobile Applications!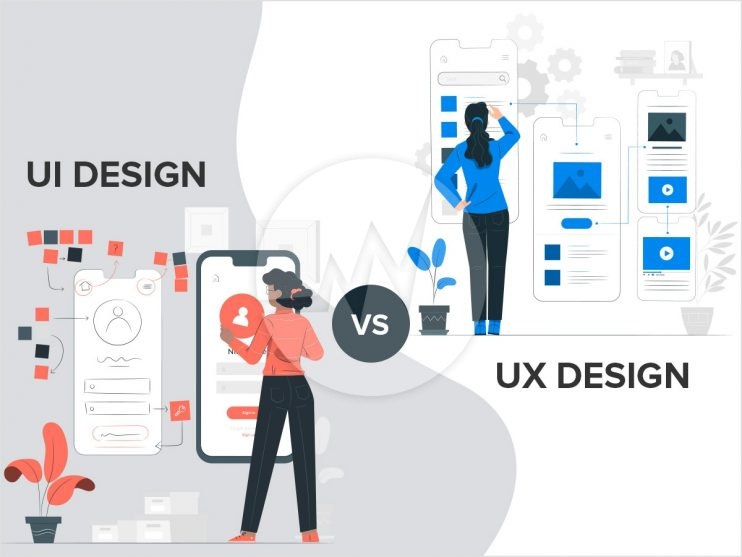 If your application is old and not running well in suddenly, it usually looks old-fashioned and is typically also very sluggish to use. The idea quickly comes to spice up the application with a UX designer and give it a fresh look. So, let's take a glance at what is the difference between UX and UI anyway?
First, let's take a look at the dry terminology:
UX is short for user experience.
UI stands for user interface.
That's clear for now. But what are the differences in detail? We see two different goals in UI and UX:
A good UX should give the user a positive experience. So, it's primarily about a feeling, an emotion of user while using your application.
With a good UI, the application should look great and be easy to use. So, this is more about aesthetics.
For us, the two terms cannot be so clearly separated. Let's steer our concentration away from the software application for a short moment.
The Goal of UX and UI Design
The goal of UX web design is to reduce a user's frustration. As a developer, we can prevent this from happening at an early stage, among other things, by reducing sources of problems and building the application as error-free as possible. In reality, however, certain mishaps cannot be avoided.
However, in this case, too, the initial annoyance of the user can be absorbed. For example, error on some pages of websites or applications re-structured in an unusual and fun way, so that the initial frustration of the visitor is put into perspective by humour.
Comparison: UX Design Vs UI Design
Both the user experience (UX) and the UI design of real things must meet in an application. This means that improving the interaction with the application (UI) will make the user feel better and have a better experience (UX) with the application. The other way around, however, we cannot say that the quality of UX can only be controlled by UI.
Assess and improve UX
The fact is: Improved UX of the application as soon as the user feels better using it and there is less frustration. We can achieve this through better UI, but not exclusively. Even with better loading times, reward elements for work done, few error messages (and if there are errors: suggested solutions), etc. we achieve a positive experience for the user.
In contrast to UI and UX is therefore not just a pure frontend topic.
Since UX has the emotions of the user as the biggest factor in the value system, it is difficult to define when an application has a good user experience. Because user's feelings and behaviour are very subjective and difficult to grasp. And even influenced by other factors such as age and region. The use of an application triggers are different feelings in a student or a young person than in a senior citizen.
The subject of UX design is therefore a greater challenge than the inexperienced layperson might initially assume. In contrast to UI, there are many defined best practice solutions. Visit the link to know more on UX Design Vs UI Web Design.
Isn't a better UI enough?
If the app is so complex and also more expensive in the short term, why should we need to improve the UX of the old application at all? Shouldn't a better UI be enough?
It depends: Positive experiences with the user lead to the fact that users come back, that they want to use the application again and does not look for alternatives. If that is the goal of an application is for most of your e-commerce customers – then the development team must also focus on improving the UX.
Conclusion
UX Design Vs UI Design – In our opinion, the two cannot be juxtaposed or compared when it comes of mobile application development. UI is part of the UX.
In the event that an application is already high-performing and user-friendly and only needs a visual upgrade, someone with UI design skills is required. With matching colors and a new overall design, it can make the applications much more appealing.
However, if we want to improve the UX of an application in order to bind the user more to the application, an experienced and skilled app designer can only do this in a certain dedicated area. For example, it can improve the appearance, aesthetics and overall user experience of old-fashioned and slow application, software, web application or website.
If you are looking for application design, website design services, online store design, ecommerce website design, please explore our UX/UI web design services! We also provide website redesign services, application redesign services, online store redesign and ecommerce website redesign services. For more information, please explore our website redesign services!
If you have any questions or would like to know more about how Skynet Technologies can help your business to reach one step ahead, Reach out us through submit form & We'll get back to you soon!
Request for Quote