UX/UI Web Design Comparison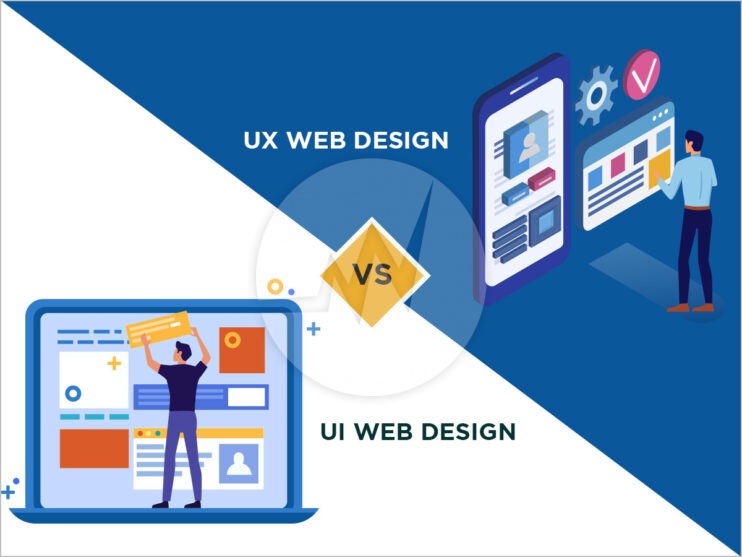 UX Web Design and UI Web Design are closely related. However, they denote different design approaches, each with a different focus.
What does UI design stand for?
UI stands for User Interface and describes the interface through which users interact with an application. UI design means that this interface is designed so practically and attractively for an app, website or other interface can be used as easily and effectively as possible.
A UI designer is responsible for ensuring that a website is intuitive to use. It should have many logical buttons and the user must immediately recognize the most important functions of the page without getting lost. This can be done via font size and font, via colors, via the arrangement of buttons or via pop-ups.
Even with a website, it is important that users are shown the best offers directly in a clear mask without a lengthy search. The same also applies to ecommerce store, information pages, comparison pages. They should all pick up the user and offer the most pleasant web experience possible.
No UI design without UX: The user experience is always in the foreground!
But UI is just a part of UX. UX stands for User Experience and is the overriding goal of creating a maximum pleasant experience for a user through design and functionality. This works less with the specific design of an individual application, i.e. whether a button is yellow or green, than with the entire structure. The subjective perception is in the foreground in UX design and less the purely functional.
UX web design aims to make the user experience as positive as possible and to positively shape a person's emotions and experiences. Products or services are more likely to be bought or used if they are backed by a well-thought-out concept. A positive user experience is shaped, for example, by a uniform look and appearance as well as a homogeneous communication style.
This can happen through various mechanisms and always focuses on the user. UX designers are therefore always confronted with the question: How can the product, service or application be presented to the user in such a way that as many positive emotions as possible are triggered?
What defines a good UX and UI design?
Good UX design is shaped by functionality. It has fulfilled its task when people have been completely satisfied with their concerns after using an application. In other words, not only did they find what they were looking for, but they also had a pleasant experience, as the application was designed to be particularly user-friendly, appealing or entertaining.
Good UI design is also characterized by consistency. A similar look can be found in all the applications offered, which increases the recognition value. An appealing design is essential for a surface to develop its full potential. Only if the design is right can users really have a positive user experience.
In this way, UX and UI design can support each other in the best possible way
While UX design counts on the feeling of using it, UI design is increasingly aimed at the look. Both approaches are closely related, after all, a good feeling also comes from a good look. For UX designers, developing a new application is often about finding bugs that interfere with smooth operation.
Often several people are called in to test the application and report any bugs. Even with prototypes and beta testing to work makes sense. The latter can then be evaluated under the aspects of why users do not click on a certain button or which button is clicked particularly frequently, etc. Such subtleties are then optimized together with the UI designer.
A different color, font or placement of a button can ensure that user behaviour changes completely. UX and UI design are therefore difficult to separate and usually work closely together.
What skills do UX and UI designers need?
The skills of a UX designer focus on the context of use and the experiences while using an application. UX designers need to know the target audience of an application and keep this in mind when developing an application.
The UI designer must focus on making a product that is visually appealing and easy to use. The aesthetics and optics play a big role in UI design. Intuitive use should be in the foreground and supported by the design. These two areas are inextricably linked in a good web application.
If you are looking for a website design services, UX/UI web design, online store design, ecommerce website design, Please explore our website design services! We also provide website redesign services, online store redesign and ecommerce website redesign services. For more information, please explore our website redesign services!
If you have any questions or would like to know more about how Skynet Technologies can help your business to reach one step ahead, Reach out us through submit form & We'll get back to you soon!
Request for Quote