Want to Increase Your B2B Website Conversion Rates? – 12 Optimization Tips!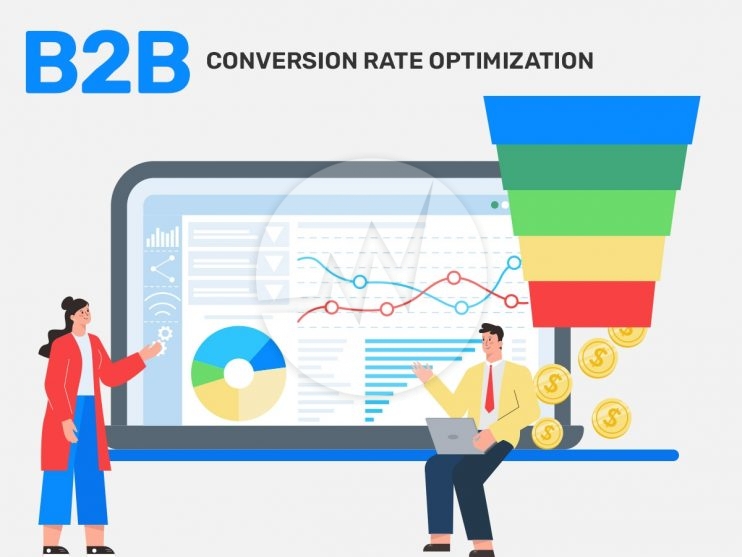 "It's much easier to double your business by doubling your conversion rate."
Conversion rate is a metric to measure your B2B website success and it cannot be overlooked. It gives you insights into how many people are visiting your website and out of which how many are actually converting.
In B2B, there are more than one decision makers to buy a product or service and they are more product/service savvy as well. Thus, you will not be able to impress them by giving some weak offer. Also, grabbing their attention and holding them on your website can be trickier.
Despite you have two ways to enhance conversion rate, they are Organic and Paid, B2B organic search works better than paid ones, and thus, website organic conversions generate more revenue. And to appear in organic searches, you need to optimize your website effectively and follow best conversion practices and B2B SEO strategies.
In this B2B conversion rate optimization article, we have curated expert tips to increase your B2B website conversion rates.
B2B Conversion Rate Optimization Tips
1. Target top-notch leads only
You may target a wider range of businesses, but try to assess once, does it really work for you? The conversion rate may jump higher if you are funnelling more high-quality leads. Analyse your target market and find out if you can be more efficient.
2. Work rigorously on creating offers
If you have not reviewed your offers in while, then take a look at them and rework them to create more enticing and realistic for your B2B customers. Additionally, work the best way out to position the offer and highlight its best part. A small decrease in product price can lead to better conversions.
Additionally, show clear and precise offers. The offers and landing pages must have easily understandable content so that clients can skim through the content and make up their mind to buy your products or services.
YOU MAY ALSO LIKE: Digital marketing mistakes business should avoid!
3. Retargeting is fruitful
Best chances of getting conversions from the people who have travelled your sales funnel previously. They know you and your products. Therefore, they are more likely to give you conversion. Retargeting ads are a bigger help in keeping you top of their list, and you never know, they will jump on your landing page again. Besides, retargeting is less expensive than attracting a whole new bunch of clients.
4. Talk more about advantages instead of features
The customers are more interested in products or services benefits with features your products have. Often when you pitch, you talk about features more than benefits. However, the buyer wishes to know the benefits of buying your products and why they should not go to your competitors. Mentioning benefits can help you improve conversion rates.
5. Keep an eye on the competition
Be informed and updated about your competitors' moves. You may get some useful insights about changing your strategies to improve the conversion rate by keeping a close eye on the competition. You can follow them on social media, can check their B2B content marketing strategies and also subscribe to their newsletter to know more about their pricing, latest offers, and other crucial strategies.
6. Use automation technology
Technology is always there to serve you. Automation methods and email marketing can help you to push your leads down the sales funnel without having to track them yourself. Keep informing them about latest offers via emails, remind them to finish the transaction, or nudge them that they left, and their cart is waiting, and more.
7. Content personalization
Personalization of content has become easier now, thanks to evolved technology. Tailor content for the audience by dynamically changing the location, adding their names and other information, or providing their desired offers. The possibilities are endless. Content personalization is a sure-shot ingredient behind enhanced conversion rates.
YOU MAY ALSO LIKE: Is it worth to invest in content marketing?
8. Testing is important
Every single component that can impact your sales, needs to be tested thoroughly. Marketing messages, CTAs (call to action), emails, landing pages, etc. test them all. Moreover, keep trying new things but make sure to test them before you launch them. Appealing visuals, languages, etc. can make an enormous difference in response. When you test the elements, you come to know what is working well for your B2B website and accordingly, you can add or reduce those elements.
9. CTAs must be visible and easily reachable
If the call-to-action button is hidden somewhere or not clear enough to read, how can you expect a higher conversion? Ideally, CTA must be placed higher up on the page with clearly visible fonts for more clicks. Also, check if it is conveying the message that you want your users to do. Implementing different languages in CTA is also a step to increase the conversion rate.
10. Your marketing ads should not be tricking
If your ads are promising something that is not available on your landing page, all your efforts go in vain. Moreover, it is not important that everybody clicks on your ad, rather it is a relevant click that gives you conversion. Therefore, the goal of your marketing ads should be soliciting qualified leads.
11. Focus on business pain points
Every business has some or other pain points that influence the conversion rate of the business. Scour all the pain points and solve them. If you will be able to solve the problems, you will improve the sale and ROI eventually.
12. Experience must be simple
Despite all the efforts if the conversion rate is not improving, review your website and sales funnel to find out if there are some components that are causing trouble to your clients. Cut down those elements from the sales funnel, landing page, or checkout page. If there are a lot of forms or fields to fill, the conversion will surely drop. You must keep the website experience as simple as you can.
Wrapping up
When you continuously and constantly try to entice potential clients, you increase your odds to improve conversion rate. New ways to talk to clients and resolve their queries, new ways to close deals, and new ways to promote your content are a few proven practices to achieve remarkable sales and conversion.
Every small step counts! Apply the above-mentioned tips and see if your B2B conversion is increasing or not. Experienced digital marketers can have many other strategies and tips which can help you to increase your B2B conversion rate. If you are looking for such a digital marketer then Skynet Technologies is the one-stop solution for you, who provides digital marketing services including SEO services and email marketing. Fill out the form below to request a free quote or mail us hello@skynettechnologies.com
If you have any questions or would like to know more about how Skynet Technologies can help your business to reach one step ahead, Reach out us through submit form & We'll get back to you soon!
Request for Quote