The Utmost Guide for Magento Online Store Development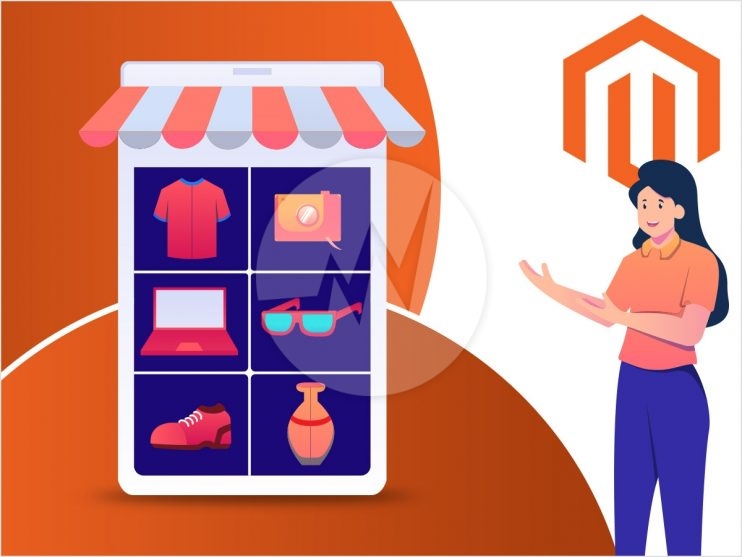 Online stores or ecommerce is developing and acquiring the world like anything. Especially post-pandemic, marketing and shopping trends have changed. Nowadays opening a physical store is not at all a wise decision. Many established brands have closed their non-performing stores and focused on online stores.
The online store not only assists you in reaching out to a wider segment of users, but it also is economical. It reduces the operation cost and earns more profits for you. Myriad platforms are available in the market that claims to develop efficient ecommerce solution. But the question is, which platform to choose, isn't it?
How about Magento?
It is one of the most popular, productive, and efficient ecommerce platforms with amazing features to construct an ecommerce store. Choosing Magento for your online store development is a win-win deal for you. With its immensely wide range of elements, you will be able to soar your business higher.
Let's discuss about Magento and its development in detail.
Magento for your online store development
Magento is a popular ecommerce platform across the world because it has the power to create unique designs with minimum effort. Any size and type of business can use it as their CMS to sell their products. It is scalable, flexible, and secure platform, and last but not the least, it is cost-effective.
It has unique modules and extensions to increase the functionality of your online store as per your need.
A few significant features of Magento are,
It is open source; readily available to use.
Versatile, flexible with a wide range of considerable features.
SEO and mobile-friendly designs.
Third-party integration is easy.
It has a large community of professionals to get any sort of support.
And there are many.
Now, you might be eager to know about Magento online store development. So, let's discuss the steps of development.
Magento online store development steps
No doubt, Magento is a booster for your online business because of its array of features and functionalities and using Magento for your online store is not at all tough.
By following below steps, you can create your Magento online store in no time.
1. Analyze requirements
To start the development of Magento online store, you ought to perform requirement analysis and planning of your Magento ecommerce store.
Brainstorm which pages are require to add in website and plan for it. For example – home page, product pages, shopping cart page, Wishlist page, checkout page, contact, FAQs, refund policy, etc.
Then the design part will come. Either there is an option to select a readymade theme or to develop a customized theme from scratch. If your requirement is a readymade theme, then make a list of themes to choose from. If thinking of creating the whole design from scratch, then decide the color, font, background, and other basic factors to design your store.
Decide, what plugins and extensions you will require to add to your Magento website.
Which payment gateway you will use?
Finalize the shipping methods and partners for your online store.
Which language and currencies your site will use?
Do you require other third-party integrations?
Check server requirements such as, operating system, memory, database, security certificate (SSL) etc.
2. Select a host and domain name
Like any other online store creation, choosing the hosting service and finalizing a perfect domain name is mandatory. Thus, select a good hosting service that can boost your business with reliable services and choose a domain name that suits your brand and business the most.
3. Design of Magento online store
Once you are done with above two steps then installation of Magento is required from your developer team.
If you've decided to use a theme and that seems perfect for your store without any customization, then you should add your logo, banner, and other necessary part to create the front-end of the website.
If theme require customization, the Magento designer team will work on the wireframe and prototype as a reference to developers, which will help them to developing your store exactly the way you need.
To create the store from scratch, Magento developers will start the coding and designing as per your wireframe and provide you with your desired front-end design.
Find out the top Magento online store design tips to improve the user experience of your ecommerce website.
4. Back-end Magento store development
After front-end development, back-end work needs to get configured. First-of-all, it needs to enable the functionalities of Magento online store that you require in your website. Custom features of Magento store requires development.
Extension installation and configuration is required. Integrate your store with desired payment gateways and shipping methods.
Then, configure the site's language, currency, store information, etc.
At last, check if any other integration or customization is required.
5. Testing of the Magento online store
Once the development part is done, testing is crucial to perform. Testing helps you to know the glitches, if there are any, and you can resolve them before making the site live for everyone.
The testing team checks each phase of the project and report to the managers in case of any issue. If issues are there, then they fix them to ensure the smooth site operation.
You can check the site assuming yourself as a user and find out the problems. Your feedback can help Magento developers to fix the problems.
6. Optimize your Magento online store
After testing, while fixing the other issues, developers also optimize the online store for performance according to SEOs. Without optimization, site work is incomplete. You need a complete optimized site to gain traffic and business.
7. Launch of Magento online store
If all the above steps are done successfully, then you are good to launch your Magento store and start the business.
These are a few basic steps you need to perform for your Magento online store development successfully.
Wrapping-up
To create an online store, Magento is an excellent choice. It has everything you need for an efficient ecommerce store. Magento has evolved with time, and the evolution happened as per the market needs. Therefore, choosing Magento as your online store building platform will keep you updated and nouvelle.
It is mainly about your needs, requirements, and the nature of your store. Also, think of your budget before you dive into this pool. If Magento falls in your category, then go ahead and get a stellar online store.
Reaching a professional aid for Magento web development can bring some magnificent solutions for you.
if you are looking for Magento web design, Magento store development, Magento ecommerce development, Magento ecommerce solutions, Magento 2 migration, and more; please explore Magento online store development! We aspire to deliver the absolute best Magento support services to help our clients win the e-commerce battlefront. Starting from bug fixing to performance enhancement and everything in between, we deliver any kind of Magento maintenance services. Through 20 years of experience, our Magento experts can recognize and resolve your most intricate technical challenges. For more information, please visit our Magento maintenance services!
If you have any questions or would like to know more about how Skynet Technologies can help your business to reach one step ahead, Reach out us through submit form & We'll get back to you soon!
Request for Quote