Expand your ecommerce store's reach with Magento digital marketing!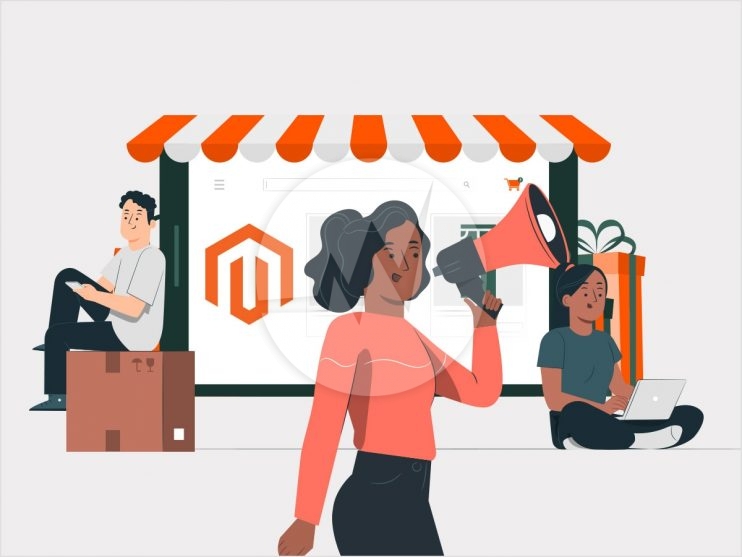 Magento is an efficient ecommerce platform that helps you grow your business like anything. It has functionalities to make your business a sure-shot success. Magento is among one of the most popular CMS across the world in this digital age. Although Magento is best suitable for large-scale businesses, small-sized businesses also avail themselves of its benefits to soar their business higher. Either B2B or B2C, retail or manufacturing, Magento has the power to improve your ecommerce sales and ROI.
Magento digital marketing
Magento is an ecommerce solution that allows you to set marketing goals, run strategies, decide the budget, and drive different campaigns to improve business. It has customizable tools that assist in providing an amazing customer experience with robust security and enhance your store's customer acquisition. Its features and extensions help you to optimize the digital marketing needs for improved online business.
Magento features for digital marketing
Search Engine Optimization
Magento 2 has in-built SEO integration that helps website owners to withstand the competition. To secure your higher position in web crawlers and expand the traffic on your store, it is important to look over all the SEO guidelines carefully.
Even if your store is doing well, you need to work on its performance continuously to ensure SEO standards. Add alt text to product images, so they become discoverable easily. Use appropriate keywords, remember to painstakingly configure content for landing pages, blog posts, and product descriptions. By making your content special, engaging and distinct, you can help your rankings take off and urge visitors to stay on your site until they arrive at the checkout page.
Furthermore, creating your own XML sitemap and updating your Robots.txt file helps improve store performance in SERPs. Magento gives a strong groundwork for solid SEO. Its bewildering cluster of additional extensions can work on your site's ease of use and produce robust user experiences. The responsive design likewise makes it quick and intuitive for users. Magento ecommerce incorporates vigorous usefulness to make alluring, SEO-accommodating stores and gives your store an invincible performance to increase its reach.
Google Analytics
By enabling the Google Analytics tab in Magento 2 admin panel, you can start getting all the reports of Magento store performance. It helps you analyze the Magento 2 store's purchase activities smoothly. Product's transaction information, average order value, ecommerce conversion rate, purchase details, and many other critical pieces of information are at your fingertips with the help of Google Analytics and Magento 2 has an inbuilt feature to link your website with a Google Analytics account readily. Analytics and A/B testing help you optimize your store to increase the conversion rate and retention of your valuable customers by tracking and analyzing all the sensitive website performance data.
PPC (Pay Per Click) campaigns & Google Shopping Ads
Magento makes PPC campaigning a cakewalk and helps you reach out to your target customers with amazing precision. Pay per click boosts the organic search results of your Magento store. Search PPC, Display PPC and Shopping PPC are best ways to take the benefits of Magento store. Search and Shopping PPC both methods are for the people who search for your products, whereas Display PPC has broader reach. It is visible in the stores that have ad space. You can target the audience by age, gender, and location in the paid ads. PPC campaign assists to bid the precise and detailed terms to target potential customers. It also helps in creating brand awareness. Magento connect has many PPC extensions that aid in PPC tracking and integration.
Among many useful extensions, Google Shopping Ads is another great extension of Magento. It is a tool that increases your product sales by connecting with Google Shopping APIs. Your Magento 2 store connects with Google Shopping and creates opportunities to reach out to a broader segment.
Social Media Marketing
Magento allows you to integrate your store with social media and promote your business on all the major platforms, for example, Facebook, Twitter, LinkedIn, and others. It has plenty of paid and free extensions, which you can use to incorporate your store with social media platforms to promote and sell the products. You can tweet, share, or post information about an upcoming sale, discounts, coupons, etc. and reach out to the genuine customers. Social media extensions assist in improving site user experience and you can market directly from your dashboard rather than using each site individually or third-party software. Magento allows to connect Facebook marketplace to run your shopping Ads.
Email Marketing
Leverage the power of email marketing in your Magento store. You can automate emails on your Magento store and make the settings as per you wish to send mail to your existing and new customers. There are personalized templates for emails in your Magento store that aid in sending personalized mail to users. Emails and newsletters can help you spread awareness about your new products and enhance your store reach. Furthermore, you can use the Magento Abandoned cart solution feature to send emails to the users who leave the carts in between. People leave the cart many times for distinct reasons. Retargeting these users by email marketing helps mitigate a few issues that stop users buying from you.
Magento Marketplace Management
Magento 2 has a powerful marketplace extension that turns your store into an outstanding online shopping mall. You can allow multiple vendors to sell on your Magento marketplace and reach out to a wider segment across the world. Adding and managing this multi-vendor marketplace by Magento is painless work. Product and inventory management, order management, payment, promotion, etc., Magento makes everything hassle-free.
Content Marketing
Magento is a well-known content management system. It helps create robust and engaging content to reach out to your target audience. Users can easily navigate through view and share options. Magento web store owners can painlessly track customers' behavior in the store by tracking each piece of content. The information assists in improving the content campaigns and reaching the right audience. Magento CMS does wonders with amazing ecommerce tools, for example, point-of-sale solutions.
Benefits of digital marketing in Magento store
Every organization uses different ecommerce marketing strategies to boost sales volume and ROI. Following are the multiple benefits of integrating digital marketing to your Magento store.
It assists in establishing your brand reputation across all the digital channels by ensuring your presence on these channels.
You can track and measure your campaign results and improve the mistakes.
Boost customer engagement by providing robust and interesting content (Magento Related Products, Up-sells and Cross-sells).
You can target a precise segment of your audience as per your product niche.
Enhance the conversion rate.
By using analytics and data, you can optimize the Magento store strategies.
Digital marketing aids you in achieving sustainable and profitable long-term business growth since you apply tried and tested tools to achieve the desired results.
Wrapping-up
Magento digital marketing focuses on campaigns and monitors every stage meticulously. Search engine, social media, pay per clicks, emails, etc. every facet has been looked over to make sure your store's exceptional performance.
Do you require more quality traffic and high reach for your Magento website? Well, digital marketing will give your business a new height and meticulously transform your business. As a digital marketing agency, we aspire to deliver the absolute best Magento digital marketing services to help our clients win the e-commerce battlefront. If you are looking for digital marketing, digital transformation, content marketing, online marketing, social media marketing, search engine optimization services, PPC campaign management services, and more, explore our complete SEO services!
If you are looking for a Magento shopping cart development, Magento e-commerce development, and other related web development services, please explore our Magento web development services.
If you have any questions or would like to know more about how Skynet Technologies can help your business to reach one step ahead, Reach out us through submit form & We'll get back to you soon!
Request for Quote