PWA vs Native App Development: Which one should you prefer?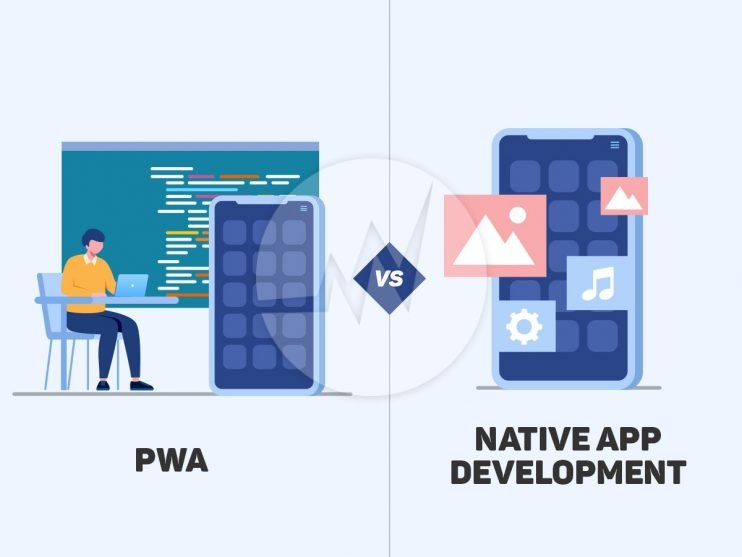 Increasing mobile usage is the reason behind myriad technological inventions. Earlier we have native mobile apps to bring flawless user experience for all the mobile users. But lately, PWA (progressive web app) has started winning hearts and capturing the market.
Android app development and iOS app development both have amazing and reliable native app development, yet PWA has its peculiar qualities. Since PWA has arrived after native apps, it includes native app functionalities as well. Thus, many companies prefer to opt for this new generation of app development for a better solution.
With many strengths and a few weaknesses, both app developments are offering exceptional solutions. Do you own a native or progressive web app or are you confused in selecting one?
Let us compare both app developments and understand which one is better for an online business.
PWA vs Native App Development – Comparison at a glance!
Written language
Native apps are written and developed with the programming language of different platforms, example: Objective-C and Swift for iOS and Java for Android. On the other hand, HTML, JavaScript, and CSS are used in PWAs.
Creation time and budget
Building and updating a progressive web app is faster and cheaper because you only need one solution, that is a website, which runs on every web browser and each device perfectly. Thus, you save time and money with PWA development. Whereas native mobile apps require a decent budget and time. Since you must have a minimum of two different versions of apps (for Android and iOS) and resources to maintain and update them as well.
Distribution
Native apps not only need separate development, but also need to publish them on different app stores such as app store, play store, Windows store and many more others, where you must follow certain requirements to publish your app. At times, you may require paying the fee as well to get listed in an app store. Contrarily, PWA does not have to go through the cumbersome process of app approval; users can directly access the progressive apps via web browsers using the URL of the app. Generally, all the popular browsers support every PWA feature, thus, you can reach huge segment of audience in no time. Updating PWA is also convenient.
Search engine indexing
Native apps use ASO (App Store Optimization) for app store indexing and discoverability. ASO helps native apps to get good ranks in search results. The process of App Store Optimization includes keyword research, writing impressive titles and meta descriptions, reaching out to third parties for reviews and downloads, etc. ASO helps increase a native app's visibility though it also increases the time to market for a native app. Whereas PWA is just like a website, therefore it can comply with all the SEO guidelines and get indexed in search engines.
Security
Both PWA and native apps provide secure and robust solutions. Native apps have a mobile environment and thus they are secure for that mobile and PWAs run on HTTPS, which is a secured protocol for a progressive app.
Performance
PWA loads faster due to caching data in the background. Whenever a user opens a progressive web app, caching makes downloading extremely fast. Therefore, it can work in poor network connections as well. Native apps also perform faster and extremely well due to their familiar platform and complete access to mobile software and hardware.
PWAs function in the weakest network or sometimes offline as well. Precached pages can be seen in offline mode as well. JavaScript components help to manage the requests between user and server and display the content without a network. A native app can also work in offline mode with local data storage or cloud data synchronization. Umpteen native apps are made to work in complete offline mode as well.
Unique features
Native apps have a feature called Geofencing. This feature helps users to get more useful real-time updates. It is location-based marketing that helps you to attract and engage your users when they enter a certain geographical area. Push notification is another feature of a native app, which engages users by popping messages to them about upcoming sale/discount or sending some personalized messages. Geofencing feature is peculiar to a native app, and you cannot find it in a progressive web app. Push notification is there in PWA as well; however, it does not perform similar across all the platforms.
PWA or Native App: which app development to choose?
The above study of differences indicates that both PWA and native apps are useful, and it is hard to choose between the two. It depends on the type and size of business you have. Below are the pointers to decide whether to select a native app development or a PWA development.
You can opt for PWA development if,
You are aiming to outreach a large segment of the audience within a limited budget.
You must improve brand awareness and SEO of your business.
As a beginner, you need a simple app.
The kind of app you desire will not comply with the app store policy.
You should choose native app development if,
You need a completely integrated app with mobile hardware and features.
You want to build your brand's credibility.
You want a robust and secure solution.
It is an AR (Augmented Reality) solution or a game.
So, now you have a detailed comparison of the native app and PWA. Both the app technologies fulfil distinct business requirements. If you run a streamlined business and your goal is to engage users without spending a huge sum of amount, then PWA is a good option. But if you have a complex business structure, for example, a banking app, social app, or some other gaming app, etc. which requires a proper native mobile experience, then a native app must be the choice.
Wrapping up
A business must have an application for mobiles to run the business successfully. Be it a native mobile app or a PWA, you should select anyone as per your business need. Think about your target audience, budget, and how much time you want to invest in app development; decide accordingly. The right choice can accord you traffic, user engagement, and sales via your app!
In case of any confusion, feel free to reach out to a professional.
If you are looking for a mobile app maintenance plan, mobile application maintenance services and mobile application security audit, please visit our mobile app maintenance services! We provide complete mobile application development including Android, iOS, React Native and Flutter app development, please explore our mobile app development services!
If you have any questions or would like to know more about how Skynet Technologies can help your business to reach one step ahead, Reach out us through submit form & We'll get back to you soon!
Request for Quote