Magento User Experience: Take Your Ecommerce Store to The Next Level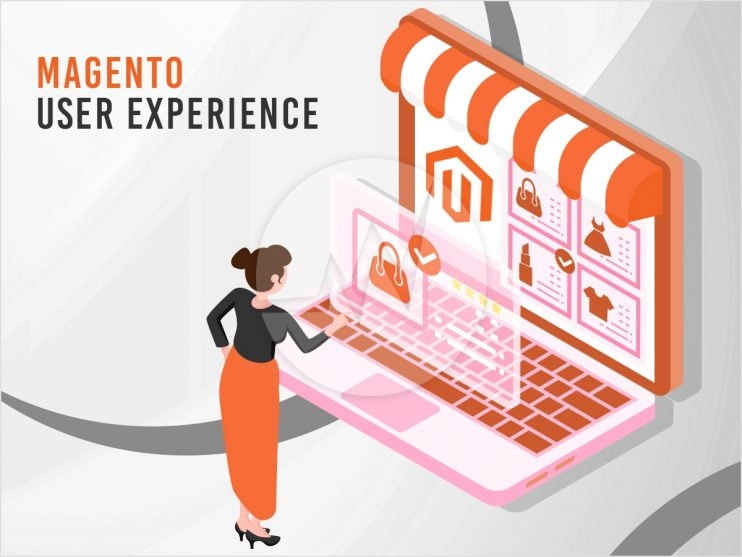 Running a Magento e-commerce store in a customer-centric marketplace needs efforts and strategies that hit the bull's eye in one shot. Merchants around the world using Magento on an average grow three times faster as compared to other kinds.
But, customers have ample options to choose from on where they want to spend their money. You just need to give them one true reason to become their choice.
This is the reason why Magento user experience is important to focus on to run a thriving business.
But, how does one please their e-commerce website visitors?
That's one BIG question to which you can find an array of answers.
In this guide, we are going to focus on the key parameters that every expert stick to upscale the user experience in your Magento Store.
Top Tips to Improve Magento user experience
Ace your first impression
First impression works magic when you are creating a platform to convert them to your loyal customers. With access to Magento customization, you can get the desired look for your website.
Choose from the bunch of commercial themes available in the Magento library to create brand awareness and visibility. With these themes, you can align your brand products with the face of your website.
How to start?
To decide on an exceptional Magento theme for your e-commerce business, start with a thorough analysis of your brand.
Focus and note down the number of catalogue levels included in your catalogue and the kinds of products you sell.
Give a thought on the way you want your products to be showcased with images and videos, which will help you get an idea about the UI wireframes.
Don't miss out on the customer segment you are targeting while choosing the theme and aligning their choices with the theme you decide on.
Smooth navigation
What does a customer seek when they land on your website?
It's all that they quickly get what they want without hustling for it much.
Reduce the strain on your website on the customer by upscaling the navigation game on your website. Make it easier for the customers on your website to find the products of their requirement so that they can quickly purchase them.
How to start?
A search bar on an e-commerce website is the best element to get started with.
#Fact: There are 2.4x more chances for a visitor using the search bar to convert to your customer.
Product recommendations are another way to serve your visitors likewise options as per their requirements on a plate.
Another thing that you can try on is the search and analytics engine, for ex. ElasticSearch that is designed to handle huge quantities of queries in an intelligent manner. It is supported in Magento which include support for multiple languages, real-time analytics, synonyms and 'negative' keywords, internal databases and enterprise data lakes and more.
Minimal clicks
No visitor feels happy having to go through tons of clicks while browsing on any website. The fewer the clicks, the more engaged the visitors are on your website. It not only excels the user experience but also increases the chances of converting potential leads to your loyal customers.
This rule works best in the case of checkout. It is due to the reason that it is one of the most essential pages on your Magento e-commerce website. If the checkout pages get completed below three clicks, you are offering the best from your side. Check out how can Magento Web Design Agency help you to improve Magento User Experience.
Fantastic Product Descriptions
When people are deciding whether or not to buy a product, they frequently look at the product description. The description should be written in a way that is appealing to the eye. It is attractive and emphasizes all of the positive aspects of the product or service. In this scenario, coherence and conciseness are critical. To display your product, advance content manager helps you to quickly and easily create a range of content categories, such as a portfolio, testimonial, gallery, news, lookbook, and many other custom forms.
Order updates
E-Commerce experience can be upscaled with one of the best tactics that include updating the customer about the entire product cycle. Every customer expects a timeline with which they can expect the product they shopped for with frequent updates of where it has reached in its journey.
Be it the shipment, option for online or store shopping, or an ETA for their orders, a modern-day customer wants to learn everything.
#Fact:
91% of e-commerce customer demand and ETA for the orders they placed from any website.
81% of the customers believe that store employees are uninformed about the products and that they can find better results online.
Magento can handle such demands easily in its modern e-commerce stores. With the Magento e-commerce website, you can surpass the level of expectations of your customers regarding order on time, convenient delivery and more, along with all the necessary additional services and options.
The efficiency with which a product is delivered to the customer helps in levelling up customer satisfaction. Apart from this, it also guarantees their loyalty towards your brand and minimizes inventory management costs too.
Smooth checkout
This is the last step that you have to complete brilliantly where everything sums up.
Magento 2 offers an exceptional checkout experience by default. You need not worry about investing extra efforts to do the same. Two-step order form, guest checkout, real-time delivery cost calculation, and more are some of The Perks one can enjoy while working with Magento.
If you are still dealing with issues, you can proceed as per the expert tips given below.
It should be created smartly to keep the potential customer attracted until they complete their order. Many brands deal with the issue of high bounce rates from their checkout page.
It can be because of one of the following reasons:
High shipping, tax on other fees
Request for account creation
Complicated checkout process
Missing total order cost
A limited number of payment methods
Unsatisfactory returns policy
If you are also receiving a significant bounce rate on your e-commerce website checkout page, check for these reasons and improve it.
Conclusion
This is just a small part from the big pie of Magento User Experience that you can feast on. Start with these tips and accomplish your goals like never before!
If you are looking for UX/UI web design, ecommerce website design, online store design, shopping cart design, website design services, please explore our website design services! Or if you are looking for Magento 2 migration, Magento web design, Magento store development, Magento ecommerce development, Magento ecommerce solutions and more, please explore our Magento web development services!
If you have any questions or would like to know more about how Skynet Technologies can help your business to reach one step ahead, Reach out us through submit form & We'll get back to you soon!
Request for Quote