6 Reasons Why User Experience is Important for Website and App Design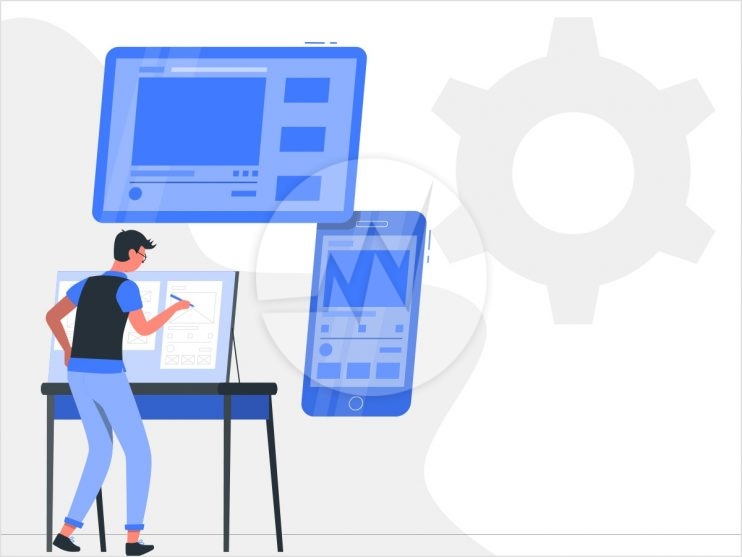 User experience is the driving fuel for any brand. It's no surprise that if your customers are happy and satisfied, you are a thriving business.
In simple words, user experience is the entire feeling that a customer gets while interfacing with a system. A system can be anything you use like, a web application, website, software, or any device.
Let's understand it with an example.
You must have shopped from the e-commerce tycoon of the market, Amazon, at least once in your lifetime. The website is simple to navigate and find your requirements on. Even a person who would browse on it for the first time can easily find anything.
The product categories, search bar, CTAs, and almost everything are placed so precisely that there would be hardly any person who would abandon amazon for not finding their requirement.
A survey says that 66% of customers with a frustrating user experience perceive a bad experience of the brand entirely.
But what is the direct link between website and app design with user experience?
Let's learn in detail why Website and App Design is an important element in every project
Enhanced customer engagement
Ever heard of Zeigarnik Effect? Many websites and apps with high customer engagement have majorly utilized this effect which aims at generating curiosity in the minds of the customers on what's next.
A significant example of such a website is Apple. Apart from their top-notch UX design, customers are lured to learning about the products and exploring every part of the website. They can easily navigate their way to the checkout and purchase a complete acknowledgement of what they are buying.
This simplified user experience given by the web and app design is thus a major factor in exponentially increasing the engagement on your online platform.
Brand credibility
The other day I was just scrolling through my phone to get some daily care products on various websites. I came across a variety of brands trending these days in the market.
I explored their website. The products were toxin-free and were completely organic.
But, somehow, I didn't go for them. I added products from my regular brand and placed the order.
Can you guess what happened here?
Let me explain to you. As I explored the website, firstly, I was unable to find the product category I was looking for on another brand's website. The reviews were missing on the product page, the cart option was hard to find, and the quality badges were missing.
I couldn't find a reason to trust that brand in any way.
This is what happens to many brands that invest too much in advertising but fail to focus on the crucial step of excelling their website and app design that helps them get a sale.
Without brand credibility, you fail to convert your audience visiting your online platform.
From this instance, you can understand how the website and app design can impart trust and an upscale user experience on your online platform. So, try to ace it first!
Easy navigation
It is the most important thing you should focus on in your website and app design. This is the story behind major frustrated customers.
Take this as a wise man's advice that you put the correct information in the perfect place. With this, your half work is done. Next, you have to focus on other aspects of designing like the colours, infographics, content and more.
Provide as many options possible to your users as it aids their decisive power with which they spend more time on your online platform and proceed as they wish to.
Make sure your information architecture is well structured. Make sure that your UX designer perfectly organizes the content so that a visitor's brain can perceive it immediately.
Revenue generation
As a business owner, your ultimate aim is to create revenue. With great UX design come smooth SEO (Search Engine Optimization).
#Fact: High ranking websites are observed to have a good user experience.
You get quality leads on your online platform, and with great UX design, you can convert those leads to customers. With SEO and UX design team up together, you can fulfil different aspects on your online platform like site speed, structure, easy navigation, etc.
Beat your competitors
A great user experience delivered to the visitors sets a distinguished brand image in the mind of the audience. Your website or app visitors can perceive your authenticity in your online platform and can turn to you, while leaving your competitors behind.
You can take this as leverage to grow your business. User goals and positive experiences should be delivered so that there stands no chance for your audience to abandon your website or application.
Instead of learning it the hard way, take it as a lesson that the only way you can beat your competitors is by providing everything in your website or app design that your rivals are missing. It will help you grow in the industry in the long run.
Buyer personas
You may be well aware of the fact of what category of audience you receive on your online platform. When you build a website that aims at satisfying the requirements of your various customers altogether, you hit the bull's eye in one go.
There may come times when it would be hard to get all things stuffed in one place, but there's always a solution. Don't mess up and discuss with your client all the issues you are facing related to the design of the website or app as per the buyer persona. You will find your way out.
Conclusion
Thus, a small mistake on your website or app design can cost your brand image apart from a significant fraction of customers. With efforts invested in the right direction, your business not only gets a great conversion rate, but you grow as a brand in your industry which is a symbol of a thriving business.
This concludes to agenda of the day that website or app UX design is the face of any which largely affect user experience. We hope you get your website and app design on point now!
Skynet Technologies provides complete website and app design services including UI/UX design, e-commerce design, website redesign services and more. For more information, please explore website redesign services!
If you have any questions or would like to know more about how Skynet Technologies can help your business to reach one step ahead, Reach out us through submit form & We'll get back to you soon!
Request for Quote