How Drupal 9 UI/UX Design Can Improve Conversion Rate & Reduce Bounce Rate of Website?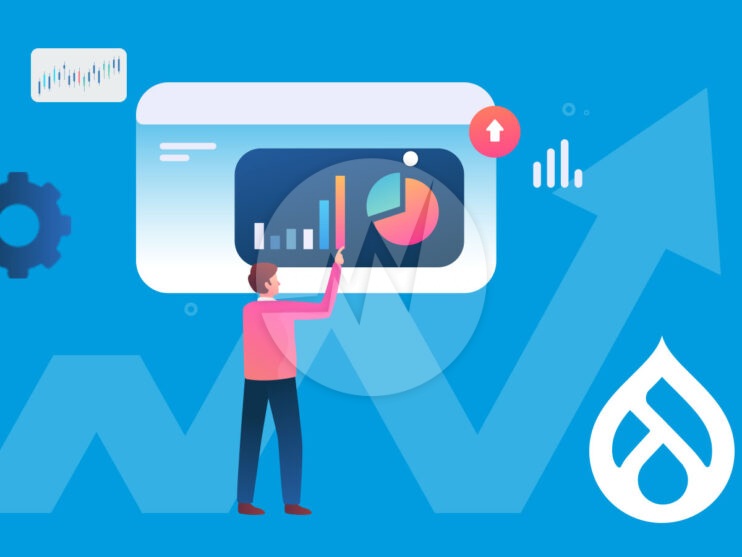 Introduction
The digital landscape is evolving constantly, and hence there is a rising demand for content management systems(CMSes) while the organizations are trying to keep pace with the customer needs. Without customized experiences, responsive websites, and easier interactive elements on your sites, users take no time to chuck you out and go to your competitors. Hence businesses are amping up their efforts to improve the users' digital experience and to optimize the conversion funnel all around and achieve their business goals.
In this blog post, we see how Drupal 9 can reduce the bounce rates of your websites and improve your conversion rate optimization(CRO).
Current Status of Drupal CMS
With over one million users worldwide, Drupal is one of the most popular and comprehensive open-source content management systems used by small enterprises, government organizations, and complex monoliths alike. Drupal 9 is the newest version released in June 2020 and it is the culmination of efforts of numerous contributors across the globe who came together to create an innovative platform that's designed for everyone to use. Check out the guide on why choose Drupal CMS Development over other CMS for your business website.
If we take a closer look at Drupal 9 updates, we find that it's all about innovation and not features. It doesn't offer any new features but provides a leaner, more secure system with APIs that are easier to work with. It also entails a new front-end theme that enhances Drupal web design services and also collates community-driven improvements taken from the Drupal Product Survey 2020.
Drupal 9 and the new front-end theme
Drupal 9, the new avatar of Drupal is definitely the future-ready CMS with innovative and intuitive solutions with cutting-edge features and easy upgrades to empower users.
With no major new features, Drupal 9 is reinforcing Drupal 8's priority to overhaul its user experience and be much friendlier for agencies, content creators, marketers, and not just website developers. In a way, gone are the days when Drupal was all about development-first and design treated as second fiddle. Now it's all about usability and accessibility thereby, providing great digital experiences to the users.
Drupal 8 was having Bartik as its default theme, which hasn't got an update since 2011. The need for a new default theme in Drupal has been on cards for quite some time now.
The new design Olivero is simple, flexible, and expected to address the limitations of the current theme Bartik and to support Drupal's web design services.
How does the new front-end theme Olivero better?
Drupal's backend has been growing all the while and it is one of the robust systems, however, the front-end theme Bartik has many out-dated features. The new default theme will create the best first impression of Drupal web design and reflects the modern backend that Drupal sports under the hood.
The new theme Olivero is
Simple – Clutter-free. All the colors, effects, and visual elements that are heavy and irrelevant would be a thing of the past now.
Modern – Support for modern browser features and interaction modes
Flexible – Multiple options for the front-end developers to choose from
Focused – No heavy distractions for the user like higher contrasts, negative spaces, and any other elements that mar the users' attention
Accessibility – WCAG AA compliant and hence all the elements would be accessible to everyone.
Drupal 9 Olivero UI/UX Design Components
Drupal 9 UI/UX components would improve the user experience because all visually appealing websites have one thing in common – a modern, flexible, and accessible theme.
1.Color Palette
Websites would look more beautiful with the new theme color scheme.
The base color is set to bright blue.
Neutral gray to counter-balance the layout and other design elements
A combination of darker and lighter colors to enhance the accessibility and highlight the design elements in the layout.
2. Typography
The base font size in the body is 18px and adapted to smaller viewports as well. Consistent line-height and spacing have been maintained when setting the scale for typography.
3. Header & Navigation
The header section reflects how flexible the new theme is. It incorporates seamlessly, all logotypes and titles. It also comes in multiple versions to choose from and turns into a hamburger menu once the user scrolls down.
4. Sidebar Region
A single and beautiful sidebar aligns to the right of the website's main content area and the content team displays related posts and other utility blocks.
5. RTL(Right-To-Left) text direction support
Drupal 8 already has multilingual support and this gets even better with the new frontend theme in Drupal 9 UI/UX Design services.
The new theme also supports the latest functionality like embedded media, layout builder, and more. The web design system parts like color palette, typography, and animation are so minimal making Drupal 9 the most beautiful CMS ever!
How does Drupal 9 web design drive conversions?
User experience is one of the many yardsticks to measure your website's CRO. When a customer visits your website, its the theme that defines what your site looks like. The layout, styles, typography, buttons, color palette, and a lot more decide how easy it is for the user to navigate across your website. They build your brand's identity by improving the visual appeal of your website. Many experts believe that beautiful themes indeed make beautiful websites.
With the new theme, Drupal web designs provide unparalleled design experience creating professional, innovative, and highly customized solutions. Drupal web designs are more in line with the modern content management systems and are also responsive catering to various devices. The theme can also contribute to the smooth user's interaction and improves the usability of your website. This eventually translates into better conversions and reduces the bounce rates of your websites.
Other Features
Here are some of the other capabilities that are added to Drupal 9 that could improve conversions. The following updates reduce the clutter, improve the speed, performance, security, and scalability of the websites reducing the bounce create, improving the conversions, and increase your business revenue.
1. Backward Compatible
The last upgrade from Drupal 7 to Drupal 8 is still haunting many as it consumed time and created fatigue. Hence the Drupal community learned from their past mistakes the hard way and made the new update buttery smooth. Drupal 9 is compatible with its predecessor, Drupal 8 and hence you will be able to use data, modules, and configurations created on Drupal 8. This won't impact the performance of the system in any way and hence Drupal web designs will remain clutter-free and faster to load.
2. New Versions of Symfony and Twig
Drupal 9 uses Symfony 4.4. Twig 1 also got upgraded to Twig 2. The new upgrades can only translate into higher performance, improved developer experience, and enhanced security.
3. Drops the Deprecated Code
Drupal 9 won't support any deprecated code in Drupal 8. Drupal 9 sanitizes the code and removes any out-of-date code from the Drupal 8 website to ensure a smooth upgrading experience.
4. Cut-down Third-party Dependencies
With all the deprecated code removed by Drupal 9, its load of dependencies will get significantly lighter. This ensures longer security support for your website.
Wrap-up
The "nothing new in Drupal 9" opinion isn't entirely accurate. There may not be any new paradigms of development but it is recommended for enterprises to upgrade to Drupal 9 sooner or later to create engaging digital experiences and deliver tangible business results. Also, there are no painfully disruptive changes if you choose to upgrade to Drupal 9. Drupal designs created by Skynet Technologies are scalable, secure, and most notably,power-packed and built for high-performance, far beyond the designs created by other Drupal web design companies.
If you are looking for a Drupal Web Development, Drupal Commerce Development and Other Related Web Development Services, for more information, Please Explore our Drupal Web Development Services! We also provide Drupal Website Maintenance Services, Drupal Migration and Drupal Application Security Audit. For More Information, Please Visit Our Drupal Maintenance Services!
If you have any questions or would like to know more about how Skynet Technologies can help your business to reach one step ahead, Reach out us through submit form & We'll get back to you soon!
Request for Quote