Importance of 24 x 7 Drupal Support and Maintenance Service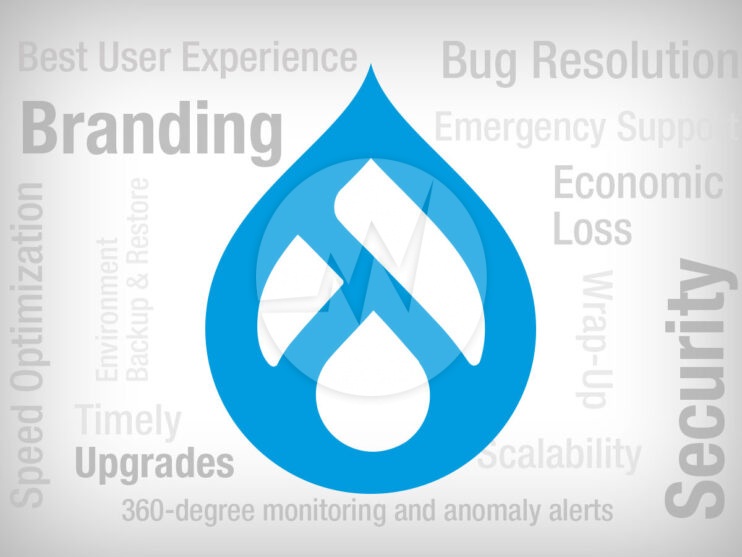 Building a fully-functional website isn't the end of the project goal. The Drupal lineup of features and functionalities cannot be taken for granted. Your website needs your attention round the clock as your organization's reputation, operations, and market strategy are at stake. You can improve your potential value in the market by 2x or 3x times with real-time support who are at your constant beck and call.
Drupal maintenance plan entails security updates, third party integrations, version updates, bug resolution, emergency support, and any other minor feature improvements. These aspects differ from business to business depending on the scale of the enterprises.
If you are operating at an enterprise-level, you need constant attention and a robust maintenance plan. However, your tech-team cannot monitor your online presence on a constant basis. You need to have dedicated Drupal agency support and a right maintenance model.
Let us see how rewarding it is to have a 24*7 Drupal support and maintenance services for your business projects.
Best User Experience
Any website glitches, lags, malfunctioned pop-ups, and bad call-to-actions can drive your potential customers away. When you have Drupal support, your website can ensure optimized visitors' experience. Quick support reduces the turnaround time and would improve your brand reputation among your prospects who could be unique or even returning visitors. If these issues aren't addressed on time, there are proven cases of decreased conversions.
Drupal Security
As your business grows, so does your user base. Acquisition of sensitive customer information should also ensure tight security patches. Drupal has come this far due to its tier-1 security aspects and the Drupal community also constantly provides security upgrades and patches.
However, security attacks are bound to happen as some in-house technicians ignore the updates and put them off to a later date.
Drupal support and maintenance plan can help identify the loopholes which might be maliciously destructive. With skilled technicians, you can continually monitor and fix the bugs easily. The Drupal support will help you with every critical or regular security update.
Drupal Speed Optimization
Page responsive time or load time has a direct link with visitor loyalty. It's revealed that there is a clear lack of visitor patience, 4 seconds being the meantime a visitor would wait for the website homepage to load.
Your website could be swift when you built it but the speed would vary as there are a ton of other backend factors that fluctuate frequently. This would increase the abandonment rate by nearly 38% and you would be a great loss of in-flowing business. With speed optimization, we ensure to reduce the loading time in order to provide a great user experience and increase your business revenues.
Drupal Scalability
With constant Drupal support, it is possible to handle any server-side issues due to greater traffic and load on the Drupal portals. The support and maintenance team could help with upgrading to the new versions, adding new functionalities, data porting, making the websites scalable, optimizing the performance, and a lot more.
Bug Resolution
The more complex your website is, the more out of the blue functionality errors are bound to happen. Unresponsive pages, delay in loading media content, payment gateway crashes, and button disabilities, are just the tip of an iceberg.
Drupal maintenance includes a customizable service level agreement as per the needs of the clients. Emergency support can prevent any abnormal functionality behavior that is bound to occur.
360-degree monitoring and anomaly alerts
Abnormal functionality could disrupt the business and can dent your brand image in the industry. But with dedicated support and maintenance teams, one can reduce the turnaround time for bugs resolution and guide the users when they face any roadblocks accessing your website. Constant monitoring helps to identify the issues that hamper both performance and sales. Website scanning, hosting, and downtime issues can be resolved during the monitoring phase.
Branding
The operational time issues of your website are intuitively noticed by your visitors and this may lead to brand image deterioration. This makes them drop off the buyer funnel resulting in loss of leads, sales, revenue, and impacts the overall impression of your business. Quick responsive time creates a positive experience for the visitors and also improves your brand image in the market.
Economic Loss
Any upfront cost incurred in the Drupal website maintenance and support is going to borne fruitful results in the long run especially if you are switching to a low-cost service model. Frequent issues would create revenue losses for your business with visitors dropping off the conversion funnel. Also, the costs incurred to fix the issues are proved to be massive, more than what is required for having a dedicated support and maintenance service.
Timely Upgrades
Upgrading to the latest Drupal version is one of the most daunting things that even at the current time release of Drupal 9, there are more than 50% of the websites on Drupal 7. Upgrading to the newest versions is the most important thing to avail the best services and reduce security vulnerabilities. The support team can help with the upgrade as it a complex process to execute.
Drupal Emergency Support
A dedicated support and maintenance team works round the clock and facilitates no business disruptions. The team can get to the bottom of the issue and assist with the quickest fix for the problem. Sudden issues sometimes create challenges to run the website seamlessly. Real-time support can help you fix the issue promptly and competently so that the performance of the website isn't affected at any cost.
Environment Backup & Restore
Backups are the most effective way to minimize and mitigate any damage to your website. Drupal support can help you with the backup process and assist you in the disaster recovery process.
Wrap-Up
We at Skynet Technologies provide real-time Drupal maintenance and support services while you can look after your core business. We offer proactive maintenance and end-to-end support for bug fixes, security updates, version upgrades so that your website runs seamlessly.
If you are looking for a Drupal Web Development, Drupal Commerce Development and Other Related Web Development Services, Please Explore our Drupal Web Development Services! We also provide Drupal Support and Maintenance Services, Drupal Migration and Drupal Application Security Audit. For More Information, Please Visit Our Drupal Maintenance Services!
If you have any questions or would like to know more about how Skynet Technologies can help your business to reach one step ahead, Reach out us through submit form & We'll get back to you soon!
Request for Quote