Custom Magento Development or Magento Extension: Make the Right Choice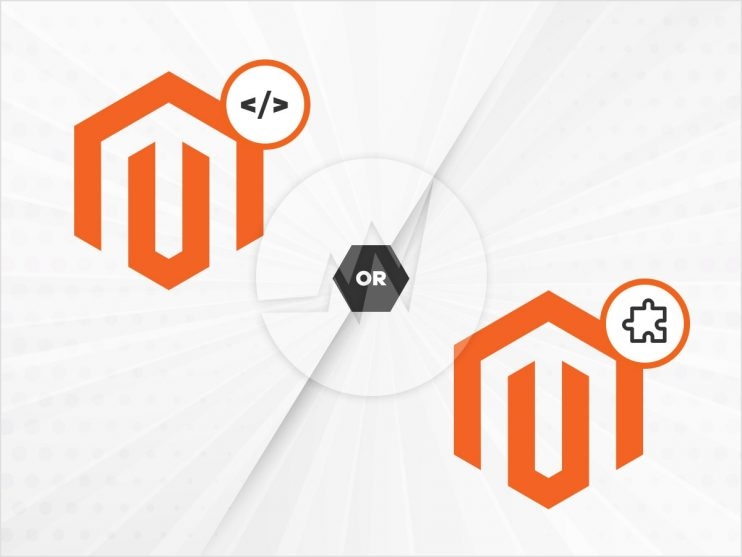 Let's start with Magento's introduction!
The world's third most famous ecommerce content management system, Magento is renowned among developers and users. This open-source innovation utilizes multiple PHP frameworks like Symfony and Laminas. To know about its popularity, let's talk about some of its facts first!
Magento software is the third most popular ecommerce software in the world and powers 12% of the ecommerce world.
The Magento platform offers more than 5000 logins and apps for its ecommerce clients. Some of them are free of cost, while some need to be purchased.
Out of the worldwide CMS market share, Magento occupies 1.4% of all as researched last in 2020.
In the list of top 1000 internet retailers, 202 Magento users rank in this list.
Thus, to start working with Magento to profit from its never-ending features, you have to start by choosing between Custom Magento Development or Magento Extensions. These are the different ways in which you can reach the next level in your ecommerce business in the industry.
In this guide, you can acknowledge yourself with the boons and banes of each to take a worthy decision at the end.
Custom Magento Development
When your business requirements are not met with the features offered in Magento, custom module development comes as a blessing to meet your business goals.
You can add new features to Magento and offer your visitors a unique shopping experience on your website.
One enjoys centralized access to all the functions and modules to create a powerful yet intuitive admin panel.
Custom Magento development is provided for both Magento 1 and Magento 2 as per the requirements of the business.
It helps you with the flexibility in adding custom features and undertakes various administrative tasks such as shipping, payments, order management, and others.
Search engine visibility is improved with better control over meta-data and other factors that are not available in difficult Magento 1 or 2.
Further increasing advancements in the field of digital marketing helps in leveraging the custom Magento development into your ecommerce platform.
Bug fixing is one of the many advantages you can rely on while availing of custom Magento development.
Further security improvements are made to reach the next level where not even the slightest possibility of data leaking is present.
Any updates that come in your way to success are fulfilled by the developers of custom development service team, so you don't have to worry about the same.
#Remember:
Don't move with a directionless pursuit of customization if you choose to go with custom Magento development services.
Have a realistic vision so that the results of customization turn out to be successful.
Discuss with the developers what you are looking for, and you can expect an authentic picture if they understand the same.
Keep in touch with the Magento developer so that they can understand your requirements at every stage and do not hustle with any technical jargon.
Magento Extensions
Magento Extensions are the add-on software modules that are uniquely designed to upscale conversions and enhance the user experience.
Also, the standard Magento platform is originally basic; only a few features can be allowed in Ecommerce business.
But given the incredible flexibility of Magento and its adaptable platform, extensions can be added to make them beneficial for the custom as well as the businesses.
Not only does the conversion funnel improve by adding extensions to a website, but the conversion rate also shoots high.
Customers can easily find products check them out quickly and can feel trustful while providing the credit card information with such extensions installed on your website. Although, you can expect to make or break results while talking about conversions.
There is no end to the number and type of Magento extensions that can be developed and thus can be installed on your ecommerce website.
From buttons, marketing, orders, check out, shipping to integration, navigation, reporting, and more, extensions can be created.
They can further be used to integrate with other platforms and services offered on apps, social media, email service providers, and various payment systems.
You will be astonished to know that extensions can also be implemented to skyrocket customer loyalty through coupons, memberships, promotions, and more.
An extension offers you the opportunity to bring in the features to your ecommerce website that are missing in the difficult Magento platform.
It can optimize backend operations, deliver a better customer experience, and streamline your inventory management.
These packed modules help in extending the features and functionality of your ecommerce website.
Final Thought: Magento Development or Magento Extensions
Now that you have the entire idea of custom Magento development and Magento extensions, you can come to a fair decision on which one to choose for your business. Each of the above-mentioned has its own set of perks. Finalize the one that aligns well with your business requirements and fulfil them in one go. We hope that you get the desired results in the end.
We offer Magento custom development, Magento extension development, Magento ecommerce development for Businesses of All types. We aspire to deliver the very best Magento support services to help our clients win the ecommerce battlefront. Starting from bug fixing to performance enhancement and everything in between, we know it all. Through 20 years of experience, our Magento experts can recognize and resolve your most intricate technical challenges. For more information, please visit our Magento maintenance services!
If you have any questions or would like to know more about how Skynet Technologies can help your business to reach one step ahead, Reach out us through submit form & We'll get back to you soon!
Request for Quote