Why Ecommerce Support & Maintenance Services important for your online business?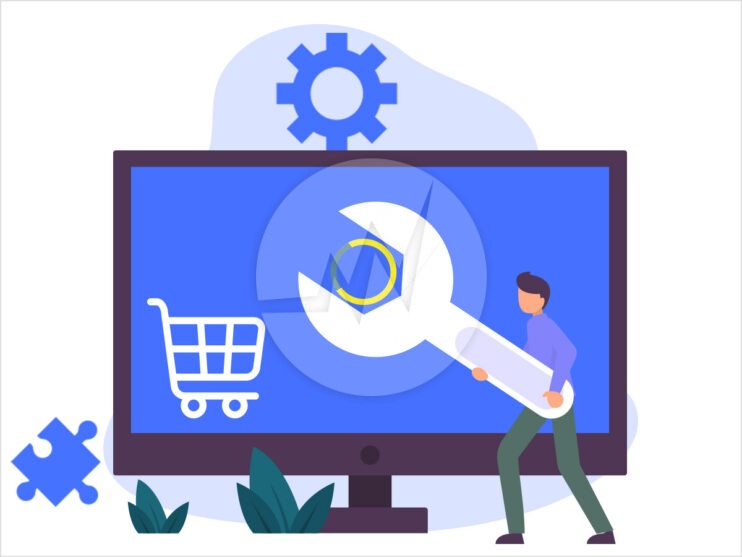 Remember, the day when you had your most prized possession, maybe a shining, beautiful car.
To run it in perfect order, you needed regular maintenance. And it's exactly the same for your ecommerce web store. After a perfect build, you need to invest and devote some resources in support and maintenance services for your ecommerce store.
However, many business owners do not give adequate attention to support. For them, it is not a priority and not as critical as development. And that's exactly the reason why many ecommerce stores go into oblivion after a few months. You may have a great run for a few days to months, however, if you need a sustainable and thriving business, it is imperative to invest in support and ecommerce website maintenance services.
Here is why ecommerce support and maintenance are essential for your online business.
Ecommerce store Security
The ingenious hackers constantly remain on the prowl to exploit any loopholes on your website and wish to take your ecommerce store down. Without a proper maintenance strategy in place, it is easy for them to break into your system and jeopardize your business operations. There is a plethora of security vulnerabilities like viruses, hackers, trojans, and other malicious third-party programs lurking to find any backdoor entry into your ecommerce store and disrupt its operations. With a website maintenance partner on your side, you can safeguard your website round the clock.
Fix issue with regular ecommerce website maintenance
With regular maintenance, you can keep a hawk-eye on the obsolete features or elements on your website and can uncover anything that is not making any strides for your business. You can remove the unviable elements or products on your website. You can also unravel any broken links that adversely affect the SEO and user experience.
Another issue in running the ecommerce store is the page speed. The support team quickly works on the optimization of your web store. This boosts the traffic to your site and also ensures that your website doesn't crash in case of traffic spikes.
24/7 Ecommerce help
Unlike your physical store which would be open for a few hours in the day, your ecommerce store would be available and accessible to customers 24*7 and it has to run without any glitches. In case of any pressing issues, there needs to be a timely resolution. Without a dedicated support and maintenance team, it is an uphill task for any ecommerce business owner to run a thriving store. The support and maintenance team would also provide services such as performance monitoring, quality assurance, routine management, feedback monitoring, risk control, and many more.
Version Upgrades
Ecommerce is a fast-paced realm and being stale with outdated and obsolete features would throw you out of business. Rapid pace developments have been happening and you need to keep up with the current trends and competition. You need to catch up with the latest website functionalities, improved content, modern and intuitive designs to scale up your business revenue.
Any performance and security enhancements shouldn't be ignored. But in the process, you may face some hiccups and make any upgrade daunting. But with the right support agency, you can smoothen the road and ensure an easy roll-out of the new features. The support agency also takes a backup of your current website from time-to-time and in case of any devastating consequences, you can anytime roll back to your older version.
Ecommerce Customer Experience
Your ecommerce website is a virtual window to your business and customers expect an optimal experience when they visit your web store. Any broken links, errors, server outages, or website downtime issues can damage your reputation and you may even lose out your loyal customers.
Your ecommerce store should be equipped with the latest updates, security upgrades, to keep up with the current expectations of the customers.
Website maintenance services include constant monitoring of your website. This ensures any technical glitches that hurt the customer experience to be dealt with promptly. You can also reap the benefits of the latest technical updates that notch up your customer experience. Most of the ecommerce service providers regularly roll out updates, security patches, or any feature releases to enhance and enrich your website functionality.
Customer Retention
An ecommerce website is the lifeline of your business and has a tremendous potential to complement your brick-and-mortar sales. There may arise a time like holiday season when customers swarm to your website and this may result in a sudden surge in the website traffic. Even in these situations, it is expected that your website is available and accessible to all the customers who are intending to make a purchase. They shouldn't face any slow page loads, or website downtime while they are on your e-store.
A hassle-free experience on your website is what glues the customers to your business. Any tiny glitch has serious repercussions on the conversion rate and client retention rates. The customers may get annoyed and this may result in higher cart abandonment rates which results in potential loss of a loyal customer base. With proper support and maintenance services, you can build a lucrative business and can experience a steady and consistent customer growth.
Lower website maintenance cost
Not investing in support and maintenance would cost you dearly. Once you go into the state of obscurity, you may have to spend a fortune to once again revamp or restore your website after shoddy maintenance. You have to invest not just in restructuring your website, but also on rebuilding your brand reputation and customer base.
However, if you invest a small part of your pie on regular maintenance operations, the overall costs involved would be quite low and the return on investment would be high. You may also harness the non-tangible benefits of investing in support and maintenance operations – brand reputation, loyal customer base. You may also focus on the emerging and core issues of your business and leave the maintenance issues to a reliable expert agency.
Over to you!
Ecommerce support and maintenance are pivotal to run a successful business. As an ecommerce store owner, it is recommended for you to have the right crew on board to build a thriving ecommerce business. Skynet Technologies is pioneer in offering best and regular ecommerce maintenance services from a small content update, bug fixing, troubleshooting, installation to version upgrades and much more.
If you are looking for ecommerce store management, online store maintenance, shopping cart maintenance, ecommerce store maintenance, please explore our Ecommerce website maintenance services! Do you need further support in setting up your ecommerce store? We are here for you! If you are looking for an ecommerce website development, shopping cart development, Please explore our Ecommerce Solutions!
If you have any questions or would like to know more about how Skynet Technologies can help your business to reach one step ahead, Reach out us through submit form & We'll get back to you soon!
Request for Quote