Top Website Conversion Optimization Tips for Lead Generation!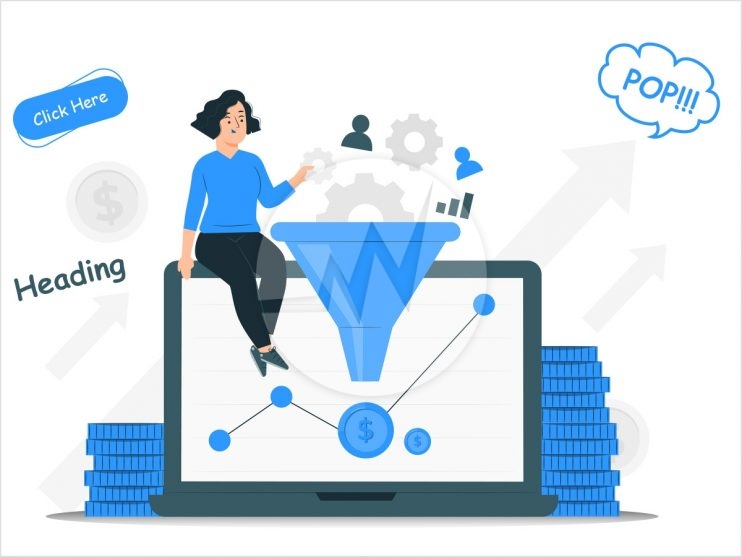 A high number of visitors to your website does not always mean a high conversion rate. You can invest time and money in high-quality search engine optimization, backlinks, creative content, and a mobile-friendly design, but still not generate enough inquiries.
Your website is receiving a lot of traffic, but you are not receiving the targeted inquiries or conversions. Why? There are several reasons your visitors might leave a website before they convert. Website conversion optimization helps you to turn your visitors into customers.
Let's get into how you can begin a website conversion optimization
Proper Call-To-Action
People's attention span on the internet is very short because we have everything at hand. Users will go elsewhere if they don't find what they're looking for immediately away. Studies have shown that people who do research online don't actually read the content, just skim it. That means all the beautiful content you've invested so much time into is likely just skimmed.
"Readers" often only pay attention to headings and bullet points. So, if your content is well organized, they might stick with it. However, if your call to action is not clearly visible, your visitors will simply leave your website without contacting you. As a result, it's essential that your CTA is as obvious as possible to guarantee that you're engaging with your visitors.
So, when designing each page of your website, keep your customer's journey in mind. What would you like your customer to do? What does visitors need and how can you attract them without selling too much?
Too many CTAs are just as bad, if not worse, than having none at all or one that's hard to see. Placing contact forms and pop-up CTAs all over the page will annoy visitors and lower your chances of converting leads even more. This is especially true if visitors must fill out these forms before they can view your content. The trick is to find the right way to make your conversion points clear and accessible without bothering your visitors with log-in walls.
Here are some tips on how to make your call-to-action visible and engaging:
Create a simple animation that draws the visitor's gaze.
Immediately catch the visitor's eye with an animation. Simple micro-animations or appealing graphics are frequently used by web designers to capture the attention of visitors and then drive them to the call-to-action (CTA).
The animation or button guides the customer through an engaging experience from start to conversion. It is easy to understand and easy to navigate.
Put your phone number in the header (and make sure your visitors can call it by simply clicking on it).
Traditional surfing on a desktop or laptop computer has been overtaken by mobile surfing. Mobile friendly website design helps you to improve user experience and conversion rate. It is important that your mobile visitors can contact you directly from their cell phone. A mobile phone link in the header ensures that your visitors can easily reach you while they are surfing your website. Use a sticky header on your website to ensure that your CTA and content are easily accessible and digestible. It adapts to the page so that the user doesn't have to scroll all the way to the top to call you or navigate to another page.
Add a CTA button to the front and centre of the hero image
Wondering where to include a link to your contact form? If you insert a button or a link in your hero image, it will be shown directly to the visitors when the page loads for the first time. That way, visitors know that they can easily contact you (and how) without the form hassling them as they navigate your page. Anything that makes it easier for your customers to find and click your CTA will also make it easier for them to convert.
Be creative in your Headline
The first time a prospect hits your page, you should reassure visitors that they've found what they're looking for. Try to look at your home page or landing pages as if you were a new visitor. Anticipating your customers' first questions and having the answers ready as soon as the page loads will help.
Your headline is probably the first thing your visitors see when your website loads. Don't confuse your customers with a vague headline. It should explain exactly what your company does or what you want to inform them about. Creative language can be beautiful and do your brand justice, but if you're too vague, you can lose visitors and business. Your headline should quickly convey to visitors what exactly your business is doing so you can keep converting leads.
Try to anticipate the first question your customer will ask when they enter your website. What kind of information might he want to know right away?
Services
Location
Why your company is the best
Simple service
Don't serve too long contact forms
Let's say your website is doing pretty well. The website has been well optimized and comes first when Google searches for your relevant keywords. Your content attracted qualified visitors to your website. Your calls to action worked and your potential customer is about to sign up using your contact form.
Unfortunately, your super long, complicated contact form annoyed and intimidated the prospect. So, visitor closed your page before contacting you. It's easy to create long contact forms so your sales team can capture all the relevant information about your prospect. However, simple forms are much more efficient at converting leads.
Here are the typical problems with registration forms:
"Required fields" that your customer missed caused the entire form to be restarted. Now he must re-enter all of information
You asked for too much personal information and scared off the customer
You overloaded them with detailed questions
Let's say you're a dentist and want to get an idea of the type of work your prospect needs to do. If you force your customer to explain in detail the problems they are having, you could inadvertently frustrate them. By asking them to explain all of their needs to you beforehand, you're actually relieving them of work that your employees might be doing instead. Make things easier for your customers and only ask them for the bare minimum of information:
Name
e-mail address
Phone number
Now your reps can call the customer back to find out if they are available and what kind of dental services they need. Once you've shortened your registration form, your leads are more likely to convert.
Find a good place for your attention-grabbing hook
Do you have a special holiday deal? Do you have free shipping? Did you introduce a promotional code to save money? When you have a compelling hook, put it in big, bold letters right where your website visitors can see it.
A good place for your hook is right next to the click-to-call phone number or at a first banner of the website. This combination increases the likelihood of conversion. It's also a good idea to place a smaller hook at the end of the page.
A unique selling point can help your business stand out from the competition and give your visitors at the conversion point an extra boost to contact you.
An attention-grabbing hook is that little extra that your business and website offers that makes the difference when a prospect considers your business.
They may seem small, but customers are often impressed with terms like "award-winning", "leading", "largest selection," "guaranteed" or "1st place". Just make sure that the hook you use really says something about your business.
Great e-commerce website hooks
If you have an e-commerce website, "add to cart" is a feature of your website, not a hook to target users. A proper hook when it comes to purchasing items is:
Get free shipping on orders over $100.
Enter the promo code DISCOUNT to get a 20% discount.
Get 10% OFF on your first order!
Get a free delivery on your first order!
If you have a free offer, be sure to promote it wherever you can. Don't overdo it with advertising, but don't hide it either. However, Check out the guide on how to reduce shopping cart abandonment.
Slow-acting hooks – companies with a longer sales cycle
Many companies have a longer sales cycle. A typical buyer would not go to their website and buy something the same day. For example, if you offer IT services, medical care, or marketing, your customers will go through a research phase before making a purchase. To get these customers, you need another type of hook, such as:
Download our five-page guide to cloud hosting
Download the Free Guide about Digital Marketing
Sign up for our newsletter to receive coupons and offers
Subscribe to our mailing list for latest news, tips, and blogs
To download the guide or subscribe to your newsletter, the customer just needs to enter their first name and email address. Then you can add users to your email list and continue the conversation with them.
However, this type of hanger will not work for all users. For someone looking to learn more about this technology, this is a great offer that is very likely to get them into action. However, if the customer is looking for a different product, e.g., buying a domain, they may not be interested in this offer.
Throughout your website, you should be wondering whether you have asked the customer to buy, contact them, or get more information. You must weigh this against the question of what benefit the user will get from this action.
Conclusion
Following these best practices will keep your landing pages engaging and high-quality, which will lead to a valuable boost in both CRO (Conversion Rate Optimization) and quality scores. Keep testing the more information you have, the more likely to convert your visitors.
Skynet Technologies offers search engine optimization, website conversion optimization, speed optimization, social media marketing, digital marketing and more. To know more, explore our SEO Services. Also, we provide a complete ecommerce solution including ecommerce website development, design, maintenance, support, ecommerce SEO and digital marketing services, etc. To know more, explore our ecommerce solutions.
If you have any questions or would like to know more about how Skynet Technologies can help your business to reach one step ahead, Reach out us through submit form & We'll get back to you soon!
Request for Quote