A Complete Guide on Magento To Shopify Migration!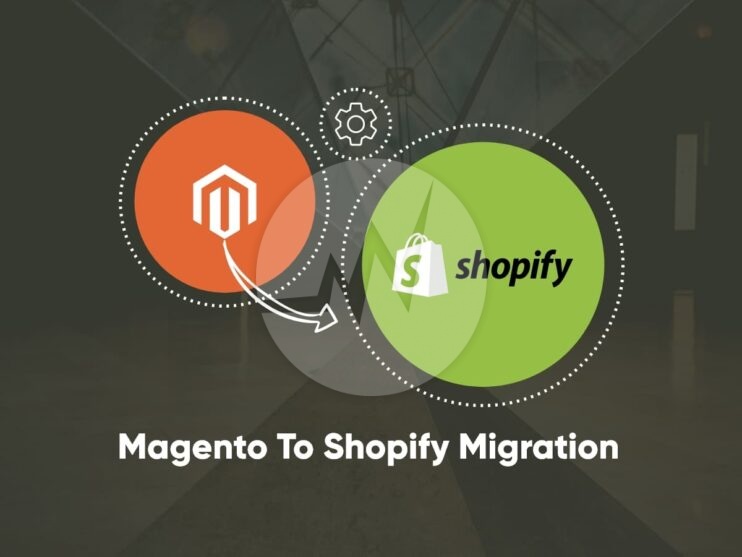 Migrating your website is a difficult task. Even after all the advantages offered in a Magento website, some businesses prefer going for Shopify websites. Migrating your website is the way to clean the data, remove the trash, and arrange everything in proper order. If you are planning to migrate your Magento website to the Shopify website, then this guide will help you through the process. This a complete guide for the Magento to Shopify migration, where you will find all the relevant points to know before migrating a website.
What is Shopify migration service?
Many businesses are using Magento website services, but some of them are slowly turning towards Shopify website services. Sometimes, people are not sure about how really worth Magento ecommerce Solution. That's why they get distracted and start using Shopify migration services to migrate their website using website migration services. There are huge benefits to having a Shopify website. Shopify provides both economic benefits as well as advanced features that attract businesses. Several companies are providing migration services to customers for a hassle-free migration process.
How to find Magento To Shopify Migration for your venture?
Before choosing the best Magento to Shopify migration service, consider the following steps to choose the better option.
Migrating the website in the backend
The migration process is something that takes a lot of time. You can't just put all your services at a stop till your website migrates. The best advantage of Magento Migration to Shopify is that it does not hinder the working of the website. The website will keep working as it is and the migration will take place in the backend. Migrating to Shopify means you don't have to risk your entire work while the website is still migrating. All the website processes will keep going on until it is migrated completely without affecting your work.
Choose what needs to be migrated
There are so many things in your Magento store that you won't require in your new Shopify ecommerce store. Make a Magento to Shopify migration checklist to keep a track of all those things you want to include in your new ecommerce store. There will be things like junk files, outdated data, unnecessary information that you might not need in your new ecommerce store. You can choose the amount of data you want to keep in your new ecommerce store.
There will be things like blogs, CSS, HTML files, and other important files that are necessary to be migrated. You can migrate all these data to fit them into the new ecommerce store and redesign these data according to the Shopify designs.
Get a trial beforehand
There are things that you need to know about certain website services. Before going through all the processes, it is better to get the free trial that is available in the Shopify web store. You can simply take the trial to know whether you will get a suitable feature or not. This free trial will be a real savior for your time and money that will be spent to Migrate Magento Shopify ecommerce store. Shopify provides full support to its customers to help in making you understand the new ecommerce store.
Backup all your data on Magento
Website migration is a crucial step. There is always a risk of losing data while migrating a website. To be on the safer side, it is recommended to take a backup of all your data on your Magento store. This way, in case you lose your data, you will have a backup of your data safe.
It is completely up to you whether you want to use Magento or any other third-party app for backup. If you have hired a Magento to Shopify migration service, then it will be their responsibility to keep your data safe while migrating.
Data migration mediums
There are two ways through which you can migrate your Magento site to a Shopify site. You can choose either manually transferring the file or there are apps such as Cart2Cart and Shopify's Magento Importer available for migrating the data. Manually transferring files like Magento CSV files is a difficult task. There are also tutorials available to Magento migrate Shopify.
It is recommended to hire a Magento website maintenance service to have a safe migration. Migrating these heavy files needs a lot of expertise. That is why it is considered to get the migrated through experts only.
Check the new Shopify ecommerce store
Your new Shopify ecommerce store should be perfectly designed in a way to keep your customers engaged. The website should be easy to navigate and manage. Test everything once the migration process is done. Make sure that the design is attractive to give the customers a wonderful visit to your website. Test even the smallest feature to make sure everything is perfectly arranged for the customers.
Redesign your website
There is no point in keeping the old them and design to your website after transferring it from Magento to Shopify ecommerce store. To give your customers a new feel, it is best to change the entire layout and design of your website using the latest and free feature for your Shopify store. Install a new theme to give your website a new touch and design everything even better.
Make sure to check everything once you are done after choosing the new theme. Test whether all the pages are organized accordingly after the new theme. Check the layout, designs, pages, content, etc, and everything after carefully designing the new Shopify site.
Winding-up
Magento to Shopify migration is a long and heavy process. It is recommended to hire a website migration agency that will help you in migrating the website in a hassle-free manner. Website migration needs due care as a small mistake can result in losing your data. Shopify is the perfect choice for those looking to give their website a new touch with all the advanced features available without constant support from Shopify customer care. If you are planning to migrate your website, go through the above points, and check whether you will be able to do it manually or need a migration service for the process.
If you are looking for ecommerce website maintenance services, ecommerce store migration and ecommerce store upgrades services, please visit our Ecommerce maintenance services! We also provide Magento migration services, Magento upgrades, Magento ecommerce solutions and more, please explore our Magento ecommerce services! We can also help you to develop your Shopify Store, Shopify store migration, Shopify store redesign, Shopify store maintenance and more.
If you have any questions or would like to know more about how Skynet Technologies can help your business to reach one step ahead, Reach out us through submit form & We'll get back to you soon!
Request for Quote