Magento Ecommerce Website Development Trends to follow in 2021!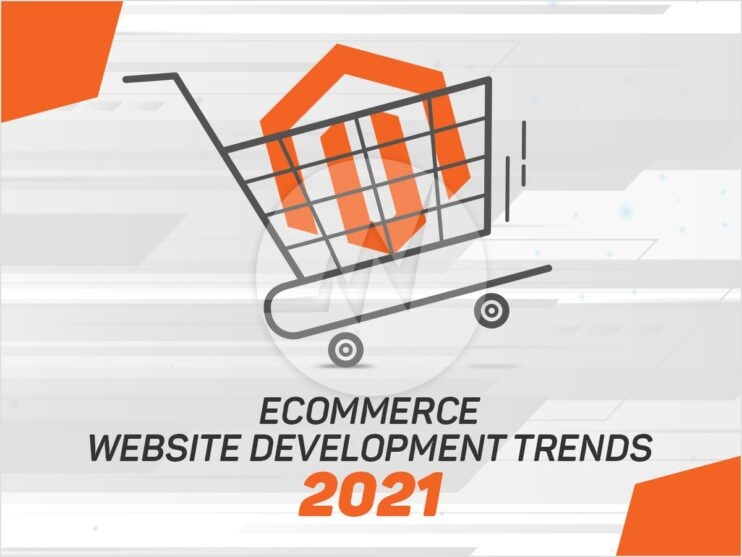 With the great modernization and consequent evolution of the vast ecommerce market, technologies and enterprises from all over the globe have begun to update themselves with the newer and exciting trends. One such technology that has set a shining mark in the industry with its remarkable trending upgrades is none other than the Magento Ecommerce Development Services!
With an increasing demand in the market, Magento Commerce has also levelled itself up to the standards of the fast-paced industry. Additionally, it is also expected that this industry is all set to hit the whopping bar of more than 1 trillion dollars in 2021. Hence, companies cannot afford to miss these golden opportunities to grow in this profit-driven market.
Let us have an in-depth look at the amazing trends featured in this 2021 by Magento Services!
Jaw-Dropping Magento Ecommerce Web Development Trends to Watch Out for This 2021!
1. Live Streaming

Live Streaming as of today's generation, rules the kingdom of ecommerce marketing. Since the unfortunate hit of the global COVID 19 pandemics, ecommerce has brought huge shifts in its methodology. One such example is the trend of live streaming using appeasing audio-visuals.
With Magento 2, companies can render product demos using live broadcasting technology on popular social media platforms or websites. Moreover, with the help of dynamic communication, viewers enjoy a sense of interaction and entertaining participation, which in turn proves beneficial for your sales.
2. Push Notifications for Magento Commerce

Who knew that push notifications can grab an eye-popping higher opening rate of 90%!
Yes, this means that push notifications play a vital role in grabbing the attention of the masses into your ecommerce store. These make it convenient for enterprises to deal with notifications related to the latest sales and offers, discount rates, cash prizes, and many more!
The Magento 2 features a vast platter of extensions associated with push notifications to boost online availability and visibility. Push notifications also help to remind customers what all they have stored in their ecommerce cart and attract them back to your store. It actively eradicates cart abandonment issues.
3. Voice Search in Magento Ecommerce

Voice Search is a product of advanced technology that has an exceptionally simplified ecommerce shopping experience for all users. Voice search systems allow users to automatically search or surf through sites by commanding their needs rather than typing them.
It not only saves time and effort but also contributes to evolving into smarter systems. Google Guidelines have mentioned that all textual content about voice searches must be given compulsorily as they can be made visible in the rich snippets.
4. Use of Chatbots
Chatbots aid in analyzing the futuristic purchases of potential customers. It plays a vital role in the advancement of Magento Ecommerce Website Development.
Chatbots use intelligence to find out the purchasing pattern of customers by studying the purchase history and making consequent predictions. Using advanced combinations of voice over and textual data, chatbots also show high-definition graphics, videos, website pages, and so on. Statistically, more than 80 percent of users rely on assistance when they come on ecommerce platforms. Chatbots act as helpful and user-friendly tools in such cases.
5. Power of Personalization
Personalization is of utmost necessity to earn the aspect of customer retention. It is because personalization helps in favouring deals and recommendations.
Magento services have developed features about personalization as well as segmentation in their 2nd version. These features are built and super easy to implement, thus saving time and effort.
6. The New Magento Headless Commerce

One way of making websites activities dynamic and advanced is by designing the front end of the website independent of the back end and vice versa. It is essentially referred to as Headless Commerce.
Using this technique, companies can level up their businesses and grab real-time features and accessibility over their shoppable activities. This new trend in Magento services has paved the way for innovative ideas in website crafting and smarter ways of ecommerce.
7. SMM – Social Media Marketing

Social Media itself runs on a trend in today's generation. Hence, this platform eventually becomes the largest platform for companies and ecommerce activities. Sites like Instagram, Facebook, Twitter, LinkedIn, and so on are effective channels where digital marketing is used to boost sales, revenue, and outcomes of brands.
8. Smart Search

How do you make your website visible and known to all?
Simple, Choose Magento! Magento Ecommerce Web Development professionally covers the SEO dynamics to strategically increase the traffic on your platform. It significantly helps in boosting businesses and their online presence by attracting potential customers from all over.
9. Power of AR – VR

AR is Augmented Reality, an advanced modern technology that reforms the platform of ecommerce.
Magento Commerce Development actively incorporates this trend for revolutionizing the ecommerce systems and enhancing customer attraction. Moreover, this AR is combined well with Virtual Reality or VR to allow virtual testing of goods and services, which seems beneficial for future sales. In all, this combination covers the proficiency of graphical aspects as well as implementation.
10. Artificial Intelligence Support

Recommendations play a huge role in easing the ecommerce journey, not only for the selling parties but also for those who wish to surf on the sites intending to purchase.
Recommendations have been made progressive and advanced by the use of Artificial Intelligence. Using advanced algorithms, the search functionality has been developed into a wide platter of features. One popular example of the same is the use of 'Smart Recommendations'. Smart recommendations instantly spike up user satisfaction and overall experience.
Final Words
With a grand shift in the ecommerce market, Magento website owners must be well updated with the new trends in the industry. Implementing these progressive trends can guarantee a spiking growth in your company and prove to be your best decision of 2021!
Stay tuned to know more about the Magento!
If you are looking for a Magento web development, Magento ecommerce development and other related web development services, please explore our Magento Web Development Services! We aspire to deliver the very best Magento support services to help our clients win the ecommerce battlefront. Starting from bug fixing to performance enhancement and everything in between, we know it all. Through 20 years of experience, our Magento experts can recognize and resolve your most intricate technical challenges. For more information, please visit our Magento maintenance services!
If you have any questions or would like to know more about how Skynet Technologies can help your business to reach one step ahead, Reach out us through submit form & We'll get back to you soon!
Request for Quote