What are the Advantages of Magento CRM Integration?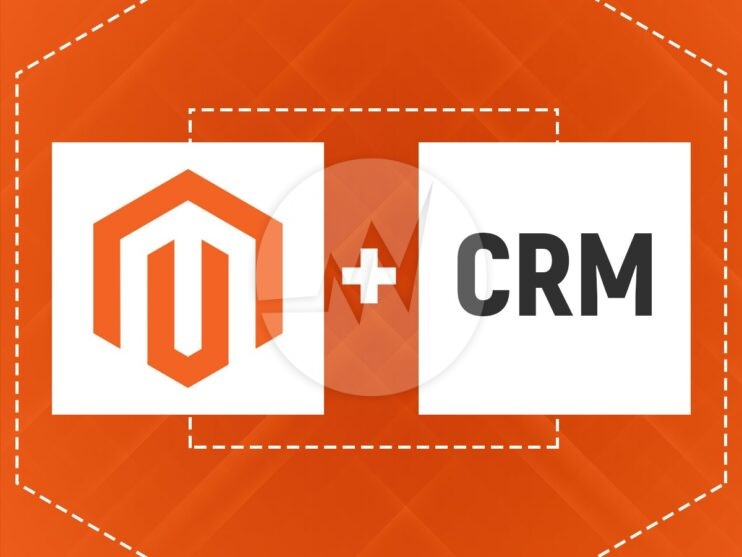 What is Magento CRM Integration?
Magento CRM Integration is an effective amalgamation of the Magento platform with the CRM software. Customer Relationship Management also known as the CRM, is a tool and a strategy that aids businesses and start-ups in managing their customer data in a well-organized manner. This is a new-age system or software that now proves to be a must-have for budding businesses due to its vast platter of virtues.
As its name suggests, it handles the affairs regarding customer relationships and data management. It helps you offer a top-notch user experience paired with time-to-time delivery of your company's products or services. The best part about this system integration is that it does not have specified or centric benefits. It uplifts your business platforms and upgrades them holistically.
It is highly recommended that you pair your CRM software with your company's ecommerce website development system such as Magento. Doing so will flush in huge opportunities and successes for your ecommerce company in many ways. Check out the guide on why shoud small business adapt Magento Ecommerce Development.
Why is Magento CRM Integration a Wise Choice?
CRM integration with Magento is indeed a wise choice to make if you are a company wanting to improve its customer status or wanting to strengthen its online presence. This system serves as the best choice for tracking and monitoring customer orders conveniently on your ecommerce site.
In light of the recent pandemic, most of the dealings, purchasing, selling, etc have taken place on online platforms. On top of that, nowadays people are short of time and invest in only those sites that give them interaction and transactions at lightning speed. For this purpose, the CRM system works wonders.
Especially in this digitally advanced era, ecommerce retailers struggle with meeting the needs of customer management online with respect to consumer demand, requirement fulfilling, attracting potential customers, retaining existing customers, and so on. In such a scenario, you may require some tips to boost your eCommerce Sales, and bring more revenue to your business!
There are multiple CRMs available in the market. You can choose the right one according to your needs amongst popular CRMs like Zendesk, SuiteCRM, Zoho CRM, Salesforce etc.
In this fast-paced industry, only the sites bearing the best customer service can exist smoothly in the market. Magento and CRM pairing gives its audience insights on the availability of stocks and helps them with quality recommendations as they surf on your site.
Integrating the customer management virtues of the CRM with Magento also helps to assort data with respect to purchased data and associated delivery. When the proficiency of Magento's ecommerce development and CRM integration services are blended, it is bound to result in boosted growth as well as spiked up sales!
Highlighting Benefits of Magento Integration with CRM
It is clear by now that Integrating CRM with Magento is a wise choice and the need of the hour for the business world. However, to know the real benefits and elaborate on the plus side of this integration, refer to these highlighting points below:
1. Better Demand and Supply
Opting for CRM systems automatically opens doors for new demands and opportunities for your brand. This makes it more probable and easier for your site to produce demand-based products and services.
Such retailers and vendors can enjoy the benefits of such real demands and sales data. They can further promote the production of goods and services solely based on calculated authentic demands.
2. Competitive Victory
Magento integration with CRM leads to co-ordinated and well-managed information management for your system. This enhances your overall company performance by solidifying the accuracy of orders and punctual delivery of services.
Such an organized flow of working and systematic planning is bound to invite huge profits and beneficial future outcomes. Your company can additionally also handle prospect customers effectively and onboard new customers!
3. Spike up your Sales Team
To err is human! Are your sales team is struggling with accuracy, punctuality, or efficiency?
Do not worry. Magento CRM integration is the solution to all your problems. With the help of this amazing technology, you can enhance the services of your sales team dealing with customer experience and support.
Using this integration, your company orders get automatically regulated, organized, and promote timely communication. Remember customer satisfaction is the most important aspect of any business and CRM integration with Magento tops this virtue!
4. Less Loss
Errors, mistakes, miscommunications, etc are often human-driven consequences. Even though these are completely natural, they can effectively harm your business flow or hinder your growth.
Say bye to orthodox and traditional data transaction methods when it comes to your online ecommerce dealings. Adopt the new-gen advanced CRM solutions for managing your online store and business. It masters problem-solving and strategic planning that mends your company workflow towards smart working.
This will cut down on losses as well as give you visible and promising results in an impressive amount of time. A bonus tip of using this technology is that it does not pinch your pockets! In fact, it helps you reduce the overall cost of your ecommerce site and overall system activities.
5. Reports and Forecasts
CRM systems gift you the opportunity to customize your reporting chances and options. You get to promote your business ideas including forecasting of sales reports, budget reports, deal closing reports, and so on.
Hence if you want to go smooth on your budget planning forecasting as well as examine your company's areas of improvement then blindly rely on Magento CRM integrations and solutions.
Final Words
Magento development platform works best when amalgamated with the pros of CRM software. Hence, an integration of such innovative technologies is your power tool to excel in the business industry.
Be it a budding business start-up or a well-established company, all organizations need this kind of progressive system for better functioning and enhanced performances. Customer experience and dealings can make or break your business life. Once you gain a good rapport with your customers, only then will you get opportunities to spread your company ideas among the masses.
Hence, to ace the customer management and satisfaction it is necessary you place your trust in Magento integration with CRM for your ecommerce website and business management!
What are you waiting for? Integrate and innovate!
If you are looking for Magento CRM Integration, Magento migration services, Magento website maintenance services, Magento store maintenance, and Magento store upgrades services, Magento 2 migration, Magento re-platforming, Magento ecommerce solutions, and more, please explore our Magento website maintenance services. we aspire to deliver the best Magento support services to help our clients win the ecommerce battlefront. Starting from bug fixing to performance enhancement and everything in between, we know it all. Through 20 years of experience, our Magento experts can recognize and resolve your most intricate technical challenges. For more information, please visit our Magento Web Development Services!
If you have any questions or would like to know more about how Skynet Technologies can help your business to reach one step ahead, Reach out us through submit form & We'll get back to you soon!
Request for Quote