Top WordPress Web Design Trends to Watch out for in 2021!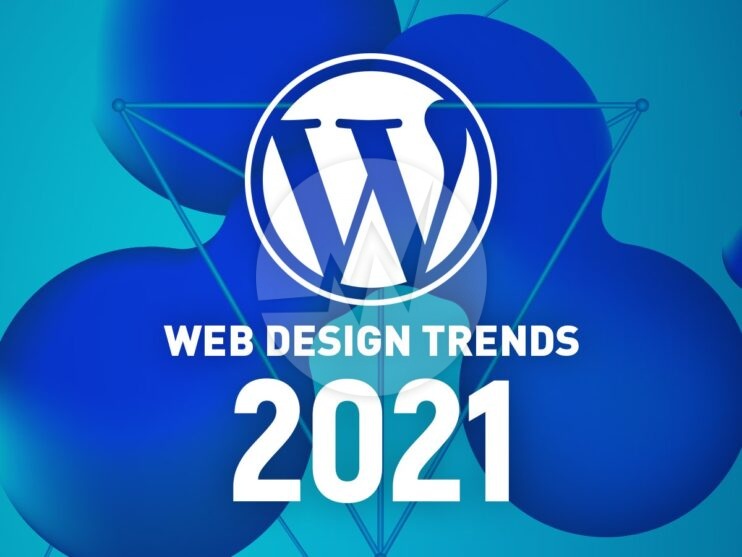 All of the designers and the web developers want their visitors to stick to their sites for longer times and this is the reason why the look of their page is so important to them. They put in all the efforts to design an eye-catching design with quality content. But the WordPress web design trends constantly keep changing, making it difficult to keep a track of the current popular trends which we get to see on the sites.
WordPress offers many design options to choose from. You can go with default WordPress themes or one with your likings and customize them according to your needs. WordPress provides customizing options for fonts, colors, videos, and a post/ page anything you want.
WordPress Themes
Basically, there are three kinds of themes available in WordPress website design options.
Basic theme: Here you can choose layouts. It has its own widgets, and all the design options are placed in one place, the WordPress editor. Using this you can create looks of your front pages or set your pages and posts.
Theme with the visual builder: Comes with tons of various options that allows and facilitates you to design your page exactly as per your imagination.
Themes with page builders: As they have their own tools and widgets that work inside of page builders, the themes work well with page builders overall. The third-party plugins enable you to use all their features with them.
WordPress Web Design trends 2021
To make your task easy and help you with the current trends of WordPress for web designs here are the trends most seen on the pages. You can take inspiration and create your designs using these trends.
Broken Grid Layout
Asymmetrical designs with overlapping components are always loved over the web and never go out of trend, making it to be one of the most used trends of WordPress. The theme is best to break the monotonous tone of the site and to cheer up the page. These layouts will work for you if you are looking for a personal and original new look.
Broken grids are something different from the traditional layouts. These unconventional designs can help you easily to stand out from the rest.
Bold Colors, with High Saturation
Bold and vibrant colors with high saturation are winning WordPress website design trends today for. Colors play the most important role in determining the emotion and message of the page. They also have a big impact on your visitor, as colors are the first thing that pops up to them and vibrant colors leave a good and fresh feeling.
You'll find many premium and exclusive themes that have color as their main focus. For getting help with color pallets you can check the sites providing these inspirations.
Illustrations
The coolest thing that is trending today in the WordPress web design services is the illustration. You can use it on header or footer, making your website more personal and helping you communicate with your visitor better with the stories these images tell. The key is just to find the perfect illustration that goes with your website.
Illustrations can communicate a feeling, an action, any style, or movement. Marketing agencies go with people holding graphs or numbers which gives their page a professional look. You can find illustrations that help your page.
Background Headings
It is not necessary to have all the designing elements in focus or highlights. Headings put in the background are not lost or overseen, in fact, they serve as a collective message for the reader. This helps you shift your focus on the actual important information and points under the attractive heading.
These faded headings not only complete the message but are also aesthetic to the eyes. WordPress web design services help you to style the headings anywhere on the page, unlike the regular format.
Mobile-Friendly Interface
It has become a need of the time to create a mobile-friendly design and interface for your website. Developers should focus on creating designs according to mobile phones and consequently achieve responsive designs. It is best recommended to have separate designs for desktops and mobiles. Even Google has launched the AMP Project (Accelerated Mobile Pages) to encourage optimized mobile web browsing.
Slider
Among the most popular eye-catching design elements is a slider. A slider allows you to highlight information about your company and product, by placing more content together in one place. Be careful with using auto-playing sliders as they come out to be annoying sometimes. When going with auto play, set a duration time beforehand.
Hero Images
The first impression is the last impression. Hero images are the 1st thing that a visitor will see on your site. Almost every WordPress page will have a hero image. With some added text to it, you can create a pleasing WordPress web design page for your site. You have options to change the hero image, or you can simply create one with plugins like the smart slider.
Parallax
The parallax effect gives a design depth to your page. It is mostly used in backgrounds, but you can also find more parallax on the websites. Create great visual impressions with parallax on fonts or images.
Creative Typography
After colors and images, typography is the most important and significant tool that catches attention. In a web design service, a well-chosen font can change the complete look of your page. A recent trend with fonts is to highlight or put animation around your text. To make your website alive you can go with typewriter effects and highlighted headings with animations.
Split Screens
A split-screen layout divides your page into two parts maximizing the screen space. It makes it look modern and organized professionally. Without in-depth knowledge of trends, you can achieve good web designs with split screens and animations.
There are many more trends including Chatbot Integration, voice search optimization, VR, interactive 3D content, motion effect animation, Micro interactions, Customized Illustrations and much more. A website provides your company with a more professional platform over any social media platforms available these days. With page builders and WordPress, you can create a trendy and catchy website on your own without any coding knowledge. Just be careful with colors, blocks, and typography and choose wisely. Taking guidance and assistance from a good WordPress web design agency will always make your website's performance better and more efficient.
If you are looking for WordPress Website Design, WordPress UX/UI web design, ADA website design, Website redesign & more, Explore our WordPress web design services! If you are looking for a WordPress web development, WooCommerce store development and other related web development services, please explore our WordPress web development services!
If you have any questions or would like to know more about how Skynet Technologies can help your business to reach one step ahead, Reach out us through submit form & We'll get back to you soon!
Request for Quote