8 Reasons to Choose Drupal for Custom Web Application Development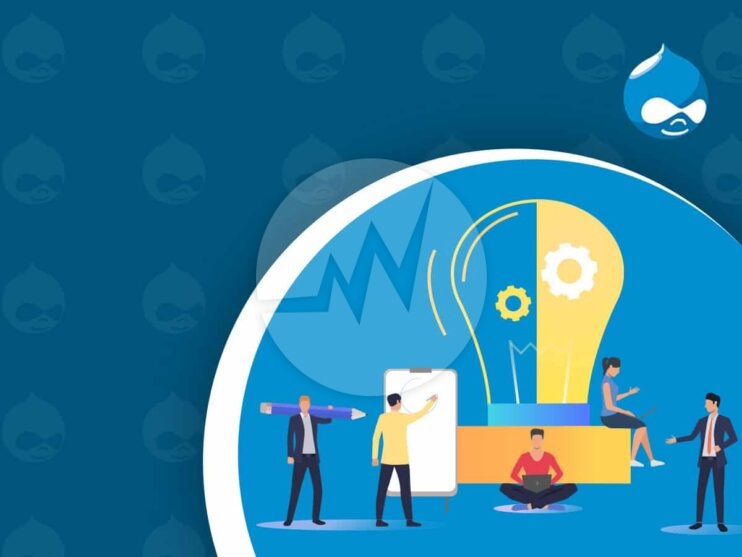 In the ever-changing technical world, you need a safe, flexible, optimized and specialized custom application development for your successful business website. Drupal is the best custom web application development with over 1000 websites backed with it. Drupal application development has a 1.3 million community support people and over 109,000 user contributing to its achievement.
Drupal is a feature rich web application development which provides endless opportunities to deliver creative and amazing functionalities on the sites. It is the popular CMS possessing the renowned LAMP stack (Linux, Apache, MySQL, and PHP/Python/Perl) as its base. The well-known examples of Drupal websites are Grammys, The white house, Lamborghini, etc.
Below are the 8 reason to choose Drupal web application for maintaining a powerful website:-
Extendable:

The flexible modules of Drupal are available all the time. This means you can easily add functionality to your website as per your convenience.  Drupal is utilized by several groups of people, which allows it to have innumerable options of modules having equal capabilities with free downloads. One unique add on functionality of Drupal application development is configuration access to its available tools; also add suitable tools that will allow platforms to strengthen their abilities.
Drupal Content management system:

Drupal provides adaptable content authoring system that helps to include, manage and publish content. If you are a novice in technical world, Drupal is your only solution to build a website. Drupal manages custom content types and fields. It imports existing data from various formats to the site by using its feed module. Drupal's user interface allows clients to curate content easily and speedily with the help of CKEditor module. And finally it exposes curated information as JSON by views and view Data source modules. It allows remote HTTP clients to use visible sections using HTTP query parameters. Check out the guide on why choose Drupal CMS Development over other CMS for Your business website.
Drupal Speed:

Drupal's pliable platform allows developer and marketers to conquer roadblock and lag thereby managing a dependable and agile team. Drupal application development provides incorporate velocity to your business projects. This will also result in promoting your business site with a high rank in SERP. Google ranks a website by considering the page loading speed of it. Drupal being one of the fastest CMS provides many advantages to your business including the most vital, satisfied and happy visitors.
Organizing Streamlined Content:

It is absolutely great to have millions of visitors ever month on your website. So you need to maintain loads of content which keeps your visitors updated. Don't worry Drupal provides you with various ways of organizing content like, tags, URL, taxonomy, and custom lists. Taxonomy is an important feature to search for any content you were searching for. Even if you posted a blog 2years, 6months and 18 days ago with Drupal you are lucky to find your same content stored safely.  You can also merge various search engines like Elastic search easily to search readily available content.
Drupal Scalability:

To have a busiest site and to manage the enormous traffic to the site you need Drupal web application development to scale you needs. Drupal's efficient themes and modules can manage massive content users and visitors. It has over 2500 free themes and over 39000 free modules that prepare the users to develop the performance of application and design it as per the individual's requirement.
Friendly Search Engine:

Few innovative features of Drupal improve SEO of the website like:Create a clean URL; Drupal's 'Pathauto module' is based on several factors like custom keywords, rich titles and others. This module allows users to create a clean URL.Theme aspect, as per this aspect Drupal web application development depends on CSS. This permits the removal of unnecessary cluttering of HTML coding and in result benefits indexing of content.

Creating node, each node that you create on Drupal does have the node title. This title is visible in tittle tag as well as main heading tag of your theme. From the SEO point of view, this title is very crucial. It can make your search ranking amazingly better; hence the title should be well-researched.
Performance tracking facility and shopping cart for users:

It is very essential to track the user behavior with the application for current ecommerce platforms. Drupal offers Dashboard for detailing status of orders, payment methods, sales, and etc. additional features for providing details can be included or customized by modules. Drupal application development is all sorted for launching promotions, integrating web analytics and progressing of sites for search engines. Drupal offers benefits to commercialize the websites and apps including engaging UX and impressive UI.
Seamless Integration with Third Party Tools:

Drupal ideally supports variety of third party tools and technologies. Drupal permits you to influence the advantages of the efficient asset for your website, outside of Drupal.  Example: – Translation services, CRM and ERP Packages, website search engines, performance monitoring etc.
Whether you are looking to create a business website or maintaining its renowned status on the web choose Drupal for custom web application development and experience its productive results.  Drupal custom web application development will provide your business site with flexible and scalable solutions to help your site noticeable on the wide web. Our specialized Drupal developer's team provides assistance for customized Drupal application Development to meet your particular business needs and goals. We also provide you support with day to day operations of your Drupal site to improve user experience and serve your clients better.
Skynet Technologies is a leading Drupal Web Development Company provides dedicated and experienced Drupal developers to help you completely with comprehensive Drupal services beginning from understanding clients' idea, defining strategy, design, development, customization and testing based on your business needs. Hire our Drupal developers on hourly, monthly or full time/fixed cost basis to meet your particular and tech savvy business requirements. Our Drupal Development Services are available for start-ups, small to medium businesses, enterprises, corporations and agencies. Feel free to contact us for our robust and secured customized Drupal Development services from anywhere across the world.
If you are looking for a Drupal Web Development, Drupal Commerce Development and Other Related Web Development Services, for more information, Please Explore our Drupal Web Development Services! We also provide Drupal Website Maintenance Services and Drupal Application Security Audit. For More Information, Please Visit Our Drupal Maintenance Services!
If you have any questions or would like to know more about how Skynet Technologies can help your business to reach one step ahead, Reach out us through submit form & We'll get back to you soon!
Request for Quote