Website Maintenance and Upkeep – Importance & Reasons to do!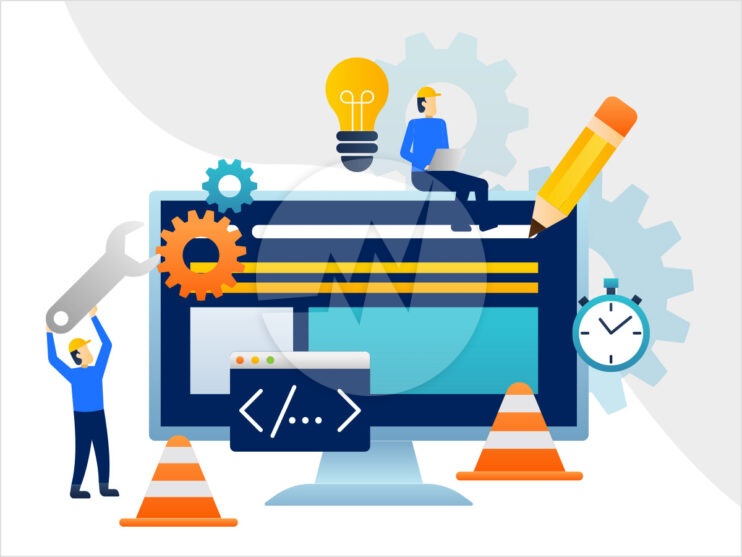 It's a tiresome affair: the website is finally ready; everything is finally running – and a message is flashing somewhere.
What is website upkeep actually about?
Most websites are managed with a so-called CMS (Content Management System). They have names like WordPress, Drupal, Joomla! These systems enable you, as the site operator, to edit the content with just a few clicks and easy to use editors. You hardly come into contact with programming code. A CMS and the associated extensions (plugins) must be continuously developed. Otherwise, sooner or later the system will become unusable.
But why? What are the benefits of regular website maintenance?
Do you imagine an attack on your website in such a way that someone would mean something bad to you personally? Usually this is not the case. Websites are mostly attacked by so-called 'bots'. A bot is a program that has clearly defined goals. For example, it could try to steal all visitor data from your site in order to sell it. To do this, a bot works through a list of security gaps that are already known in the CMS you are using. The older your CMS version, the greater the chance that the bot will find a door. The bot could also bring 'malware' with it, which it places on your website. This is then automatically downloaded by each visitor to do their work on their computer. As the site operator, you are responsible for Protect your visitors from such threats. For example, do you run an ecommerce store like WooCommerce? Customer data is a valuable asset that is easily stolen. Check out the guide on why you Need Website Maintenance services.
Technological progress
The technologies that are used on the Internet are developing rapidly. Time and again, faster and better mechanisms are being developed. A lack of timeliness can, have a negative impact on the loading times of your website. Did you know that a visitor leaves the site after three seconds at the latest if it has not finished loading? Since a CMS has to deal with many processes in the background, every split-second counts here.
In addition, almost every website now uses external resources. These are usually continuously updated by the relevant provider. If the website is technically out of date, a discrepancy arises which can lead to errors or even failures.
Eliminate mistakes while website maintenance
No CMS is free from programming errors that have a negative effect on the user experience. The developers are constantly working to find and eradicate these. With each update, more errors that you and your visitors are confronted with disappear.
Everything breaks when website updating
The more up-to-date your system, the smaller the risk. But there is always a certain risk. In order to avoid errors during the update, it is important to ensure that the plugins come from reliable sources during development. The more and the worse maintained plugins, the greater the risk.
What happens if I don't update my website?
Sooner or later this will lead to damage. Unfortunately, it's hard to tell when something goes wrong. Bots don't report when they install malware. Even visitors who leave your site due to loading times or errors rarely or never give feedback. So, it can take a while for the problem to be noticed. If it then becomes obvious, the effort to solve the problem is often very great. There are several reasons for this.
The more plugins need to be updated at the same time, the greater the chance that something will go wrong during the process. Then, for example, all plugins have to be deactivated, updated individually and restarted. It is also possible that the updates have to be done manually, which is time consuming. Let's find out more website upkeep tips.
If malware has 'lodged' itself, a backup of the infected site often has to be used. All changes made since this backup will be lost. Depending on how long the malware has been up to, that can be a lot of lost work. It is much easier to protect a website from bots than to clean it up later.
The visitors who left the site disappointed must be brought back or won over. In the area of ecommerce in particular, it is difficult to restore lost trust. If an external resource is updated, functionalities can no longer work from one moment to the other. It is also possible that all of a sudden you only see a white area when this happens. In this case you need a professional who analyses and repairs the error in a snap. That can be a very time-consuming and therefore also costly thing.
One final word about website upkeep and maintenance!
A website may be set up once, but it still needs maintenance. Regular updates are an important part of this. This ensures that your visitors can move around your site without risk. The user experience is also improved if errors do not keep popping up or the loading times take longer. In addition, prevent with regular updates that you suddenly have to solve avoidable problems in a slick exercise.
Of course, you can also have your website maintained by specialists. Simply conclude a maintenance contract with us for your WordPress, Drupal or Joomla! Then we do the backups and updates for you and you have nothing to do with them.
If you are looking for web maintenance services, website upkeep services, website application maintenance, ecommerce website maintenance, online store maintenance, web application security audit updates, Please Explore our website maintenance services. Also, we are providing website development, web application services, for more information, please visit our web development services.
If you have any questions or would like to know more about how Skynet Technologies can help your business to reach one step ahead, Reach out us through submit form & We'll get back to you soon!
Request for Quote