Top 8 B2B Ecommerce Solution Strategies!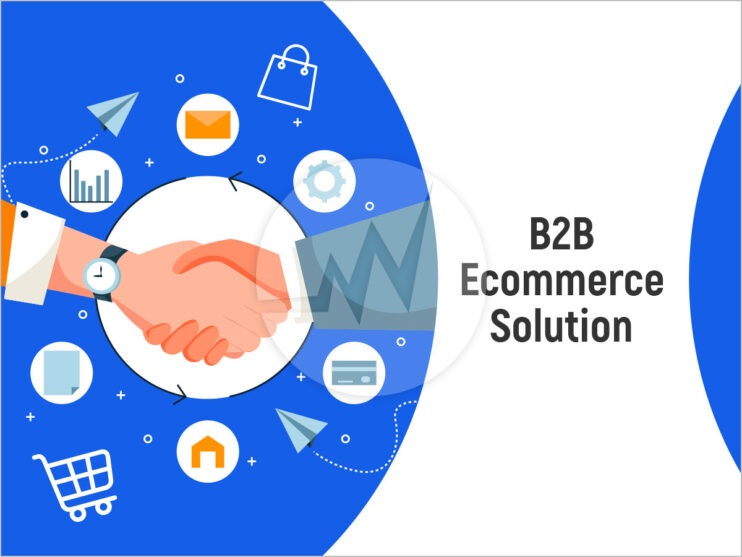 What trends will drive B2B ecommerce? We have dealt with this question and summarize the top strategy for B2B trade. One thing can be said in advance: B2B ecommerce platforms must increasingly equip for the diverse requirements of the future. Concepts such as punchout and headless commerce, but also B2B marketplaces and customers in the omnichannel will change the industry.
Here are the 8 B2B Ecommerce strategies for your B2B business.
1. B2B ecommerce will service platform
Shopping in B2B ecommerce is shifting to the Internet. Nevertheless, personal contact with the dealer is still an integral part of many customers. This is mainly because the information offered online often does not answer all customers' questions. 76% of B2B customers want to contact a personal sales representative before buying a new product. 52% seek this advice when a product has new specifications.
The trend in B2B ecommerce is moving away from pure ecommerce and towards platforms. These platforms combine ecommerce with a suitable range of services. Customers therefore not only find information and specifications about the product on the B2B platforms. They also allow you to make appointments for advice or book services that match the product, such as online training.
2. Self-service customer portals for B2B buyers
This development also goes hand in hand with the first B2B trend towards platforms: The B2B ecommerce platforms combine products with a wealth of content. Customers can find everything worth knowing about the product and its application directly in the ecommerce.
The aim is to give the customer the opportunity to find the information they are looking for online at any time in a kind of self-service portal with content and commerce. If you have any questions, the customer is not forced to contact the sales representative and seek personal advice. Knowledge bases with FAQs, guides, video instructions, blog articles and much more are created around the ecommerce. Available at any time and with many useful tips. The knowledge base provides enormous added value for B2B customers and improves the user experience.
3. Omnichannel in B2B: buyers on multi channels
The omnichannel trend has also arrived in B2B. If you don't want to lose touch, you have to address your target group optimally on all channels. Whether it's an ecommerce, sales opportunities on social networks, B2B marketplaces or a retail store – wherever your customers are, B2B retailers should position themselves.
According to a study, customers who use more channels spend more money. Another reason to use the relevant channels in the omnichannel and reach these customers everywhere. However, only 26 percent of companies exploit their options with a well-intermixed channel mix. Often there is a platform that optimally supports B2B omnichannel trading.
4. Rising B2B marketplaces
Market places are becoming a permanent fixture in B2B trade. For example, buyers appreciate the ability to use filters to search specifically for specific products. You will also find the comparability of prices and products as well as the transparency of delivery times and costs practical.
Research predicts, half of all B2B orders will be processed through a business marketplace. But there are also difficulties. In addition to low margins due to the price war and dependencies in which B2B retailers move, the interfaces are also a major hurdle.
It remains to be seen whether B2B marketplaces will prevail so far in the coming years or whether retailers will rely on alternatives to the B2B marketplace. According to Research, data-driven processes will be decisive for 86 percent of those surveyed.
5. Quick orders and lightning service also in B2B ecommerce
A number of B2B Ecommerce strategies in the end customer business are also changing shopping habits in B2B trade. As a result, business customers now demand ever faster service. This applies to both the ordering process and the delivery. A quarter of B2B customers, for example, would like a shorter checkout, quick reorders and brisk deliveries.
Modern B2B ecommerce accelerates orders, for example through shopping cart templates. Based on the products ordered so far and the matching items, the store software can predict what the customer needs next and in what quantity. Quick orders are also possible, for example, by importing order lists. This means that B2B buyers can create the article numbers of frequently used parts as a CSV file and drag and drop them into the shopping cart.
Faster deliveries are a trend that customers definitely know from B2C stores. Delivery on the same day (same-day delivery) or even within a 1- or 2-hour time window is already possible. Fast delivery is also an issue in B2B trade. B2B buyers need certain products quickly and expect reliable delivery times.
6. Punchout: ERP interface shortens ordering processes
Ecommerce also achieve faster purchasing processes and customer loyalty with the punchout principle, another B2B ecommerce trend, which must be observed. Punchout means access to external catalogue data from the ERP system. In short: The goal is a much shorter purchasing process.
The ecommerce is integrated into the customer's ERP system for researching products. The products are thus available as a shopping cart in ERP without operators having to make any additional effort. The actual purchasing process is then carried out by the ERP system.
Incidentally, the basis for this is the Open Catalog Interface. ERP systems and purchasing platforms can exchange ecommerce data records via the open standard interface OCI. The interface was originally developed by SAP, but basically also works with many other ERP systems. More and more ERP providers and purchasing platforms support the standard and make their systems fit for OCI and punchout.
The OCI standard is used to optimize the customer's purchasing process. A big advantage for the customer: Incoming orders are immediately booked in ERP. In addition, a punchout implementation should also offer the option of accepting orders electronically from the customer's ERP and sending them to the retailer's ERP as an order.
7. Progressive Web Apps put on by
Progressive Web Apps (PWA) continue the idea of responsive websites. They also enrich the mobile pages with functions that previously only offered native apps. With a PWA, customers can, for example, determine their location for local services using the smartphone's GPS sensor. In addition, an ecommerce can offer its mobile visitors a barcode scanner that uses the smartphone's camera for quick repeat orders.
One of the many advantages of this is that apps no longer have to be developed for every operating system. The starting point is the responsive website, which is only expanded by the desired extras of a progressive web app.
Some analysts are already predicting the end of the app stores. The transformation of the apps has developed more slowly. As a B2B Ecommerce Trend, progressive web apps are still exciting because the Progressive Web Apps (PWA) will come. Especially since the browser manufacturers are implementing more and more PWA functions and the advantages of progressive web apps are obvious.
8. Headless commerce makes companies more flexible
An ecommerce platform is designed to ensure the optimal display and function of the store on the desktop and mobile devices. But what if more channels maybe work quite differently? In addition to the classic and the mobile website, other touchpoints can be added with the customer, for example shopping functions on social media, B2B marketplaces and stores, wearables, voice commerce and the Internet of Things.
The headless approach enables B2B retailers to react to the new requirements in omnichannel commerce. With headless commerce, the frontend and backend are separated. The store system provides functionality in the backend as usual. But the frontends are developed, adapted and filled individually for each touchpoint. These frontends are docked to the backend via an API.
Headless Commerce promises to provide particularly fast and flexible ecommerce applications. Each channel should be served optimally and can therefore deliver the information that is useful in this environment.
If you offer many products in many variants, it is difficult to write high-selling texts for every variation and category. Text robots now also provide easy-to-read and search engine-relevant descriptions. This requires structured data, such as datasheets, attributes and the like. The text robots can use these to create original texts for each product.
Two different approaches have emerged: Natural Language Generation and template-based text generation, in which blanks and sentence patterns are used. In both cases, retailers have to do some preparatory work, namely to teach the robot the basics such as the desired language style and the choice of words or to create templates.
Conclusion:
The trends of recent years such as digitization, automation and customer centricity in B2B trading continue. Likewise, more and more concepts from the B2C area are establishing themselves in B2B ecommerce. For example, the omnichannel affinity of B2B buyers or the boom in B2B marketplaces as a source of supply. Retailers can benefit from headless commerce here to offer the ideal interface and information on every channel.
Accelerating processes is also an important B2B ecommerce trend. In order to survive in the competition, it will be crucial to support business customers with short purchasing processes and quick reorders. This can be achieved by ordering directly from the ERP system via punchout or with convenient progressive web apps that expand a B2B store with completely new ordering functions.
Store systems have to become more flexible to meet the new requirements. On the one hand, ecommerce applications can act as a comprehensive platform for purchasing, content and services, or they can provide comprehensive functionality and punchout or headless commerce, but can be very helpful to customers in how and where they want to use them.
Are you planning to invest in ongoing analysis, marketing and maintenance for your ecommerce website? We are happy to assist you in marketing opportunities for your existing ecommerce store or developing a new ecommerce store or require any type of ecommerce solutions. For more information, visit our ecommerce solutions! We also provide ecommerce website maintenance services, online store maintenance services and more. For more information, Please visit our ecommerce website maintenance services!
If you have any questions or would like to know more about how Skynet Technologies can help your business to reach one step ahead, Reach out us through submit form & We'll get back to you soon!
Request for Quote