Organic SEO vs Local SEO – Select the best option for your business!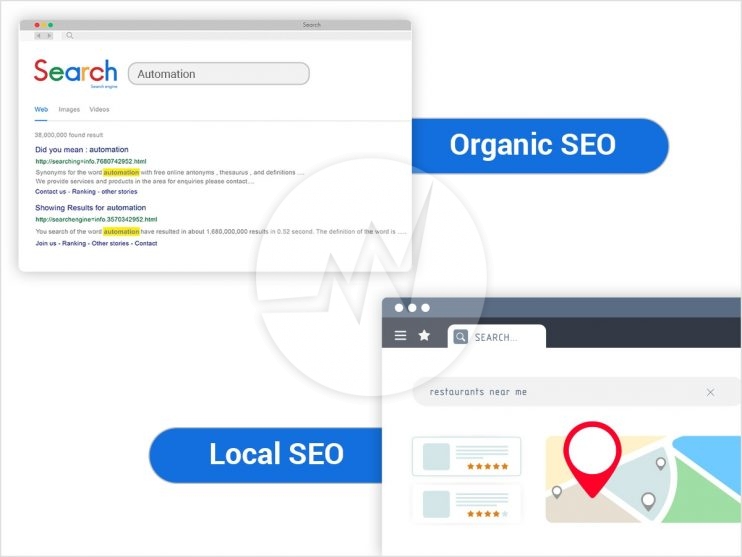 Do you know what SEO implies for a website? In a simple and short way, SEO = Visibility.
Yes, Website SEO is a deciding factor behind visibility of the website for each search. Though there are many other factors that impact website ranking in search engines. But SEO is the top priority of businesses. SEO is a vast and complicated facet of website building, and two important strategies of SEO are Organic SEO and Local SEO.
Both types of SEOs are important but at times, business owners get confused between them and find themselves in a dilemma, which one to choose and why? Many a time, organizations focus on organic SEO but overlook local SEO, which can harm business in local territory.
We shall help you to know more about both the strategies of SEO. Thus, you can decide how and why to focus on organic and local SEOs.
YOU MAY ALSO LIKE: How to improve click through rate
Organic SEO and Local SEO – two critical strategies!
Organic SEO is nothing but techniques and measures that you put in place to drive organic traffic from search engines. It works where local intent is not included in a search. It is about general information. Organic SEO includes several crucial factors like keywords, productive links, high-quality content, etc. It has zero or very less involvement with user's or your location, instead organic SEO yields more traffic for your website if your content is relevant and fits searchers' expectations. SEO positioning helps in organic SEO wherein you use specific keywords in headlines and content to get the chance to show up in search results.
On the other hand, local SEO has a geographical element attached. If you are implementing local SEO strategies, your single or multi-location business gets the benefits of appearing in local relevant searches. The strategy optimizes your content according to local needs. It is not only dependent on search engines, local SEO works on maps, business directories, Google My Business, Facebook, etc. To optimize your website for local SEO, it needs citations, links, keywords, and most importantly reviews.
Factors to consider before you choose the best option
You must ponder on a few things to decide on the most suitable SEO strategy for your business.
Market niche: If you are selling digital products or any other type of products to your target audience, organic SEO will work. However, if providing services to people nearby, go for local SEO.
Products and services: There are a few products like eBooks, educational courses, and other general stuff that may need organic SEO, but products or services like vegetables, fruits, cakes, dance classes, etc. need local SEO.
Physical stores: For pure online business, organic SEO is better. Whereas, if you have a proper store setup then opt for local SEO.
Benefits of applying a strong SEO strategy
Organic and local both SEOs add values and benefits to your business and eventually improve the website ranking. Using keywords, backlinks, local listings, and mobile optimizations correctly and in a perfectly balanced manner to achieve the desired business goal is SEO. Your business can get a kickstart and existing business can soar higher if you know which SEO strategy to apply and how.
SEO strategies surely improve your marketing efforts provided you have not overdone it and website content has top-notch quality. Key benefits of adhering to best SEO practices are-
They help increase your website traffic.
Improve business or brand awareness among your target audiences.
You can outreach your approach.
Better rankings on SERPs (Search Engine Result Pages).
Differences between Organic SEO and Local SEO
Audiences
A business you run for audiences. Thus, you must know which audience base requires what SEO strategy.
If people are looking for some nearby product or service, their search comes under local search. Such users specifically include products, services, or business names with their city names or use the 'near me' term.
Organic searches are done by people who might looking for some information or need an answer. They might be doing some research or they are searching for some facts to solve their issues. These users might need any PDF downloads or newsletter subscriptions.
SERPs
The other crucial point is search results and rankings. There are some searches for which Google shows a combination of both local and organic SEO. However, local SEO does not target the same results as organic SEO.
The focus of local SEO is getting higher rankings in Google maps, Apple maps, Yelp searches, Bing searches, etc. The upshots include a list of local businesses with their website, pictures of stores, their content information, business hours, etc.
Whereas organic SEO focuses to rank higher in Google, Bing, Yahoo, and other search engines' main searches. The results might show the website's home page link or the relevant page's links.
Content
We know, web content is a critical part of SEO and website rankings. It impacts organic and local SEO as well, though in diverse ways.
For local SEO, a business needs to provide its local information such as business city, region, state, street, intersections, etc. You require extremely locally optimized content to grab the attention of local users and establish your strong local presence.
Organic SEO pays attention to topics that contain useful information with keywords that are relevant to the topic. For instance, if you are a mobile product company, your content must focus on mobiles. And you can also include earphones, mobile covers, batteries, chargers, etc.
Local citations vs Organics links
Local SEO has citations, and the same action is done by backlinks in organic SEO. Citations and backlinks both are critical for their respective strategies.
Local citations are nothing but when your business gets a mention with your business address, location, and phone number. Local business directories and review websites such as Google My Business, Yelp, etc. have these mentions or citations. They can include more additional information like business hours, parking spaces, and many more.
Backlinks you get from other renowned and relevant websites that link your pages. These links help in elevating the organic SEO of your website.
Local SEO and Organic SEO – what does a business need?
Either local SEO or organic SEO, a business need both. It depends on the type of business you have and the kind of content you wish to promote on search engines.
If you have a small business that is restricted to a particular location, focus on local SEO. However, if you require an ecommerce solution with only an online presence, your efforts should be towards organic SEO. It will optimize the website for organic searches and then it will show up for relevant queries and keywords.
Whatever efforts you are putting, try to be consistent to achieve better results. At the last, all the efforts seem worthy if the website's performance on search engines is favourable.
Skynet Technologies offers search engine optimization, website conversion optimization, speed optimization, social media marketing, digital marketing and more. To know more, explore our SEO services.
If you have any questions or would like to know more about how Skynet Technologies can help your business to reach one step ahead, Reach out us through submit form & We'll get back to you soon!
Request for Quote