Ecommerce Shopping Cart Solution vs. Custom ecommerce development: Which One Should You Prefer?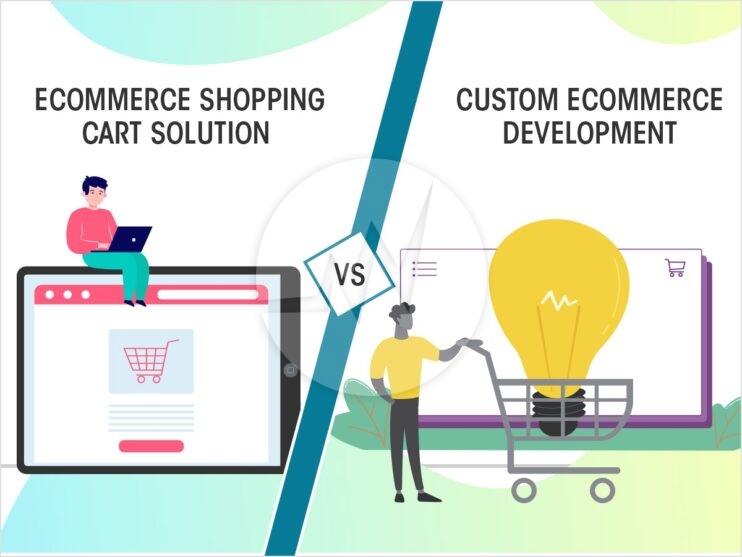 Through the past few years, the revolution in the Ecommerce industry is exponential. We have seen all types of changes from just an online shopping cart to advanced ecommerce capacities. These capacities have been introducing us to modern business models and income channels.
The Ecommerce industry is no more restricted to creating infrastructure and internal stocks. As modern business models like drop shipping, multi-vendor and marketplace have changed the face of ecommerce marketing trends. At present ecommerce websites are anticipating dealing with a bunch of business models and including pioneering revenue channels.
Besides that, the software of ecommerce development has customizable as well as ecommerce shopping cart solutions for almost every modern requirement. Due to the availability of such flexible and numerous options any individual can build their ecommerce store efficiently.
As mentioned, there are two ways or software available to build an ecommerce store i.e the Ecommerce Shopping Cart Solution and Custom ecommerce development. As an entrepreneur, you should wisely select any one software before commencing your ecommerce venture. Let's analyze which one you should prefer?
Ecommerce Shopping Cart Solution or Custom ecommerce development?
Either of them is an exclusively profitable software to start your ecommerce store. Both the software will provide you with the best solutions in no time. You don't need to invest additional time or costs in production. Either of the software is proficient in building a required ecommerce store. This organically offers you time to concentrate on the aspects of business enhancement.
How about we look at the advantages and disadvantages of understanding which software you should adapt to your ecommerce store development!
Ecommerce Shopping Cart Service
It is a ready-made ecommerce software that is accessible to you through the cloud by the peculiar ecommerce Software as a Service (SaaS) provider. Using this software, you can set your ecommerce store systematically. You don't require to install several source codes or execute any complicated technical deployment while launching your online store.
You just need to find an appropriate ecommerce SaaS provider, sign up to generate a user account, and log in. You can then personalize your premade store with the help of a graphical user interface. Personalizing will help you build your distinctive brand individuality.
The USA Reported a whopping amount of $861.12 Billion USD Sales despite being hit with a pandemic! That's the signal indicating you should think about ecommerce adoption!
Custom ecommerce development service
This software service is quite similar to that of the ecommerce shopping cart service. The only exception is that the custom development service does not offer any hosted applications. You will be provided with several source codes that you will install on a web server and establish your ecommerce store.
In other words, it is an on-premises service that can be controlled by you through any desired server but is built by a third-party developer.
Ecommerce shopping cart solution Vs Custom ecommerce development
By this time, we are well aware of the basics of both the software. But what is their impact on your profit? How will they affect your sales? Which software is best for your ecommerce store? You need to analyze all these factors of the software based on diverse aspects. Later you require to take a vital decision of choosing either of the software according to your inclinations.
Consider the subsequent diverse aspects to choose the software which suits you the best!
Inclusion of the business tools
Any software cannot solely operate your ecommerce store. You require to include other business tools to run your business seamlessly. A capable ecommerce service should easily be able to include such business tools.
In an Ecommerce shopping cart solution, the inclusion is limited as it is dependent on the chosen provider. If the provider hasn't added the premade ecommerce shopping cart support solution for the business tools you cannot add these tools.
On the other hand, Custom ecommerce development service can include APIs from any famous market tool. Any qualified developer can do this.
Ecommerce Security
The Ecommerce Shopping Cart Service is always secure to use. Although, you have to depend on the source codes provided by the service provider. In a custom ecommerce development service, you have your security codes which can help you choose the best security for your ecommerce store. Also, you do not have to depend on the service provider for the source codes. The security of this service is also very reliable.
Time
The time required for the setup of the software also plays an important role in running your Ecommerce store. To set up an Ecommerce shopping cart-based solution takes no time. Even the additional features are cost-effective and time effective.
On the other hand, the setup of the custom ecommerce development service takes less time. However, installing the additional features requires extra time, unlike the ecommerce shopping cart solution.
Ecommerce Development Cost
Here is where the approach of each software differs entirely. The expense is the most significant component that can show you a ray of direction towards one of these software strategies. The cumulative expense of possession may comprise payments such as the expense of personalization, inclusions, deployment, and expenditure. Check out the guide on how to predict the accurate Ecommerce Website Development Cost.
In the shopping cart solution, you can choose the packages which are feasible for you. And control the expenditure but not the complete possession. On the other hand, you can gain full possession by paying for all the source codes acquired. You can also invest in customization in this service.
Ecommerce shopping cart solution vs. custom ecommerce development: Which one for your ecommerce business
Both the ecommerce services have their reasonable shares of favor in market demand. Nonetheless, specific constraints of the shopping cart-based ecommerce services are not desirable for all sorts of ecommerce businesses.
If you desire a more credible service for your ecommerce store, which does not put your store in some sort of constraint, reimbursing for a custom ecommerce solution is anyway a smart preference.
Ecommerce shopping cart solutions are the best for ecommerce stores with fixed reserves and limited products to wholesale, but if you wish to build an ecommerce business enterprise, you must opt for the custom ecommerce development solution.
We at Skynet Technologies offer ecommerce shopping cart development, custom ecommerce development, ecommerce web application development and much more.
We also provide ecommerce website maintenance, online store maintenance services and web application security audit to make sure your existing website never let your customers down when they visit it! Please visit our ecommerce maintenance services!
If you have any questions or would like to know more about how Skynet Technologies can help your business to reach one step ahead, Reach out us through submit form & We'll get back to you soon!
Request for Quote