Predicting the accurate Ecommerce Website Development Costs in 2021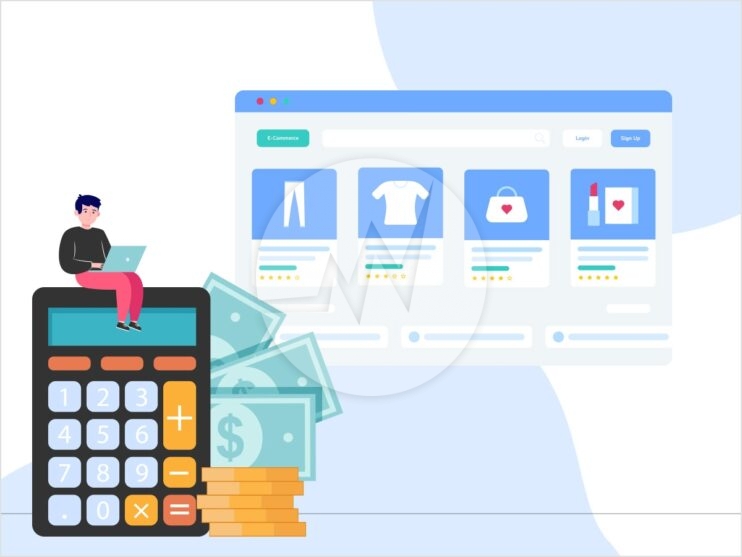 Do you have an idea how much an ecommerce website development cost? There are a lot of factors that are responsible for the cost of your ecommerce website. Several platforms are built for making ecommerce websites. The cost of a website varies from different sizes of business.
The biggest reason behind the ecommerce website development costs is the size of the businesses. The big the business size is, the higher will be the costs. Here, we have the following factors that make up the total website development cost. Businesses must consider these factors before calculating the final cost of an ecommerce website.
Factors that tend to affect the final cost of your ecommerce website
Size of your ecommerce business
There are different sizes of businesses in the market. How will much your total ecommerce website development cost depend on the size of the business? For the large size of businesses, the ecommerce website needs to be made accordingly.
Before estimating your total cost make sure to calculate where you stand in the market. If you are a startup having very low capital, then plan your costs according to your business size. This ensures that even if the ecommerce store does not get successful very well in the beginning. Then you don't have to bear too many expenses. Starting from the small level website will not only help you save unnecessary costs but you can also upgrade it as your business starts growing with time.
Suppose you have a large size of ecommerce business, there needs to be high-quality plugins and extensions to increase the performance of the website.
Method of ecommerce website development
Ecommerce website development cost depends on the method of website development. There are three kinds of methods that include open-source platforms, SaaS ecommerce platforms, and custom ecommerce development. All these three methods cost completely different from each other. First, you need to identify what method you are going to use for developing your website. You may contact any ecommerce development company if you are unsure about choosing the right method.
Ecommerce Web hosting cost
As you already know, your website is nothing without good hosting. Good website hosting plays a major role in the cost of ecommerce website development. However, certain ecommerce platforms come with proper hosting arrangements including Magento and Shopify. Another great thing is that Amazon web services are providing low-cost web hosting services to ecommerce companies.
Domain cost
Buying a domain is the first step of taking your business towards an ecommerce website. Without the appropriate domain name for your website, your audience won't understand your online presence. Buy a domain name that suits the best for your business and easy for your audience to catch. A complex name should not be added to your domain name.
Buy a domain name that is easy for the audience to remember. However, buying a domain name won't add much to the custom ecommerce website development cost. The prices of a domain name are quite cheap and can be charged up to $25 maximum.
SSL certification
Adding an HTTPS extension to your ecommerce website gives a sense of satisfaction to the customers. An SSL certification helps in providing a secure server to the users where they can provide their information without any risk. It increases trust in the eyes of the customers and also increases the search engine ranking. The cost of having an SSL certification is also not much. The maximum amount of buying an SSL certification is $25. However, there are certain ecommerce and hosting platforms that are providing it for free.
Various functionalities of the website
No matter how big the size of your business is, you must add the basic functionalities to your ecommerce websites. The basic functionalities include a shopping cart, payment mode, product management well as a customer support desk, etc.
However, if you are going to start an ecommerce website then you will get to know that all of these come up with the basic functionalities. Now, you need to add some advanced functionalities to make your website even more user-friendly. Here comes the free and paid plugins for your website. Now, the free plugins are not very advanced, and the paid ones are built with a third party.
The only solution to all these problems is customization. That is why custom ecommerce website development costs can be very different from the default ones. It helps the users to add features as per their requirements to increase the growth of the website by increasing their SEO rankings as well.
Regular ecommerce website maintenance cost
The cost of running an ecommerce website never really ends. To keep your website ranking on the search engine, there require regular maintenance costs. There should be proper maintenance of the website that includes plugin updates, extension updates, server screening, troubleshooting, and performance optimization, etc.
All of these require constant development support and cost. You can keep on upgrading your website using various sources. However, certain development services provide regular packages for updating and maintaining the website.
How to save money on custom ecommerce website development costs in 2021?
Ecommerce websites are facing a boom in recent years. As per the prediction, it will be going to rise even more in the upcoming years. To keep your website rank higher on the search engine platform, the right ecommerce website development cost calculation is required. The best way to save cost on developing your ecommerce website is using an ecommerce platform like Magento and Shopify. Using these platforms will help you save a lot of costs that will be spent on small functionalities.
Since all these ecommerce platforms are providing default as well as custom functionalities for the business. Another major benefit is that there are a huge variety of advanced functionalities that you can get easily on these platforms. That is why we have given this complete guide on the ecommerce website development costs to help you plan everything.
If you are looking for an ecommerce website development, shopping cart development, online store development and ecommerce web application development, you can explore our ecommerce solutions! We also provide ecommerce website maintenance, online store maintenance services and web application security audit to make sure your existing website never let your customers down when they visit it!
If you have any questions or would like to know more about how Skynet Technologies can help your business to reach one step ahead, Reach out us through submit form & We'll get back to you soon!
Request for Quote