WooCommerce 4.3 has been Released! How it works for SMEs?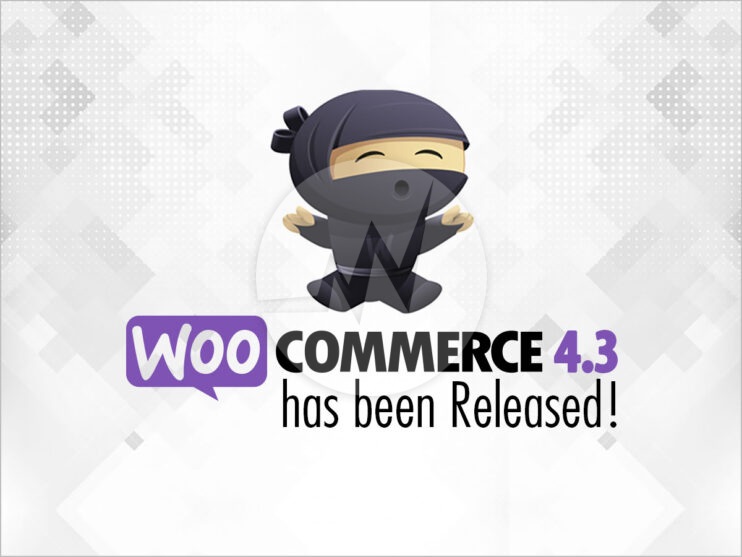 New in WooCommerce 4.3 – the latest version 4.3 of WooCommerce has been available since July 8, 2020.
Although this is not a major update and everything should be backwards compatible up to version 4.0 from March 2020 – we recommend – as always – to completely back up all data before the update. We present the most important innovations in this article.
Let's check out what's new in WooCommerce 4.3:
Dashboard in a new look
The WooCommerce dashboard has been significantly redesigned to provide more clarity. The user is now only offered 3 points:
Messages in the inbox
Overview of the most important metrics of the store
Links that lead to the most important store settings
In order to actually see this new dashboard after the update, it must be switched on under the advanced settings under Start page. If you install WooCommerce from scratch, the new dashboard is already present.
Gutenberg blocks
For users of the Gutenberg editor, there are further innovations and improvements in the various WooCommerce blocks. Please note that the "Product Grid" blocks now work a little differently. You should therefore check the display of these blocks after the update.
Database and other changes
There are also various minor improvements in database administration, CSV import and export, and a number of new hooks and functions have been added. The new database table "wc_reserved_stock" has been added to enable the correct processing of simultaneous order processes. This prevents – as in the past – the stocks can go into negative territory.
Software requirements
WooCommerce 4.3 Store Development (like version 4.2) requires at least WordPress 5.2. The manufacturer also recommends PHP 7.2 or higher. But this should almost be taken for granted, because older versions of PHP no longer receive security updates.
You can also find more information about WooCommerce on the WooCommerce.WordPress.com website.
How WooCommerce online store works for Small to Medium Enterprises (SMEs)?
WordPress is a CMS on the rise. If you want to present your own company website in a search engine-friendly and modern way, there is hardly a way around the user-friendly CMS system WordPress. So-called plugins are used, with which the functionality of a website can be significantly increased. For example, you can also integrate a complete online store system. With WooCommerce as the standard program and the explicit extension "WooCommerce German Market", which functions as a translation plug-in, you have attractive modules at your disposal. This plug-in combination seems extremely interesting, especially for small businesses.
The standard version of WooCommerce already offers added value for small businesses and Medium Enterprises!
The standard version of WooCommerce already offers a variety of functional options. Whether guest orders, vouchers, choice of form of address, product reviews, special offers or, for example, the upselling segment – numerous components for designing a functioning online store are fully available in this regard. Even the integration of affiliate products with external links is possible at any time. This then offers small businesses in particular opportunities for a successful business with their online store, since both the functionality is given and the time and, above all, financial expenditure remains manageable. Basically you can use the plugin completely free of charge; You only incur costs if you want to use certain premium extensions. But: If you run your store as a small business, you can do without many premium extensions; the features offered free of charge are usually sufficient.
WooCommerce extensions: Special setting options
Individualization of an online store
However, WooCommerce does have a decisive shortcoming. With file you are also able to create legal notice pages that can be implemented both in e-mails and in the checkout. Additional specific setting options and useful functions such as entering delivery times or taking account of small business regulations make the translation or expansion plug-in a real tool that significantly increases both functionality and, for example, your own protection against warnings.
Conclusion: For SMEs, advantageous features are offered!
With the plug-ins, a professional online store that meets the legal requirements can be launched; Possible warning risks are minimized in advance. If you also opt for the additional, chargeable expansion that is available, you also have a comprehensive set of tools at hand to optimize your store even for the highest demands.
WooCommerce gets by with a classic web hosting package and you can also edit it yourself after a period of getting used to it. The backend is accordingly intuitive and almost self-explanatory.
We offer WooCommerce website development, WooCommerce store development or any other WooCommerce solution related services for any size of business. We also provide ecommerce website maintenance services, online store maintenance services and web application security audit. For more information, please visit our website maintenance services!
If you have any questions or would like to know more about how Skynet Technologies can help your business to reach one step ahead, Reach out us through submit form & We'll get back to you soon!
Request for Quote