Why Headless Drupal Commerce is Future of Ecommerce Solution?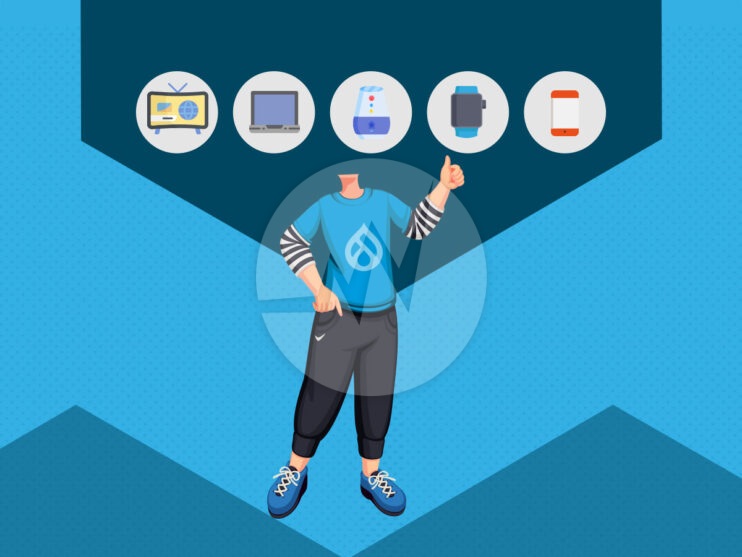 Performance and customer experience which were once an afterthought, are now vitally important with rising customer expectations and with a dramatic shift in the way they shop.
Anyone who in the ecommerce business knows that an intuitive customer experience creates the best first impression and wins over customers.
Some of the best ecommerce outlets like Amazon have reduced the loading time to improve their performance. They also took efforts to provide the best customer experience which increased their repeat customer base as well as the conversion rate.
With a spiraling number of ecommerce sites today, it was also noted that many are struggling to compete and only a few ecommerce businesses are leading the pack.
What is Headless Drupal?
When the front end of your Drupal Commerce Development is decoupled from the backend it is referred to as headless Drupal Commerce architecture. In other words, we are segregating the presentation layer from the commerce stack. This decoupling of Drupal Commerce improves the scalability and flexibility of eCommerce solutions.
Issues with the traditional Drupal architecture
In traditional Drupal architecture, you would experience design constraints when you make alterations. A lot of time is consumed in handling the database, editing the code, and customize the front-end design.
In traditional commerce, developers have to work with multiple lines of code even for simple customization. They may have to see that the database layer isn't affected in the backend.
Benefits of Headless Drupal Ecommerce
Easy Customization
Decoupling of both front-end and back-end facilitates easy customization to help you create the ideal customer experience, use the CRM, data management, and personalization tools without any performance issues.
In a headless Drupal Commerce, marketers and merchants don't have to worry about the back-end setup. They can make customizations, alterations, and experiment with the shopping experiences.
The frontend developers also do not have to worry about handling the databases. They can create everything from scratch in headless commerce.
In headless commerce, you would have more room for customization. You don't have to dread over dealing with any of the backend features while working on the look and feel of the Drupal Commerce platform.
Enhanced Shopping Experience
Headless Drupal Commerce gives a great shopping experience to all the stakeholders – developers finding it easier to make changes to the product listings and other modules, merchants with administering the store, and end-users with content-rich experience. An API-based headless Drupal Commerce is creating a boom in the ecommerce market and provides the scalability and flexibility to deliver incredible shopping experiences to the customers.
Personalization
Personalization is the foremost factor that drives conversions. Customers find it extremely frustrating if their shopping experience isn't personalized. They wouldn't mind their data being collected and analyzed if that provides a personalized shopping experience to them. In headless Drupal Commerce, the data collection and user segmentation become easier. In other monolithic architectures, the tools used for this purpose may show some performance lapses. In headless Drupal Commerce, these tools and personalization systems are easier to implement without slowing things down.
Best front-end tools and portable backends
With backend decoupled from the front end, there are no restrictions on picking up the best front-end tools for your platform. You don't have to worry about the coupled solutions and pick faster and cost-effective solutions. Also, the frontend team can work without relying on the Drupal developers if they need to work on the styling of the websites.
Smooth Upgrade
With 70% of the Drupal platforms still on Drupal 7 and with the recent release of Drupal 9 and the older versions reaching their end-of-life, one needs a smoother upgrade to the latest versions. Adopting the new versions has always been time-consuming and this can be reduced if Drupal goes headless and become a decoupled model.
Portable Data
In traditional architecture, your content is in Drupal's web of database which is huge and complicated. With decoupling it, your entire content becomes easily available and portable with an API.
Ultrahigh Speed
Headless Drupal Commerce sites are faster and reactive. Without the tight Drupal architecture, the whole setup is not overloaded and it is reflected in the performance. Many headless ecommerce websites have shown faster loading speeds with decoupled shopping carts.
Rich and Interactive Cart Experiences
Decoupled Drupal Commerce provides an enhanced interactive experience with features like push notifications, real-time updates & previews of the cart, updating the cart without page reloading, and many more.
Omnichannel Presence
Headless Drupal store can enjoy an omnichannel Commerce with the same data displayed in different ways. You can share the content and data on a mobile app, websites, or web apps. The large choice of front-end technologies won't restrict you to one platform and hence you can multiply the benefits.
Finding the bugs easily
When the presentation layer is decoupled from the backend, you are bound to uncover some issues. Fixing theseis decoupled from the backend it is referred to as headless Drupal Commerce architecture. bugs via API updates contributed to improving the Drupal core and this even helped in fine-tuning the entire application structure.
Do you need Headless Drupal ecommerce?
Many enterprises are catching up with the latest trends in the market and adapting tools that improve their customer experiences. Headless Drupal Commerce is becoming one of the most important benchmarks for ecommerce businesses to survive in the market. Decoupled Drupal Commerce is more data-centric, personalized, and faster winning the customers and improving conversions.
Many ecommerce businesses have already been facing the competitive heat from other companies which have been faring extremely well. They realized that sooner or later, it is imperative for them to go headless for providing a consistent and engaging customer experience.
Conclusion
If you are still wondering if you need a shift to headless, first understand your end goals. If speed and customer experience are affecting your business revenue, you don't want to lose more customers to your competitors who are already on headless architecture. With time, more and more businesses will be showing a paradigm shift from traditional to the headless framework. So it is advisable to gear up for the future and not lose out in the race.
If you are looking for headless Drupal commerce solution, Drupal ecommerce solution, Drupal web development, Drupal commerce development and other related web development services, please explore our Drupal web development services! We also provide Drupal website maintenance services, Drupal migration and Drupal website SEO audit, Drupal application security audit. For more information, Please visit our Drupal maintenance services!
If you have any questions or would like to know more about how Skynet Technologies can help your business to reach one step ahead, Reach out us through submit form & We'll get back to you soon!
Request for Quote