Top 15 Reasons Why Ecommerce Website Design Services is an important Factor?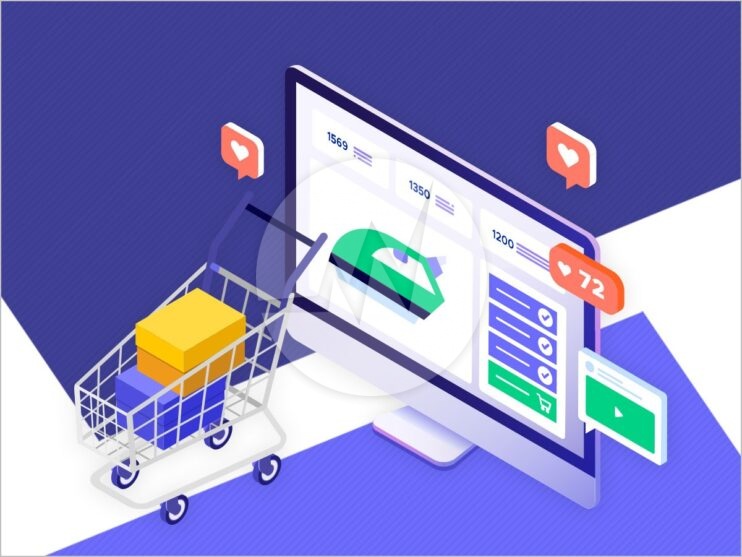 Ecommerce Website Design:
Do you know the importance of the first 15 minutes? Ever wondered about its impact on your website? If you keep your customers engaged for 15 minutes, it serves the functionality of the website, striking your path of sales. The solution is by making ecommerce web design the best experience for the customers. This can be achieved by creating a beautiful and engaging web design, which is a crucial element of online marketing. As you decide to redesign your website, thinking about its importance and effects on business and target audience is important. A good online store design helps in implementing a good marketing strategy that leads to the success of the brand. The advantages of an ecommerce website are numerous including the allowance for customers to buy in a few clicks and taps on the smart screen.
Top 15 reasons why you need ecommerce website design services
1. Builds easy connections with a larger crowd
A good ecommerce web design service easily builds connections with the larger crowds in an online store. As it is accessible to everyone, a simple and clear website with a play of phrases conveys your efforts and attitude in serving and helping them. The website acts as a consumer service representative, inviting audiences on a large scale and serving them on their fingertips. The percentage of visitors to the website decides the success of your brand.
2. Helps to survive against competitors
The use of skilled and well-crafted words while creating a website design inspires customers to purchase. Satisfactory user experience builds loyalty leading your web design to become the digital face of the business. By winning the users, your brand is chosen among other competitors in the market offering the same product at the same price. Online Store Design also helps to showcase unique features.
3. Search engine optimization (SEO)
All the content that is published online is influenced by the web design elements, which directly affects the SEO of your website. By using proper engine optimization strategy, surviving the battle of online visibility becomes easy. The SEO fundamentals should be up to date which can be achieved by partnering with the web design agency.
4. Saves money, time and efforts
Investing in a good ecommerce website design not only saves money, time, and efforts of the producer but also of the consumer in the long run. Initial investment and maintenance of an ecommerce website design require a minimum amount and at the same time provide highly accessible facilities to the consumer on their fingertips.
5. The rise in mobile users
Creating a responsive website design caters effectively to the growth of customers using the website through their mobile phones. According to researches, the highest amount of global web traffic generated is by mobile phones. This means businesses have to create an online store design that is mobile-ready and friendly.
6. Attractive eye-catcher
By formulating a standout ecommerce web design that catches the right audience and acquiring a positive judgment in the initial minutes of the customer's landing becomes a game-changer. The more the attractive and appealing look of the web page, the lesser the chances of them leaving it. Boring web designs keeps customers aloof from the business value and makes it unnoticed and unremembered by the customers.
7. Enables to control of users' online journey
The online store design can be molded in such a way that lets the customers travel through different folds of the website, thereby controlling their actions and initiating their purchasing power. This happens only when engaging relationships are built, leading to controlling their mind.
8. Delivery of all information
The website design act as a guide by providing all important aspects of the business that include giving basic information, specifying all terms and conditions, stating out clear policies, giving detail about product delivery and payment. Giving a crystal clear idea about the aim and the purpose of the business serves in favor of the brand as it resolves all the problems of the online store design that could occur. Seamless navigation of different tabs on the website helps the users reach the business without facing much of any hassle.
9. Feature of visual graphics
With the help of graphic designing and visual engagement, the business can do successful marketing and promotion, thus aiding in registering the brand name in the consumer's mind. Interesting visual aids prove to leave a lasting effect on the mind and also perfectly cater to the need for commercial and promotional aspects.
10. Allows incorporating user experience and user interface.
Ecommerce web design services and UX/UI work hand in hand. It deals with providing a seamless experience to online shoppers by directing them to what they need with an understanding of their online journey.
11. Generates more sales.
A good website design gives a credibility factor to your business, thereby inviting more visitors to the online shopping portal. Trustworthy and online presence makes the item, services, and solutions 24/7 available for the user thereby generating more loyal and happy customers.
12. Adds trust and professionalism to your business
A well-designed ecommerce website means all the information is up to date. This creates a sense of active involvement of the brand with the customer making them more comfortable in routing them for a longer time.
13. Gain business value
By having an online store design for the business, showing authenticity and making the right marketing moves becomes easy which in turn increases the traffic by establishing fruitful terms with the customers.
14. Creates consistency and builds familiarity
Making the audience familiar with the brand helps in building new leads. This can be achieved by having consistent content, style, layout on every page to give recognition and association with the name. Being uniform throughout is essential, as it provides a streamline and clear experience.
15. Can create a flexible view
The Flow of the web design can be molded, therefore flexibility is an important element for developing services and products with immense value.
Conclusion
Is there any other better way to makes users buy the products/services that you offer? Your web design is the face of your brand so it is essential to create a strategy and avail all the benefits that a good website design can provide your company to gain maximum returns.
If you are looking for an Ecommerce Web Design Services, online store design, shopping cart design, website design services, UX/UI web design, Please explore our ecommerce website design services! We also provide website redesign services, online store redesign and ecommerce website redesign services. For more information, please explore our website redesign services!
If you have any questions or would like to know more about how Skynet Technologies can help your business to reach one step ahead, Reach out us through submit form & We'll get back to you soon!
Request for Quote