Top 10 Reason You Need a Website Maintenance Plan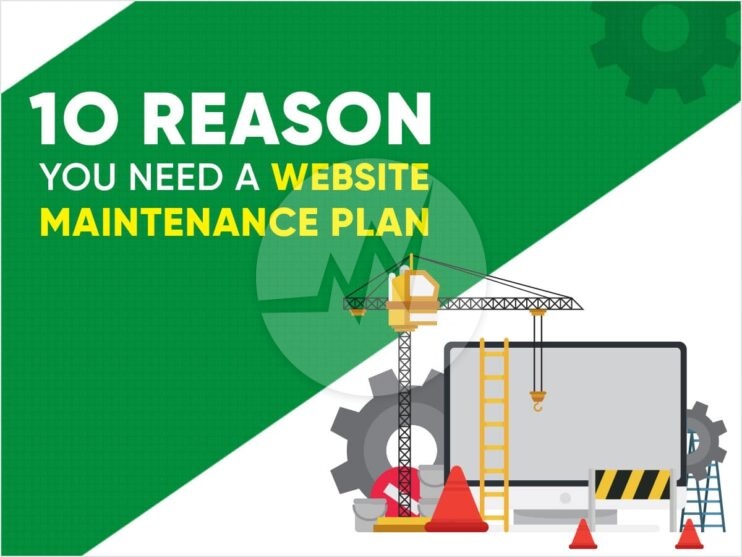 The excitement of putting up a website for a business is palpable. After all, you are putting up a virtual storefront for your business and its most important online marketing tool. The problem arises when the excitement dies down and you realize you haven't had any time to update your website. With dated information, broken links and more, instead of attracting new visitors to your website, the bounce rate starts to increase. There is no reason to wait until this stage to have a website maintenance plan in place.
Here are the top 10 reasons to opt for a professional website maintenance service:
Professional Help
The biggest advantage of opting for a website maintenance plan is the fact that you have a skilled set up at your disposal. These are professionals that have knowledge of industry best practices that can give your website a strong competitive edge. This could range from the design aspect to enabling the visibility of the website.
Upgrades
With information becoming outdated at the speed of light, it is extremely important to keep your website updated at all times. This refers to the website content, images as also performing regular checks and generating website reports in order to be able to take corrective action on the website performance without any delay. From updating the security patches to adding new web pages, all of these are aspects that a professional website maintenance company can take care of. In fact, skipping upgrades is a big no-no that can play havoc with your site's security and integrity. While this may seem to be an added responsibility in your already stretched schedule, this will be an integral part of the KRA of the website maintenance company.
Troubleshooting
An important aspect of a website maintenance service is its troubleshooting. This ensures that any bugs, viruses, broken link issues are solved and there is the minimum downtime and hence the business does not face any loss in image.
Optimization
Other than troubleshooting, site optimization is a continuous proactive process. This includes ensuring the images are optimized, the site loading speed is optimal and more. This goes a long way in adding to the user experience as well as helps the site move up steadily when it comes to search engine rankings.
Data Back Up
With sites being vulnerable to hacking, data back-up is imperative. A website maintenance company will ensure that the data backup is ensured periodically so just in case there is a virus attack, the site is hacked or you accidentally land up deleting any information, you do not have cause to worry. In fact, data back-up will protect you against any costly errors at a later date. The importance of this cannot be overstated especially for sites that transact business online.
Ensuring site visibility
It isn't enough to have a professional-looking website that doesn't attract visitors. Now that is something that a professional who has knowledge about SEO & its best practices can achieve. Website maintenance packages can ensure that this crucial aspect is taken care of.
Analytics
There is little point in having a website if you aren't able to track its performance. A website maintenance plan will ensure Google Analytics is installed and made available to you. There is a lot you can do when you know who your website visitors are, what part of the world they are logging on from, whether they view the website from a desktop or a mobile etc.
Armed with this data you will be able to take many business decisions, which in turn will lead to growth.
Brand Image
A very important aspect of website maintenance is that it helps maintain your brand image. In the absence of proper website maintenance, a visitor can encounter outdated information, broken links, poor site loading speed etc that can play havoc with your corporate image.
Saves time
As an entrepreneur, there are enough and more things that are vying for your attention. By outsourcing the web maintenance work to a professional agency, you are freeing up precious time that you could devote to your core areas and thereby benefit from the ROI.
Bespoke plans
A website maintenance plan is typically customized to suit your bespoke requirements. You could choose a plan that works for your business and reap the advantages that accrue from it. The AMC could come with deliverables such as the addition of newsletters, unlimited updation and more.
Give your website the competitive advantage that it deserves by partnering with a website maintenance company in India that can ensure that you can avoid the potential pitfalls when it comes to your website. While it may seem like an overwhelming task to undertake with your internal resources, employing a professional partner can make all the difference.
We provide a complete website maintenance service from a small content updates, bug fixing, trouble shooting, critical security updates, SSL Installation, Module configuration, installation to version upgrades and much more.
Whether you are a start-up, small business, enterprise, or large scale corporation, we offer a complete website maintenance and support plans which will cover all your aspects.
If you are looking for a Web Development and Web Application Development, Please Explore our Web Development Services! We also provide Website Maintenance Services and Web Application Security Audit. For More Information, Please Visit Our Website Maintenance Services!
If you have any questions or would like to know more about how Skynet Technologies can help your business to reach one step ahead, Reach out us through submit form & We'll get back to you soon!
Request for Quote