The complete guide on anchor text for SEO Best Practice!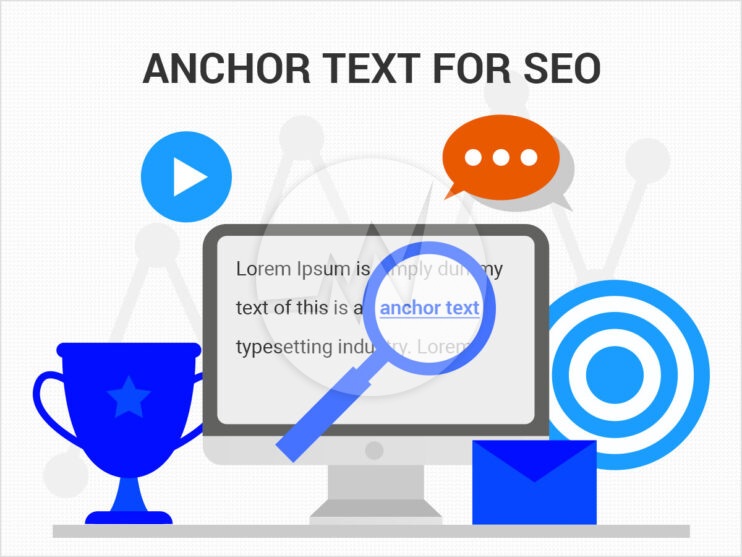 If you want to be at the forefront in the SERPs, but don't want to place paid advertising, you can boost your organic ranking with the help of SEO. The measures in the area of on- and off-page optimization are diverse and even supposedly small details can have a big impact. Also, the link building and the associated choice of anchor texts. In the following we will show you how important quality anchor texts are for search engine optimization and how you can become a backlink professional in just a few steps.
What is an anchor text & which types can be distinguished?
An anchor text – also link text, reference text – occurs on websites or in documents. It consists of one or more words with a hyperlink. The text can be clicked on and leads to a document, a target page of the same domain or to a different domain.
How anchor texts work with SEO?
Link building is an important measure of the optimization of the off-page. A number of meaningful links to other domains (external links) that provide information indicate to the Google crawler that it is a website of high quality, relevant. Such pages offer users added value and should be found – they increase in ranking.
But not all link text is created equal. It all depends on the wording – because the information value it contains, in addition to the quantity of links and the quality of the target pages, also determines whether or not it is a good backlink.
Dos and don'ts for natural link texts
Again, and again you read that link texts should be "natural". Only then are they effective and convince both users and search engines. But what does "natural" mean? Strictly speaking, links in the literal sense of the word cannot be natural if you follow an SEO strategy with them. Nevertheless, you can maintain a certain naturalness if you observe the following no-go and must-haves.
We say no to this:
Stay away from keyword stuffing & hard linking
Everyone has seen a page full of keywords – in the accurate sense of the word. The greatest indication for the user: The texts are illegible because they are distorted due to the excessive, often nonsensical mention of keywords in the context. Where this practice was common a few years ago, a penalty must be expected since the Penguin update. This also applies if hard links are set, i.e. the exact main keywords are used as the link text.
Reduce empty phrases
If you think you can do better with the exact opposite of keyword stuffing, you are unfortunately on the wrong track. Under no circumstances should you focus on the types listed above under "Other". Phrases without informational content such as "there" or "click here" are well done in a natural link profile. But don't overdo it. Ultimately, the usability suffers and a loss of ranking can also result if the search algorithm cannot read the value of the link from the anchor text.
Avoid duplication
If you want to refer to your landing page from several domains, refrain from strict formulation requirements. You will get neither the user nor the search engine if the same anchor text is used several times. Instead, let those responsible decide for themselves which reference texts they would like to use to describe your website. The expected variance in the formulation ensures naturalness. Check out the guide on how to Fix Duplicate Content.
We say yes to this for Anchor Text SEO Best Practice:
Keep your intuition
What Would a Typical Webmaster Do? Exactly, choose a healthy mix of anchor text types. Sometimes the domain name is appropriate, sometimes a keyword, sometimes a simple – that is primarily determined by the context. It is important that you don't commit to one strategy, because that seems forced and unnatural.
Briefly teaser the content of the target page
The more meaningful the message, the more likely you are to meet the user's expectations. Search engines like Google also love these short summaries, because whether the page is classified as relevant or not depends largely on which information is presented to the search algorithm for evaluation.
Vary in length
Sometimes a single word is enough for an anchor text. At another point, a part of the sentence can be used and there may even be entire sentences that can function as a link text. The same applies here: It's all in the mix. As long as your choice makes sense in context, you're doing everything right.
Conclusion
From an SEO point of view, many tend to please Google or other search engines if possible. Often the much more important and actual addressee gets lost: the user. Also, think about user and the experience of the user will have on your website. Offer them unique content and thematically relevant additional information via meaningfully placed links – that builds trust. By adapting the number, the placement and the choice of words to the context and goal, you will do justice to users and search engines to the same extent and you may soon look forward to an increase in traffic.
If you are looking for search engine optimization, digital marketing services, social media marketing, PPC campaign management service and more, Please Explore our SEO Services!
If you have any questions or would like to know more about how Skynet Technologies can help your business to reach one step ahead, Reach out us through submit form & We'll get back to you soon!
Request for Quote