Take your Ecommerce Store to Facebook Shops and Create a Seamless Shopping Experience!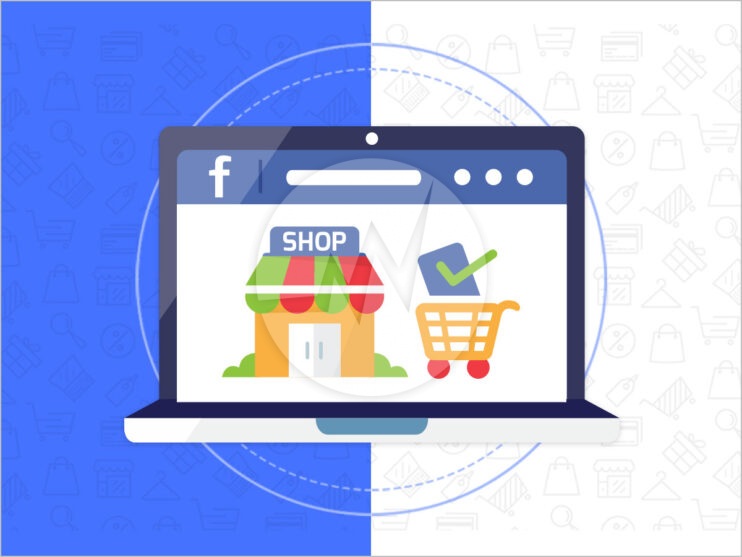 Facebook is a new distribution channel in this continual growing digital age. Facebook has unveiled its new shop feature, which enables business owners to create an online shop to sell their products directly on Facebook and Instagram.
Let's take a look at how Facebook Shops works, what it means for businesses, and what you need to know to create a brand-new branded shop for your business using this new tool.
What are Facebook Shops and how does it work?
Facebook Shops allows you to create an online shop on Facebook and Instagram. You can show and sell your products directly on Facebook and Instagram and your customers can discover and buy your products with just a few clicks, either through in-app sales or by bringing them to your website. You can find your company's shop by clicking the "Show shop" button on your company's Facebook page or on its Instagram profile and by clicking on advertisements or swiping up in stories.
Businesses can use shops for free, just like all other Facebook ecommerce functions. But in contrast to Facebook Marketplace, this new function is aimed at companies rather than consumers and can be more personalized. Check out simple & effective tips for successful marketing on Facebook ecommerce store.
The new function comes at just the right time for small businesses, as the corona pandemic is forcing brands around the world to adapt their business models and find new sales channels.
More than 1,200 entrepreneurs and small to medium-sized companies' extent the pandemic is affecting their behaviour and the data shows that companies are actively looking for new ecommerce Branding Strategy. Of the companies that want to integrate ecommerce on their side, 46% have either already started or are discussing it due to the pandemic. Facebook Shops is obviously an interesting opportunity for companies.
Since shops will be free, even small businesses on a budget can try this new option – even if they can't afford to set up their own web shop.
Instead of asking companies to checkout to use shops, Facebook is betting that they want to advertise their shops – and this seems like a clever move on their part. Businesses are already creating or thinking about doing new online ads such as banner ads or Instagram Ads, making it very likely that Facebook's investment in this new feature will pay off for them.
Overall, Facebook Shops seems to be a win for both Facebook and companies: brands have new ways to show and sell their products, while Facebook can keep its users in its ecosystem and increase its advertising revenues.
Advantages of Facebook Shops:
Free to use
Additional channel to sell directly to followers and to reach new customers
Uniform brand experience: Brands can personalize their shops with a cover image, product photos and accent colors
Shorter customer journey from discovery of the product to purchase, which can increase conversions
Very profitable for brands that are already active on Facebook and Instagram and whose target group prefers shopping on mobile devices
Disadvantages of Facebook shops:
Like any shop that isn't directly on your site, it's not entirely yours and you can't control everything.
Limited branding; can only be personalized to a certain extent.
How you use Facebook Shops?
Facebook Shops is just getting started and you will receive an email when the function is available for you. Setting up a branded shop with Facebook Shops is pretty straightforward and only takes a few steps:
On your Facebook page click on the tab "Shop". If you can't see it, you'll need to change your Page Template to a Shopping Template.
Then click on "Commerce Manager".
There you will be asked to follow a few steps to set up your shop, such as linking your company page and making your settings for shipping, returns and pay-outs.
As soon as your shop is set up, you can create a product catalog. To do this, go to your Catalog Manager by clicking on "Inventory" in your Commerce Manager.
When you're done, you can manage both your sales on Facebook and Instagram in your Commerce Manager.
How to successfully brand your Facebook shop?
A big advantage of Facebook Shops is that you can customize it to fit your brand. Here are a few things to keep in mind when branding your shop so that you can offer your customers a seamless, branded experience:
In Facebook Shops, the branding options include choosing your layout and images, naming your collections and adding descriptions. You can also change the size, color and appearance of your texts and buttons for the collections in your shop.
With collections, you can create individual product lines according to type, style or theme. Use this option to group your products in appealing collections that go well together visually and thematically.
Photos
Facebook Shops is very image-heavy, so high-quality photos should be a top priority. You should use professional looking product photos that not only show your product in the best possible light (literally, because good lighting is extremely important) but show the product in all its details.
All of your photos should have a common visual style that binds them together. Use a common color scheme or background to create a consistent look across all of your product photos.
Colour
The color for your buttons and pictures should be harmonious. Don't just choose one of the recommended colors, take one of your own branded colors and enter the exact HEX color code. Make sure the color has enough contrast to stand out in your pictures.
Typography
Typography has a huge impact on the brand experience and carries tons of meaning, so choose a font that fits your brand identity. As you set up your shop, you can preview what your shop will look like so you can tweak it until it fits.
Uniformity
In addition to branding your Facebook shop itself, you also have to remember to ensure a uniform brand experience for your entire online presence and all of your social media pages. Your images, stylistic decisions and brand voice must go hand in hand and create a larger, brand-consistent image.
Imagine choosing a trendy and minimalist black and white look for your Facebook shop and a colorful, playful style for your Facebook posts and advertisements. Visitors would be confused and likely not find what they are looking for.
Follow these steps to create a seamless branding experience on your social media and everywhere else:
Determine your brand identity.
Find your brand voice.
Create brand guidelines and a brand style guide and adhere to them.
Stick to a consistent style of your images, be it photos or graphics.
Make use of all the personalization options available to you and don't go for the preset look.
Create branded assets like ads, posts, banners, and page covers that work together and tell a cohesive story.
Summary
While brands are looking for new ways to connect with customers, Facebook Shops is becoming an exciting new option for entrepreneurs. Brands that already have a strong focus on social media marketing can benefit from this new and much more direct sales channel on Facebook and Instagram.
When planning your own Facebook shop, don't forget that distinctive branding is what sets your shop apart from everyone else. Never underestimate the power of unique and well-made branding. It gets people's attention and makes them remember you.
If you are want to develop a new online store using Facebook Shops, or looking for new marketing opportunities for your existing online store or require services like Facebook business page marketing, social media marketing, content marketing strategies, search engine optimization services, digital marketing services, PPC campaign management services and more, please explore our SEO Services!
If you have any questions or would like to know more about how Skynet Technologies can help your business to reach one step ahead, Reach out us through submit form & We'll get back to you soon!
Request for Quote