Google SEO Rich Snippets: How to Implement Structured Data for a rich result?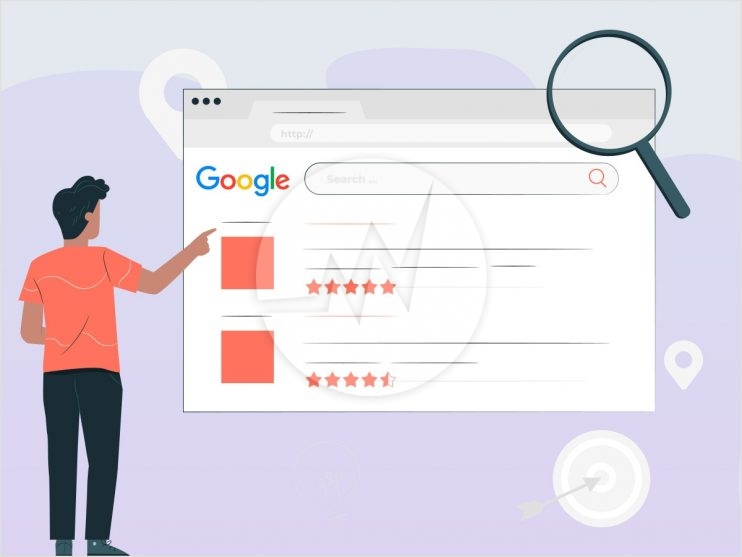 Anyone who wants to be successful with search engine optimization aims to be as visible as possible in the organic search results. It's not just about appearing particularly high in the SERPs, but also about how much space you take up there. So-called rich snippets are a great way to spread your web content in the search results and thus attract the attention of users. We from Skynet Technologies, reveal what exactly is behind this term and how you can get your content displayed on Google as a rich snippet.
What are Google SEO Rich Snippets?
Google Rich Snippets are the type of structured data markup that enhanced the result in Google Search Engine with informative and visual features. They allow the search engine to understand the information.
In contrast to regular Google snippets, which contain the title, description, and URL of the relevant page, rich snippets offer added value in terms of information and are more visually appealing. For example; star ratings or FAQs. Depending on the type of rich snippet, these are displayed above or below the description. It increases the space for your content to take up in the SERPs and visually sets it apart from other search results. Users can not only see the content more easily but also get the feeling that they are receiving relevant information. Strictly speaking, rich snippets do not directly influence the SEO ranking. However, due to the special features mentioned above, they have a positive effect on traffic for your side.
How do I get a Rich Snippet for my website?
So that your content can be displayed as a Rich Snippet by Google, you should follow four steps:
Opt for some sort of rich snippet.
Use a suitable markup to structure your page data.
Test you if everything ready for a rich snippet is.
Check the performance continuously and optimize if necessary.
Which Google SEO Rich Snippet is the right one?
Think about which rich snippet suits your content. If questions are answered in your content, it might be a good idea to restructure them into an FAQ. A how-to markup might be useful if a specific line of action is explained. Rich snippets of the types of Review or Product Type can be of interest for offers and products. Remember: Only if the selected rich snippet also fits your content; it will be a valuable content result for users and thus an SEO advantage for you.
Is your content ready for the Rich Snippet?
It's good that Google itself offers a Rich Results Test tool to test your content for rich snippet suitability. Simply copy the relevant URL into the tool and see whether there is still room for improvement.
Structured Page Data – how does it work?
Structuring page data: At first, this may sound like a complex undertaking that you are reluctant to tackle. There are now a large number of generators that do the job for you and automatically bring the data into the desired structure. These generators prepare the data according to Schema.org, which is regarded as the standard for data structuring in the network.
How to implement structured data sensibly for Rich snippet results?
Structured data is nothing more than additional information that is implemented in the HTML code of a website. This enables the Google bot to read out the data better and arises the opportunity to display additional information in the search results. This additional information can be products, opening times, or ratings. In the following, you can read what structured data is in detail, what it is available, and how you can use it on your website.
Understand structured data
Code, code, code – Structured Data is simply about code that enables Google to understand what's on the website. If the Google Bot crawls a page, it is very much about context work, which is not so easy to understand for a computer without special identification. However, if you tell the bot exactly what is on a page, it can evaluate the data much better and match the search results for potential customers even better.
For example, Google can follow:
What are the numbers on the page that represent the opening times?
Which numbers indicate the phone number?
Which text contains FAQ questions?
Whether there are videos on the site and how long they are?
Invest vs. profit – what is the point of integrating structured data?
At first glance, you might think that only Google would benefit from structured data. But Google rewards the integration with a more meaningful presentation, which leads to better rankings. As a website owner, you benefit from three positive effects when you incorporate Rich Snippet Structured Data. First, you can provide more information to Google about what's on your page, and thus more context. That improves your ranking.
In the search results themselves, your results will be presented much better (visually), because Google knows exactly what is on your website, e.g., the customer ratings, through the structured data and can play them out. This additional information makes your website stand out from other search results in Google. Ultimately, structured data leads to higher click rates because they catch the eye immediately and offer the person searching more information at first glance. With the same number of impressions, you will get more clicks and visitors to your page.
Which structured data are relevant?
In principle, structured data are marked according to schema.org. Schema.org is a markup system that helps to structure and label content on websites. The offered Schema.org vocabulary can be used with various encodings, such as JSON-LD. The vocabulary itself includes entities and relationships between actions and entities and can be expanded as required.
But which data are relevant for you now? In principle, it always comes down to what type of website you operate: is it an online shop or a local business. Depending on what content you offer on your website, different structured data will be used. However, there is a range of data that is relevant to almost all websites, such as:
Webpage
The navigation paths
The organization (i.e., the brand, address, and telephone number)
Videos
Logo
Search box
Sitelink Search Box
Article
Reviews
Speakable, i.e., texts that are suitable for text-to-speech.
FAQ
How-to
Service
Event
Recipe
Person
Job Posting
QA Page
Item List (For View)
Implement structured data – use a schema markup generator
Not everyone understands schema.org right away, especially if you haven't had a lot to do with code beforehand. That is why there is, for example, the Schema Markup Generator, in which the relevant information is inserted, and the associated JSON-LD code is shown. To do this, select Which schema.org markup would you like to create? the markup that you want to implement on your website. Then fill in the appropriate fields and copy the code that is given to you in the right-hand column on your page.
Where is the code inserted?
The code that you copied in the generator can be pasted in different places on your website. If the information concerns the entire website, such as the address or opening times, simply place the code in the header of the page. If the corresponding structured data only relates to a certain website, it can be integrated directly on the individual page. For example, WordPress offers a schema plugin that can be used to easily insert structured data on the website. If the plugin is installed, go to the backend of the respective page, and insert the corresponding markup code in JSON-LD under Custom Markup.
Another interesting tool is the structured data test tool, which you can use to check whether there are errors in the code, for example, and whether your structured data is recognized. To do this, simply add the relevant URL into the field and click on Perform test. Then click on Errors or Warnings and follow the appropriate solutions. Nothing can go wrong with the interaction between the two tools, and you can start implementing structured data.
SEO means continuous optimization
If you've followed the steps above, the chances are good that your content will show up in search results as a rich snippet, generating traffic to your page. As always with SEO, the same applies here: after work is before work. So do not rest on your success but carry out regular checks to secure it in the long term. With the Google Search Console, you can keep an eye on the relevant pages and, if necessary, make optimizations.
SEO Success – Thanks to professional support!
Does that all sound too complex or cumbersome for your taste? We at Skynet Technologies will be happy to take care of SEO of your website. In this way, you climb steadily to the top in the organic search results and can still concentrate on your core business.
Would you like to put the implementation of structured data in professional hands? Our SEO specialists will be happy to take on this task for you. We provide complete search engine optimization services including quality SEO strategies, website performance optimization, website speed optimization, digital marketing, digital transformation, content marketing, online marketing, social media marketing, PPC (pay per click) campaign management services and more, please explore our SEO Services!
If you have any questions or would like to know more about how Skynet Technologies can help your business to reach one step ahead, Reach out us through submit form & We'll get back to you soon!
Request for Quote