10 Reasons You Need Website Maintenance for Ongoing Business Success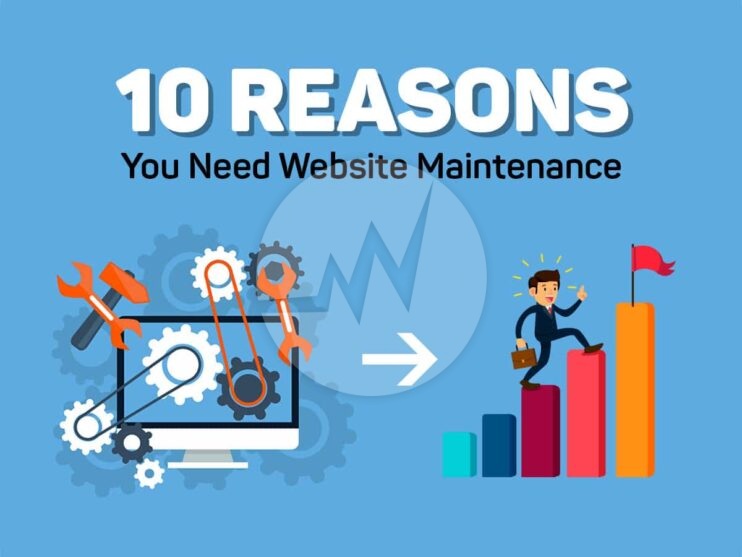 Start-ups, Small to Large businesses, Enterprises and Corporations usually starts with a professional website development which soon becomes outdated due to lack of Website Maintenance Services. In today's competitive market, it is vital to ensure that your website is up-to-date with current information, security updates, version upgrades, features enhancement and more to keep your website running smoothly and efficiently. Having a website with up to date information can give a better user experience and enhanced visibility on Google SERPs.
Let's have a closed look at Top 10 reason for any size and type of companies need a professional website maintenance services for ongoing business success.
Troubleshooting
Bugs or Error are common and they can arise anytime without any prior acknowledgment. You might be facing slow speed, poor performance, security issues, unnatural website behavior and so on. All these issues must be trouble-shoot and fixed immediately before it ruins the entire website. These are directly connected to user experience and website visibility. Professional website maintenance services would help you to troubleshoot simple to complex bugs on-time to keep your website running smoothly without any hassle.
Broken Links
A website with error messages, 404 pages, not-working contact forms and broken links can lead to potential loss. It is essential to check and monitor website pages on an ongoing basis and fix the broken link issue to have better visibility on the internet. A Professional website maintenance expert with hands-on experience and in-depth technical knowledge can monitor and resolve the broken link issue to keep your website running efficiently on the internet.
Backups
Your website can be hacked and wiped off. Your system can be crashed or something unnatural can occur to your programming. To remedy these situations, backing up your website regularly is crucial. It can save you plenty of hours, stress and money in case of an irreversible problem. A Professional Website Maintenance service provider can help you take manual or automated website backup on regular basis. Your backup should save on your local system as well as cloud to use backup version anywhere anytime.
SSL Certificate
If you are running with an eCommerce website, SSL certificate is a must. An eCommerce website without SSL certificate can be easily hacked that means a sensitive credit card information can be easily stolen. An SSL is must to bring a customer trust to your website. SSL certificate can also boost your website SEO. A regular website maintenance service can help you to ensure that the SSL certificate has been installed properly and renewed on time.
Security Updates
One of the major reason for getting website hacked is outdated security patches. It can easily infect your website, steal sensitive information, wipe off data and more. It can also harm website visitor and search engine ranking. With the help, your website maintenance expert, keep your website up-to-date with the latest security upgrade and protect from security threats.
Version Upgrades
A new version comes with some of the security updates, bug fixes, new features enhancement and so on. It is essential to keep your website modules, plugins and code up to date by upgrading website to the latest version. It reduces the risk of hacking or malware infection. A professional website maintenance expert can efficiently migrate the existing website to the latest version without any hassle.
New Features Enhancements
With the new version release, you can have access to new features and functionalities. It is essential to take advantage of new features and functionalities to run your website smoothly and stand out among competitors. Improved website features can give better user experience and website performance. Regular website maintenance would help you to prevent the risk of having outdated features for your business which could draw visitors away.
Website Speed and Performance
Is your website takes too long to load? Do you know website speed is directly connected to conversion rate? Slow-loading website can harm visibility, user experience and performance. It is essential to keep our website up-to-date with various performance improvement updates. Each new release comes with several performance improvements that make the website load faster and more efficient. A Website Maintenance expert can review your site using various speed testing tools and make it run faster and smoother.
Regular Content Updates
Are you changing any product or services? Are you running with special offers or quarterly promotions? Are you coming with new features and functionalities? It is really important to update your website content regularly with more current information. Many of the business owners choose to do their own. A professional website maintenance service would help you to update website content, blog, images and more regularly without delay when you focus on your business growth.
Search Engine Optimization
Are you getting enough traffic, visibility and conversion rate on your website? Google likes the updated version of your website. The more you update your website, the more Google will visit your website and improve your ranking. A Website maintenance expert would help you to connect your website with Google Webmaster Tools to resolve the indexing errors and improve ranking. Website Maintenance also helps your website to appear in major search engines like Google, Yahoo, etc.
Skynet Technologies is a specialized website maintenance company in India offering complete website maintenance services from the simple content update, troubleshooting, installations, minor upgrades to major upgrades based on your business requirements. We have a dedicated and experienced team of developers having years of expertise and hands-on experience in handling simple to complex website maintenance task for the varied industry.
Our professional website maintenance services are available in USA, Australia, and worldwide. We provide onshore, offshore and white label website maintenance services to start-ups, small to large businesses, enterprise, corporates, governments and web development agencies.
Whether It's Laravel, Drupal, Magento, WordPress, or another open-source CMS, we provide custom website maintenance services for any kind and type of website as per your requirements.
Drupal Maintenance
Wordpress Maintenance
Magento Maintenance
PHP Website Maintenance
Mobile App Maintenance
Laravel and CakePHP Maintenance
CodeIgniter Maintenance
Ruby on Rails Maintenance
Salesforce Maintenance
If you are looking for a Web Development and Web Application Development, Please Explore our Web Development Services! We also provide Website Maintenance Services and Web Application Security Audit. For More Information, Please Visit Our Website Maintenance Services!
If you have any questions or would like to know more about how Skynet Technologies can help your business to reach one step ahead, Reach out us through submit form & We'll get back to you soon!
Request for Quote