Keep Your Website Out of Trouble! Top 10 Tips for Legally Compliant Website!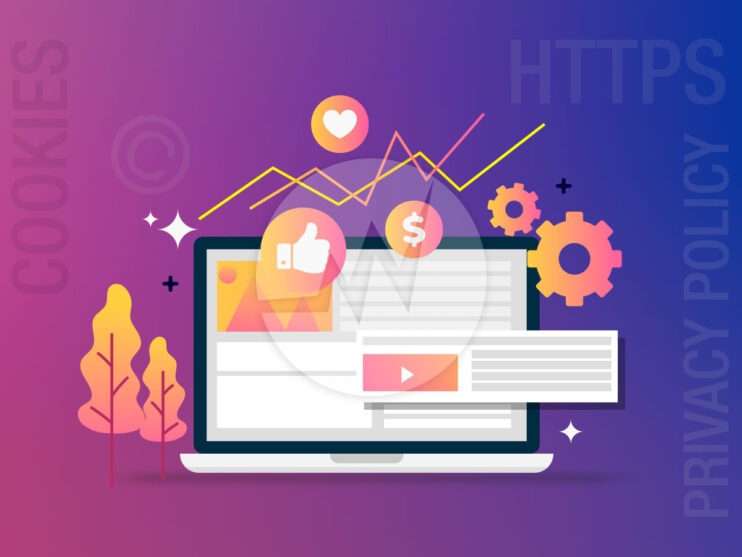 Do you have a website, but are you unsure whether it is actually legally tip top clean and in order? With regard to data protection, imprint and image rights, you as the website operator are lurking a number of warning pitfalls that can cost you dearly.
So that this doesn't happen to you at all, we show you 10 tips and to-do's for your company website:
1. Secure your site with HTTPS
Basically, all websites on which personal data is collected must be SSL-encrypted – in any case wherever contact forms or newsletter subscriptions are concerned. You can tell whether a page is encrypted by the URL "https" and by the green lock in front of the URL. Check out Importance of SSL Certificates for Website Legal Requirements.
2. Update your privacy policy & imprint
With regard to the data protection declaration, new information requirements. Name of the operator of the website, contact details, if necessary, data protection officer, purpose of data processing, legal basis, storage period, cookies, server log files, objection clause, right to lodge a complaint, right to data transfer, and much more.
3. Test Your WordPress Forms
Contact form, appointment, call back service, inquiry, etc. In each form you can only collect the personal data that is actually needed. To subscribe to a newsletter, for example, you only need the email address, not the first and last name. And: with every form, there must be an indication of why the data is required and on what legal basis you process it and what happens to it.
4. Check out your social media plugins and embedded videos
The social media plugins provided by Facebook and Co. Collect personal data unnoticed by the website user and can thus create detailed personality profiles. Just like embedded YouTube videos. So, replace your social media plugins with Shariff buttons and use the "extended data protection mode and the double-click solution" for YouTube videos.
5. Check your statistics tools
Do you use Google Analytics or similar to analyse how many visitors come to your page? Then you have to adjust the tracking code and anonymize the IP addresses, conclude a contract with Google for order processing and point this out in the data protection declaration. In addition, there must be a link to the Google Analytics usage and data protection provisions and an objection option (the so-called opt-out function).
6. Inform about cookies
Almost all websites use cookies. These are these small files that store data locally on the device in order to recognize the user and make it easier for them to surf the website. When the page is called up for the first time, the user must give their consent in the so-called cookie warning that they agree.
7. Check your newsletter
MailChimp, or myEmma – those who use newsletter services must conclude an order processing contract with the service provider. The registration form must also be revised – it must state what the newsletter is used for and what information subscribers receive when they register for it.
8. Do you need a contract for order processing with your provider?
If your web host takes on tasks that process personal data, such as email management or email archiving, then there is order processing and you must conclude a contract for order processing.
9. Copyrights
Do you have photos of your team or employees on your website? Then you need written consent that they agree. For stock images, you must provide the photographer, image number and portal where you bought it.
10. No plan? Then ask us!
Sounds pretty complicated, what? But everything is half as wild! We are offering UI/UX Web design, ADA compliant website design and web development services to help you avoid legal battles and penalties. Our dedicated team is capable to handle simple to complex accessibility requirements for clients from diverse industry sectors. We deliver a Compliant website design that is accessible for everyone.
Do you have any questions or require any help to make your website legally compliant? We are happy to assist you. If you are looking for a Web Development, Website Maintenance Service, Website Design Service and Other Related Web Development Services, for more information, Please Explore our Web Development Services!
Disclaimer – *The information contained on this page is provided for informational purposes only, and should not be construed as legal advice on any subject matter. We request you to consult a professional lawyer or agent to get legal advice on any subject matter. You should not act or refrain from acting on the basis of any content included in this site without seeking legal or other professional advice. The contents of this site contain general information and may not reflect current legal developments or address your situation. We disclaim all liability for actions you take or fail to take based on any content on this site. The operation of this site does not create an attorney-client relationship between you and Skynet Technologies.
If you have any questions or would like to know more about how Skynet Technologies can help your business to reach one step ahead, Reach out us through submit form & We'll get back to you soon!
Request for Quote