Shopping at Jamnagar
The Bandhani "tie-and-dye" of Jamnagar is well known the world over
Apart from these, artifacts like Bangles with inlay of brass, Beetle nut crackers, agate paperweights, Kum kum, Kajal, Surma, ; brass covered wooden chests etc, are available at the Khadhi Bhandars
Modern articles can also be bought from around the city. Easiest place to shop in Jamngar is the Super Market..
One can easily spend a couple of hours exploring the lanes leading out from Lindi Bazaar & Chandi Bazaar.
Bandhani

It's a unique expression of a very time-consuming process of tying thousands of tiny knots in a piece of fabric that has first been folded upon itself a number of times. This is then dyed in several stages using different colors. The knots are pulled apart and the fabric is unfolded to reveal a repeating pattern in a variety of hues. The process, believed to have been used in the area for up to 5000 years, is used for Saris, Shirts, Shawls, Bed sheets, Curtains, Table Cloths, Bags, and other items.
'Bandhani' (tie and dye fabric) of Jamnagar, Mandvi and Bhuj are famous for their intricate designs and patterns, which are used, in wedding outfits called as 'gharchola, odhni' and sarees.
The tie-dyed fabrics of Gujarat are perhaps the best produced in India. Also known as 'Bandhej', it is produced on super fine cotton 'mulmul', muslin sometimes combined with gold checks and motifs worked in the 'jamdani' technique.
Dyeing is a hereditary art. In the past cloth was dyed in colours extracted from trees and flowers.
TIE N' DYE: The Process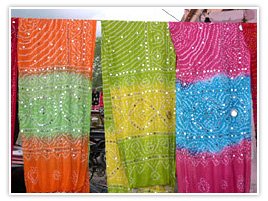 The highest intensity of Bandhini dyeing is in Kutch, but some of the best works are from Jamnagar.
The printed portion of the fabric are pinched and pushed into small points and then knotted with 2 or 3 twists of thread. The knotted parts remain uncoloured and the fabric is dyed in the lightest shade first, retied and dyed in the darker colour.
The fabric may be tied and dyed several times, depending on the number of shades in the final colour scheme. The price of the 'bandhani' depends not only on the fabric, but also on the number of times it has to be tied and dyed and on the intricacy of the design.
The Bandhani, tie and dye variety of sari is a very popular women's wear. It involves an intricate process of tying knots on the fine white fabrics, which are dipped in colours. The hues of deeper shades are used over the previous ones to form the coloured background of the cloth.
'Bandhani' sarees are easily available in all the bazaars and shopping centers of Jamnagar and here you can also find them brocaded with fine gold thread zaris.
The shops where one can buy Bandhani fabrics are Umar Ibhrahim (outside Kalavad naka) Vanza (in Darbargadh Circle), Mahavir Bandhani (Chanid Bazaar), they have extensive and beautiful collection of new and old designs