About Jamnagar
Jamnagar, the bird watchers Paradise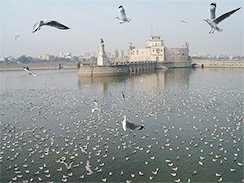 If you are a birdwatcher, then, you will love it here, as several migratory birds make the areas around Jamnagar their home during the winter months. The best site for bird watching within the city is the Lakhota Lake (Ranmal Lake) where up to 75 species of birds are known to descend in winters. Walking in the early mornings especially in the winter months & sitting under the beautiful domes allows you to experience nature with the birds...
Khijadia Bird Sanctuary Black Necked Stork
Its a unique wet land area with sea water on one side and fresh water on one side.
This area was declared as a Khijadia Bird Sanctury on 6th November 1982.
Before independence, a check dam had been built for storing the waters of the Ruparen River just near the sea, so gradually over the years with fresh water of the rain and river on one side and salt water of the sea on the other side, a unique area came up where both varieties of vegetation came up, gradually, birds and animals also started flocking and roosting here. this is also one of the few sanctuaries in peninsular India where the Crested Grebe breeds.
The area of this Sanctury is 605 Hectares.
There are 3 Watch Tower for bird watchers, as well as inspection paths leading deep into the foliage Khijadia
There are also provisions for Paddle boats, in the main as well as the Jamnbuda watch tower area.
One can find both types of sea and shore birds...
Watching the arrival of the Cranes during sunset for roosting is a fantastic experience.
Location: about 12 KMS from Jamnagar.
Some of the birds found here are :
Black Necked Stork
Black Ibis
Black wing stilt
Black winged kite Aadil at Khijadia watchtower
Brahmini Kite
Cattle Egret
Pheasants tailed Jacana
Green Stone Plover
Green Shank
Grey Patridge
Indian Skimmer
Imperial Eagle
Indian Pond Heron
Indian Robin
Little Tern
Purple Moorhen
Black Tailed Godwit
Comb duck
Common Crane
Demoiselle Crane
Common Teel
Dunlin Birds at Khijadia
Gargeni
Grebes
Marsh Harrier
Pintail
Painted Stork
Shoveler
Wigeon Duck
Pale Harrier
Sanderlings
Snake Birds
The other wild life found here are :
Blue Bulls
Jackal
Wolf
Jungle cat
Mongoose
Rabbits
Cobra, etc